In this SectorWatch analysis you'll learn about one of the most popular SAAS categories – Customer Relationship Management. We're looking for the winning domains and examples of excellent content around customer relationship management tools. Who's building a great rapport with their customers? Who has lost all their leads? Domains, content and keywords are shown in this report from the Google UK data from SISTRIX.
CRMs are crucial in many businesses tool-boxes and, for many, this sector serves as an introduction to the world of SAAS (software-as-a-service) tools. In fact, by some measurements, CRM is the largest of all software markets.
In the UK, the CRM system market grew by 18.2%, with an estimated revenue of £2.1 billion. Most CRMs use a subscription model and many of the most popular options cost between £8 and £240 per month with costs easily getting much higher for larger customers.
With huge brands like Salesforce, Adobe, Microsoft and SAP plus SEO and content-marketing-savvy challenger names like HubSpot and Zendesk, the CRM market is highly competitive.
One estimate found 116 active players in the UK market. Which makes it a fascinating subject for seeing who is winning the search market!
So, who is doing a great job and winning Google over? Let's see the winners for each of our sample keyword lists.
Top 3 domains for 'do' (transactional) searches – CRM Software:
salesforce.com
hubspot.com
crm.org
Top 3 domains for 'know' (informational) searches – CRM software:
salesforce.com
keap.com
hubspot.com
In a bit of a twist, we immediately find that some sites are dominating across different keywords in this sector.
Let's take a deeper look at the winners' lists, show the important keywords and analyse some of the content formats we've seen in these leading domains.
Keyword research for our look at the CRM sector
We've curated two lists of CRM-related keywords, designed to be a representative example of the CRM search market. We have divided the keywords by their search intent.
First is our list of 'do' keywords. Do searches are where someone is looking to buy a product or ticket, hire a service or download something. In the case of our CRM analysis, these are searches where the searcher appears to have a transactional intent, and are directly searching for CRM software or services.
Keywords in this list include crm software (searched for 4,200 times a month on average in the UK), free crm (900) and crm for small business (500).
Our 'know' keyword list is based on searches where the customer is looking for some information. This includes commercial research searches such as around the best customer relationship management tools. It also includes informational searches on what a CRM is and examples of one in action.
The keywords in this list include the most generic search possible, crm which is searched for 40,800 times a month on average in the UK. The list also includes crm system (7,850 searches) what is crm (4500), crm share price (1,200) and strategies of crm (400).
A few of the keywords we found have a mixed intent, where Google shows both directly transactional results with vendors, research results with listing sites as well as reviews and guides from publishers. We've tried to split these logically into our keyword lists, but the occasional keyword is important for both lists.
For both lists, we excluded vendor names (many of which carry a large search volume) to try and understand which sites rank well for generic queries. As you can imagine, there are a lot of searches around reviews and advantages of all the different options.
We also looked at trend data for our keyword sets. From this, we can see this is a sector showing stable search volumes with a slow but steady growth in interest year-on-year.


As we'll see below, while search volumes are not enormous, a lot of money is spent on getting traffic in the sector. A lot of search advertisers certainly agree that this traffic is worth going for.
You can find out more about the lists (including links to the full lists) at the end of this article.
The top competitors in the UK search market for CRM software
We've seen the top three, but who makes up the entire winners list for CRM content in the UK? Here are the complete lists:
Top 20 domains for CRMs: 'Do' intent
Leading commercial intent domains for CRMs (191 do intent keywords)
| Domain | Market Share |
| --- | --- |
| salesforce.com | 5.91% |
| hubspot.com | 5.79% |
| crm.org | 5.25% |
| startups.co.uk | 4.43% |
| pcmag.com | 4.36% |
| g2.com | 3.77% |
| zoho.com | 3.74% |
| softwareadvice.co.uk | 3.21% |
| keap.com | 2.95% |
| forbes.com | 2.87% |
| zapier.com | 2.70% |
| monday.com | 2.40% |
| businessnewsdaily.com | 1.75% |
| zendesk.co.uk | 1.67% |
| microsoft.com | 1.53% |
| fitsmallbusiness.com | 1.47% |
| xero.com | 1.22% |
| wikipedia.org | 1.11% |
| nutshell.com | 1.10% |
| techradar.com | 1.07% |
Top 20 domains for CRMs: 'Know' intent
Leading informational intent domains for CRMs (259 know intent keywords)
| Domain | Market Share |
| --- | --- |
| salesforce.com | 10.36% |
| keap.com | 4.41% |
| hubspot.com | 3.97% |
| crm.org | 3.25% |
| techtarget.com | 3.18% |
| wikipedia.org | 3.03% |
| mailchimp.com | 2.85% |
| businessnewsdaily.com | 2.80% |
| pcmag.com | 2.71% |
| forbes.com | 2.64% |
| g2.com | 2.38% |
| microsoft.com | 2.07% |
| monday.com | 1.75% |
| startups.co.uk | 1.74% |
| zoho.com | 1.71% |
| zendesk.co.uk | 1.59% |
| clickup.com | 1.57% |
| semrush.com | 1.53% |
| investopedia.com | 1.52% |
| zapier.com | 1.41% |
Content examples: What type of content is performing?
Looking at our winner lists, some valuable insights become apparent:
The leaders for our two sets of keywords are very similar. In fact, 72% (18) of the top 25 domains are the same on both lists

Among the common sites are:

Vendors (Salesforce, Hubspot, Keap, Monday, Microsoft, Zoho and Zendesk)
Tech review publications such as PC Mag, Software Advice, CRM.org and TechRadar as well as review aggregators like G2
Wider business advice sites such as Startups
And other SAAS or software sites that have strong content marketing reach into related areas such as Mailchimp and Zapier

We've already seen that some of our keywords have mixed intent and it appears that for many keywords, Google likes t show a variety of content types to make sure they have covered the searcher's goal. A lot of content from publications reviewing or comparing CRM options are able to rank for both do and know keywords
Such articles have a varied keyword footprint and this means that for this type of sector, they are a valuable format to consider

Salesforce is at the top of the list, partly thanks to having one of the best-performing CRM guides which appears at number one for many of the biggest mixed intent keywords. As those keywords appear in both our keyword lists, Salesforce have a strong overall position in the CRM search market

HubSpot has one of the best-performing commercial pages, with their CRM product page always one of the top product pages on both the biggest commercial and mixed intent queries

Only four of our top ten do domains are vendors – the other 6 are publications or business/tech advice or review sites. More evidence Google is happy to show more commercial research content for do keywords that in other sectors – such as any ecommerce sector we've looked at – are often dominated by retailers and manufacturers
Conversely, many of the leading vendors such as Salesforce and HubSpot are able to dominate across the overall CRM keyword portfolio through a fantastic SEO-led content marketing strategy. These sites not only have landing pages for most commercial queries, but they also have large libraries of content, both guides and blog posts

Our top three 'know' domains are all vendors!
You can see through the organic footprint of these sites that while they do well for commercial queries, they have put many thousands of hours of effort into creating content assets aimed higher up the marketing funnel to get in front of potential customers while they are still learning what they need
For example, Microsoft, Keap, Oracle, Zoho and Salesforce all rank on page one for the keyword 'CRM'. But they don't rank with their homepage or lead product page. They all rank with their 'What is CRM' guide
That's half of the ranking listings on page one made up of CRM vendors ranking with their guidance content
Of course, such content also helps demonstrate their expertise and topical relevancy in the sector, helping position them as experts when it comes to their commercial content for 'do' queries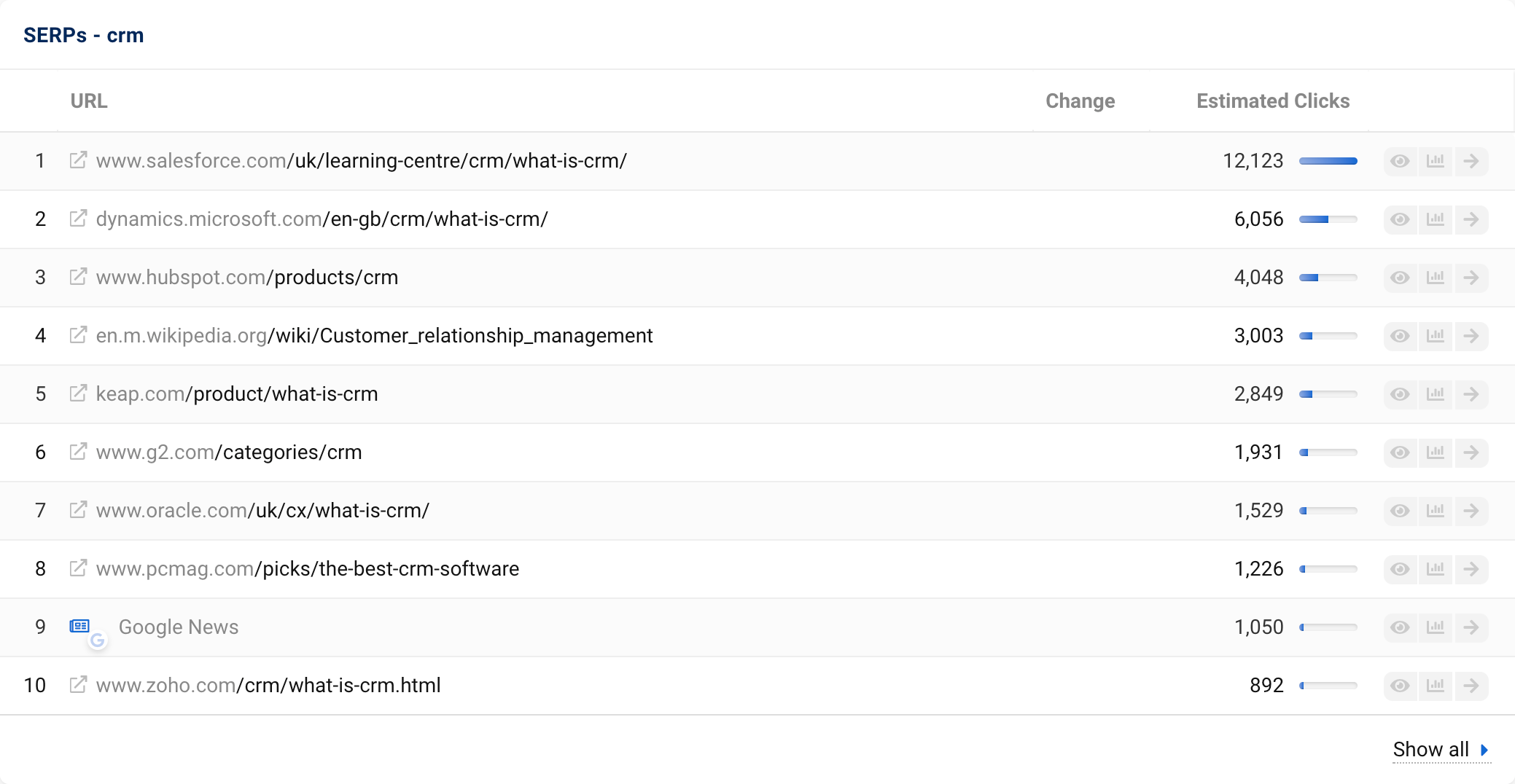 High-performance content examples
Our first example of high-performing content comes from our top-ranking domain for both keyword lists – Salesforce.
This is primarily due to the success of one page – their long-form guide on 'What is CRM?'. This one article ranks for a wide variety of keywords in both our lists – especially those that have a mixed intent.
The /uk/learning-centre/ directory is a great example of high-performing content. It has 37 pages that rank or at least one keyword and together they rank for 1,735 keywords with an estimated organic traffic of 42,526 visits per month. For 42.03% of the most important keywords, Salesforce ranks on page one.

PPC teams are happy to spend a lot of money on traffic for these keywords thanks to their high-conversion potential, so CPC costs are high. Those 42k visits are worth an estimated £742k, meaning this organic traffic is high-value and likely brings highly targeted audiences to Salesforce.
So, what makes this content so successful?
As perhaps the biggest name in CRM software, Salesforce has a lot of topical relevancy on the subject which will give it a head start in writing on the subject
The article is fairly comprehensive, offering lots of helpful information on various aspects. It answers some of the most common questions such as "Why is CRM important" and "What are the benefits of CRM?"
Each of those questions is a subheading, helping search engines understand what each section is about and offering the opportunity to rank for a variety of related searches
Those subheading questions are also in a contents index near the top of the article, giving Salesforce the chance to rank in featured snippets and other rich SERP features
Salesforce has a well-produced video explaining the key concepts
At the foot of the article is a summary of the key concepts and an FAQ section
And the article is well written in plain English, making it easy to understand while still including all the main concepts, which demonstrates that the article is comprehensive
There are links to other related articles in the directory on the best CRM, mobile CRMs, B2B CRMs and a beginner's guide to CRM systems

The main CRM page acts as a hub, bringing together all these articles so potential customers can learn all about the different CRM considerations
Together, the informational articles act as a topic cluster, demonstrating comprehensive guidance around understanding what CRM is, what the software does and the main aspects to consider when choosing one. Salesforce manages to do this without being too biased to their own solutions when writing

Finally, we can see that the page has a good number of backlinks from a variety of domains helping establish its authority
A publisher that does well for both our 'do' and 'know' keywords is PC Mag. Their guide to the best CRM software for 2023 appears for all the 'best' keyword variants and also quite well for a variety of more generic searches with mixed intent.
In a slightly unusual setup, the ranking page redirects via JavaScript to a UK version. Googlebot can't follow JavaScript redirects and as the US page loads for Google, it still shows that the main ranking page.
The /picks/ directory [View in SISTRIX] is another excellent example of high-performing content. It ranks for over 233k keywords in the UK, with 37.2 of the most important keywords ranking on page one.

Since a drop (potentially due to the technical setup) over the spring/summer of 2022, the directory has enjoyed strong organic performance since the Helpful Content Update of August 2022 (which Google noted would affect technology and shopping queries amongst other topics).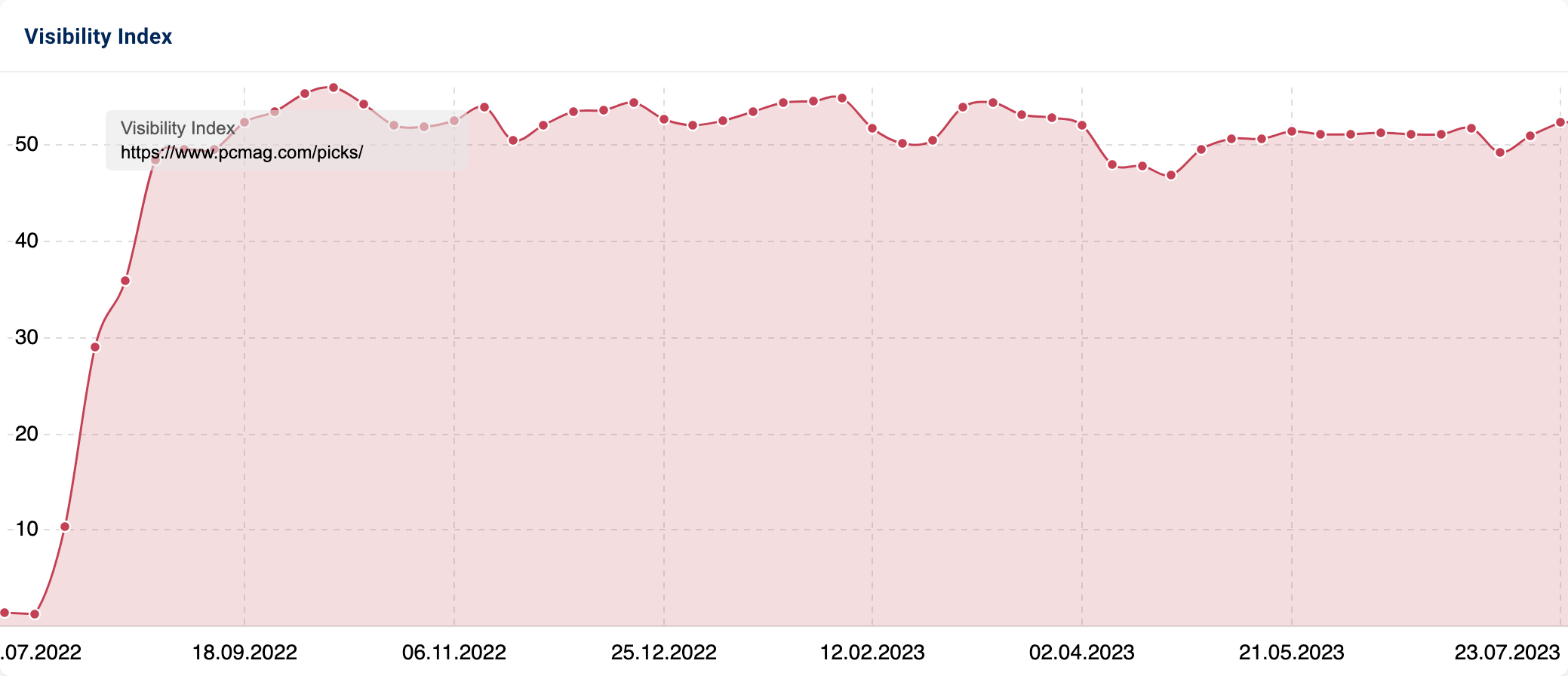 Those rankings bring in an estimated 1.2m organic visits a month in the UK alone, with a traffic value of a huge £4.93m!
PC Mag isn't the only site with a 'best CRM' roundup that's performing well.
Zapier are well known for their content marketing efforts, and we see this in the CRM field. A look at their blog finds 18 different articles on various aspects of CRMs, including their guide to what is a CRM.
Zapier's real success comes from their 'best' guides though, with articles on the best free CRM, the best CRM app, the best CRM for small businesses, the best personal CRM, how to build a spreadsheet CRM in Google Sheets and more.
Zapier have taken a search-demand approach to their blog coverage, writing on topics they can see their target audience might be interested in.
Zapier have 167 different 'best' articles ranking for at least one keyword in the UK, all based on rounding up the best options in a variety of fields where you could use Zapier to automate certain tasks. They cover everything from to-do list apps to keyword research and PDF editors.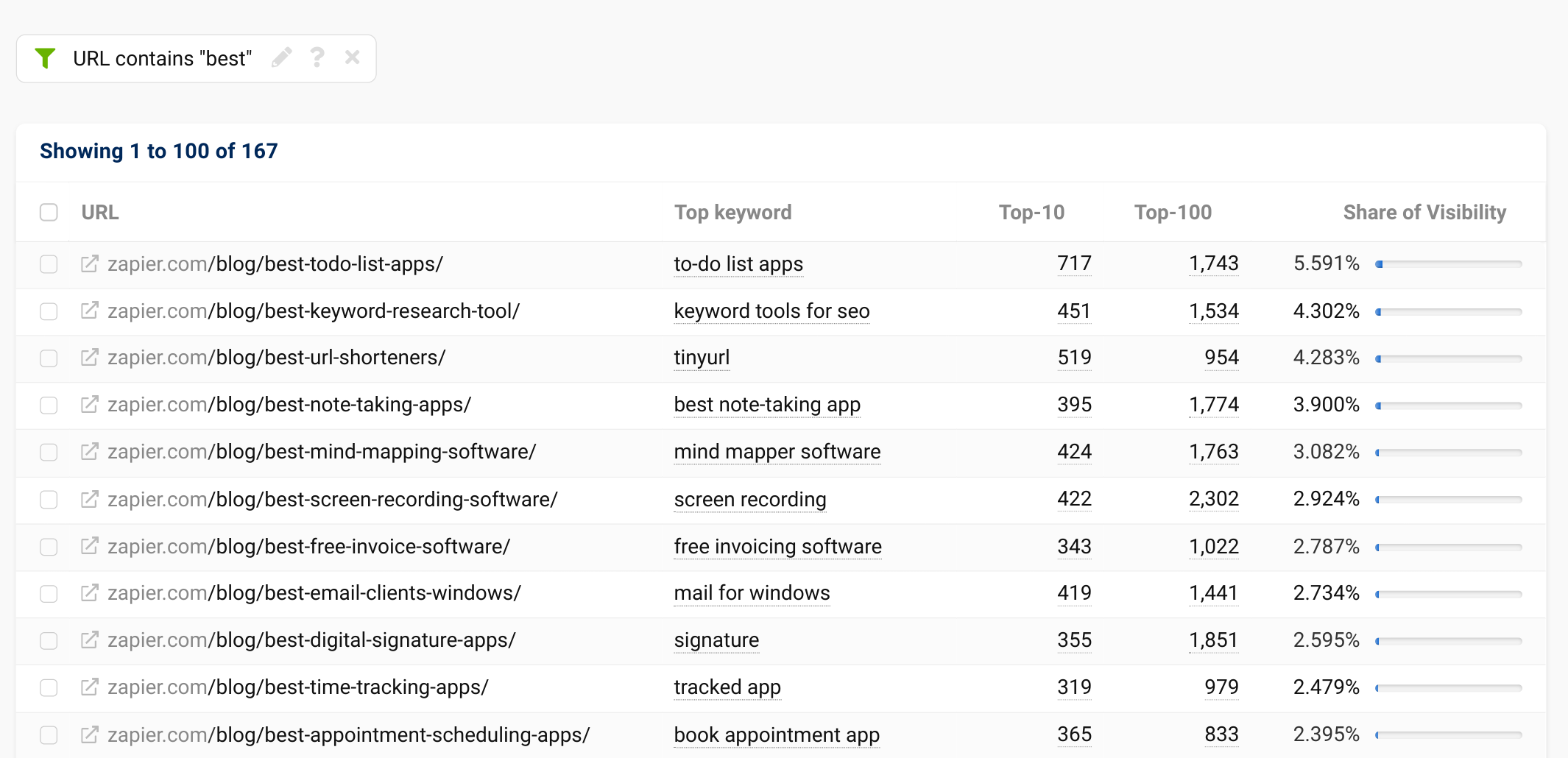 Overall the blog ranks for 116k keywords and for 17.9% of them on page one.
Another site enjoying success for CRMs is G2, the review aggregator.
Its page on the best CRMs ranks for 796 keywords in the UK. With an estimated traffic value of £177k, this roundup of the best CRMs brings in high-quality traffic every month. It's also steadily grown in organic traffic over the past 12 months: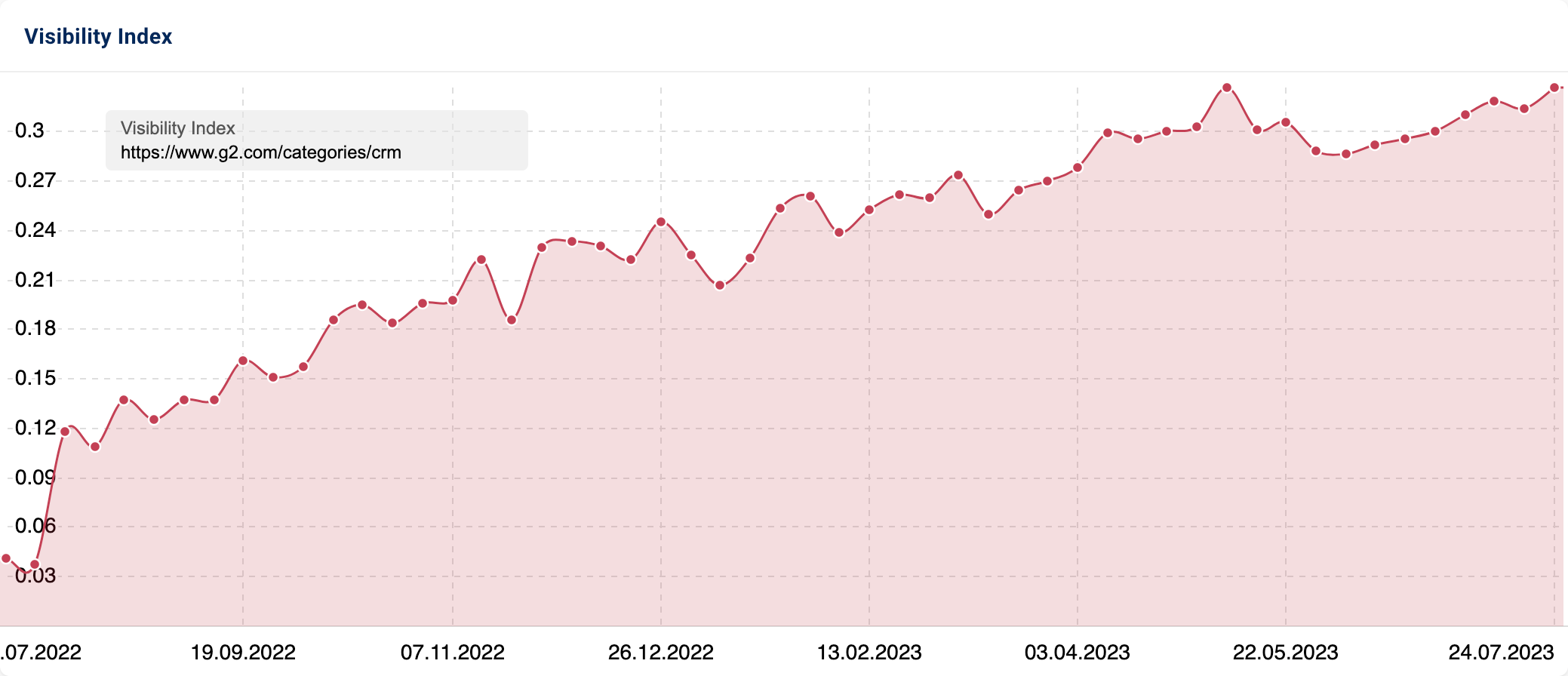 However, this is only a small part of the story of G2's success with this content format.
If we look at the /categories/ directory, we see their CRM guide is just one page in an impressive SEO-led content strategy.
G2 have over 3,200 of these product listings ranking for at least one keyword. Together, they rank for over 78k keywords with an estimated 155k organic visits per month. That traffic is worth £2.55m each month. 31.8% of those rankings are on page one, and they have gradually increased in visibility over the past four years, including regular gains during Google's Review Updates.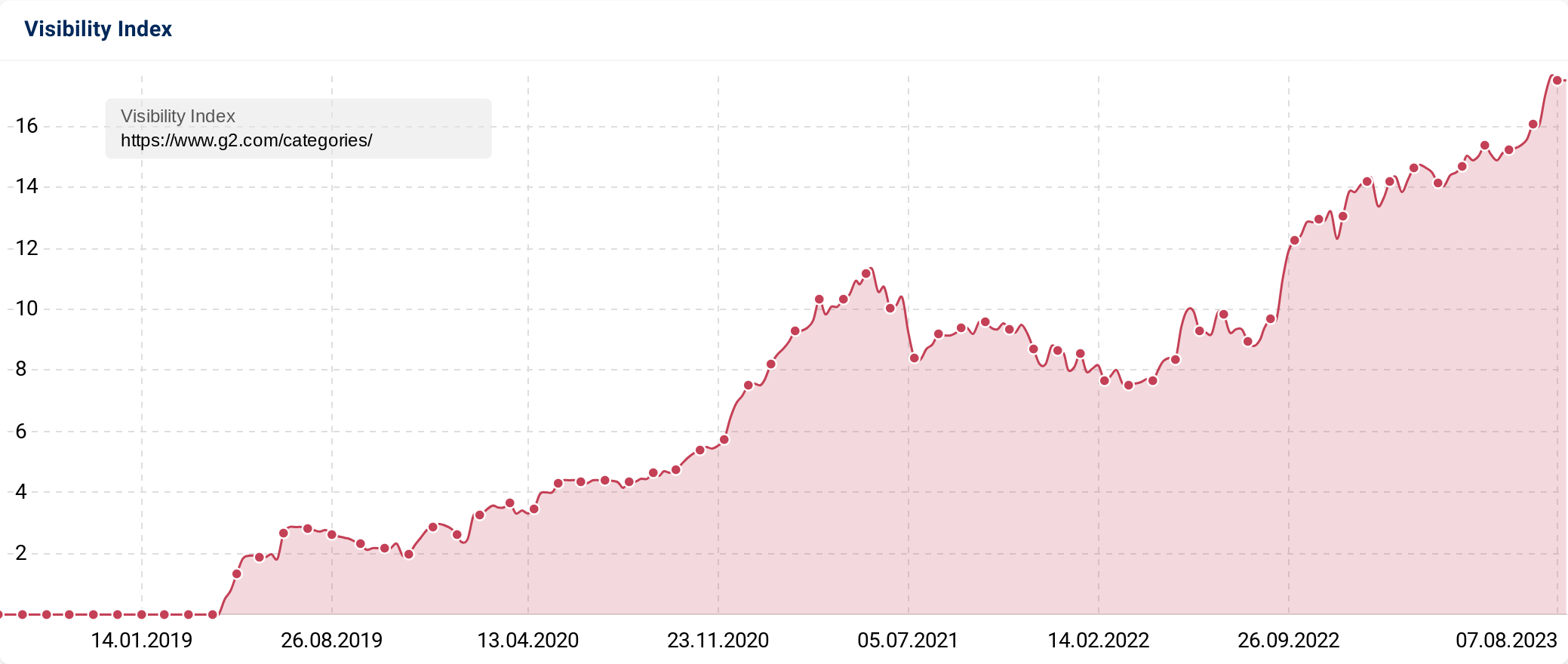 So, what is G2 doing well with their content to make it so successful?
Perhaps most notably, G2 has built a reputation over the years for providing high-useful review aggregation content. It's not everyone's favourite source of information, nor the most in-depth on each option, but it provides a helpful overview of the options

In the case of CRMs, G2 lists 864 potential options! And it ranks them according to its criteria

Each listing contains a variety of useful information at a glance

There's review starts with a score out of five (and the number of reviews)
Information on the latest discount available or general 'from' pricing
The visible information on loading the page is the Overview, which includes an expandable product description and bullet points on the user types, the industry the vendor is in and the market segment of its customers (for example, Monday is noted to have 81% small business customers and 16% mid-market)
And a note on how easy the software is said to be

There is also more detail on each product with tabs on User Satisfaction which details scores on important metrics for the product type in the question and on "What G2 Users Think" which includes the key aspects reviewers like about each product (or don't like in some cases)
Each listing also links through to the individual product page for the software which has a more detailed version of the overview in the comparison listings plus comprehensive pricing information and all the customer reviews

Salesforce for example has over 15k reviews to check out
You can also organise the reviews by rating or filter by a selection of popular terms commonly mentioned

The Review listing page design also includes a good introduction and a link to their page explaining how their score methodologies work
Perhaps best of all is some relatively hidden functionality and a lot more information at the foot of the page.
This is useful further reading for users who need more help and offers help for related queries. There is a product grid giving the relative position of each contender in the category. A small version is always visible on the desktop version of the page which links to the full version at the foot.
Below this grid is a large content section, covering common questions (FAQs) about CRMs, such as what is CRM software, challenges with CRM software and how to buy CRM software, each with further sub-headings.
There are over 4,000 words of guidance here, and while some of it is likely templated, this helpful content covers many bases and is superior to many of the competing guides out there.
After the content is a further 4 sections of expendable content with thousands of more words:
A summary of the reviews above (the data from the review scores users gave)
A breakdown of the reviews by industry (the reviews by marketing and advertising professionals, by IT services professionals etc.)
A breakdown of the review by atget market segment (the best software tools for enterprise companies, for small businesses and for mid-sized companies)
And a breakdown of the reviews by features
This successfully turns the huge amount of data G2 has from their tens of thousands of CRM software reviews into helpful summaries of the 'best' options.
Once you get past just the list of vendors, the page gives you much more help in choosing between strong options based on your business size, job type and more.
Even better, the grid has a filter option where you can select by company size or other attributes. Doing this then filters the drop-down content to show just the most highly-rated options for the filtered selection you've made.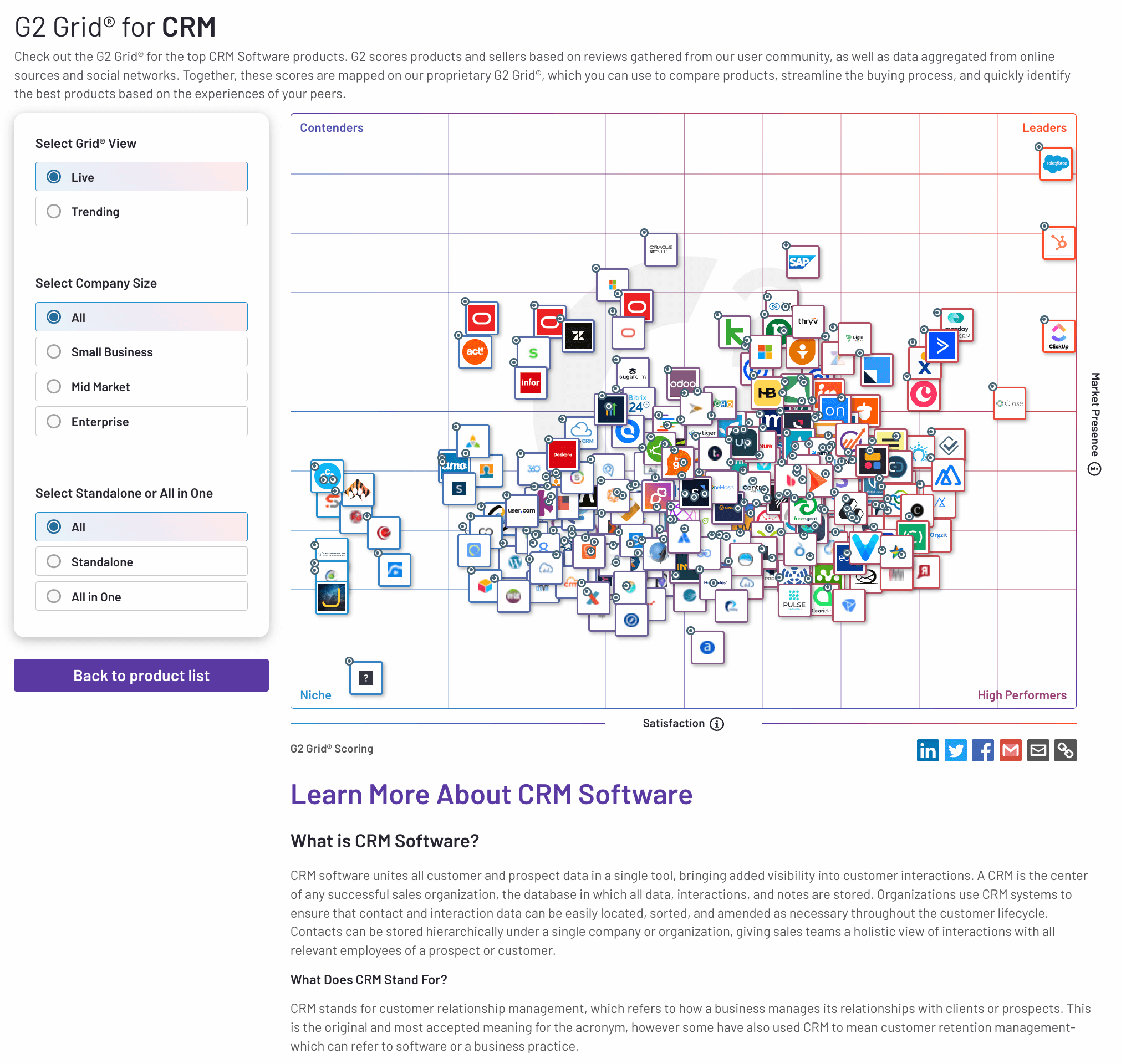 Together, this creates a compelling, detailed and high-useful answer to the question of "What CRM should I buy?".
It also answers if for a range of self-identified markets, such as small businesses, letting G2 rank for a variety of sub-queries. You can see how G2's visibility and organic success have risen for these listing pages over time as they add more useful features.
Of course, G2 doesn't do this just for CRMs!
They have thousands of such pages for all kinds of software and service categories. Every kind of online tool, software, app, plugin and service is ranked and has a version of this comprehensive content.
This is hugely successful SEO-led content, using an aggregator-SEO strategy to leverage UGC and turn the website into a product in its own right with a page to solve each problem. However, G2 also take it further by making each individual page (powered by UGC) into the most helpful resource they can.
Summary
Some sectors' main keywords are more ambiguous, so Google shows a selection of commercial and informational content to cover all possible search intents.

If you are working in such a sector, having both types of content gives you two chances to rank, albeit each is competing for fewer available positions on page one

Although not the biggest market by search demand, the advertising spend on CRM keywords makes this sector a highly valuable – and thus competitive – sector
It's possible for vendors to thrive in the business-decision sectors by having both commercial and informational content

Indeed, if you are working in a B2B software sector, SEO-led content marketing is no longer a differentiator, it is almost a prerequisite
This means that standing out from the crowd with better content is even more important

What this does mean is that breaking into this sector is incredibly hard. Between the vendors (complete with content marketing efforts), tech publications and content from SAAS companies in other sectors, there is a range of strong domains with well-constructed content

We've seen in other sectors that small players can break into competitive niches. They've often done this by targeting a specific aspect of E-E-A-T, such as proving first-hand experience with the products reviewed or expertise through a best-in-class testing process

A new player would likewise need to do something different to stand out here.

We can take inspiration from what is already ranking – G2's use of large amounts of review data to create a unique insight into the strongest options, PC Mag's tired and tested review roundup format (and reputation in tech reviews), Salesforce's unique position as the most established name in the field. Zapier is another example with its excellence in content marketing.
Each of these has taken a strength as an online proposition to create a unique reason for Google to rank it
Our process:
For this SectorWatch, we used relevant keywords from a selection of CRM keyword discovery tables.
We chose a selection of highly targeted keywords with a 'do' or 'know' intent. From these, we harvest all the ranking keywords for the URLs in the SERPs. We call this the Keyword Environment. Most SERPs will have some mixed intent so we re-filter the list for the correct intents and sanitise it by hand to leave a smaller, highly-relevant set of searches made by the UK public broken down by searcher journey. The results are based only on organic result rankings.
CRM software: Curated keyword set and sector click potential
Core keywords: crm software, free crm, crm for small business, sales crm, crm, crm system, what is crm, crm meaning, best crm.
The full keyword set is available for download and further analysis can be done in the SISTRIX keyword lists feature, including competitor analysis, SERP feature analysis, questions, keyword clusters and the traffic forecast shown below.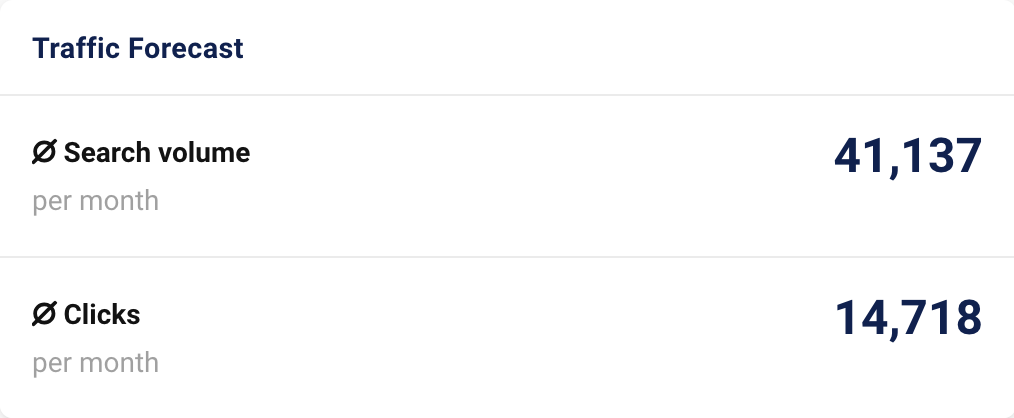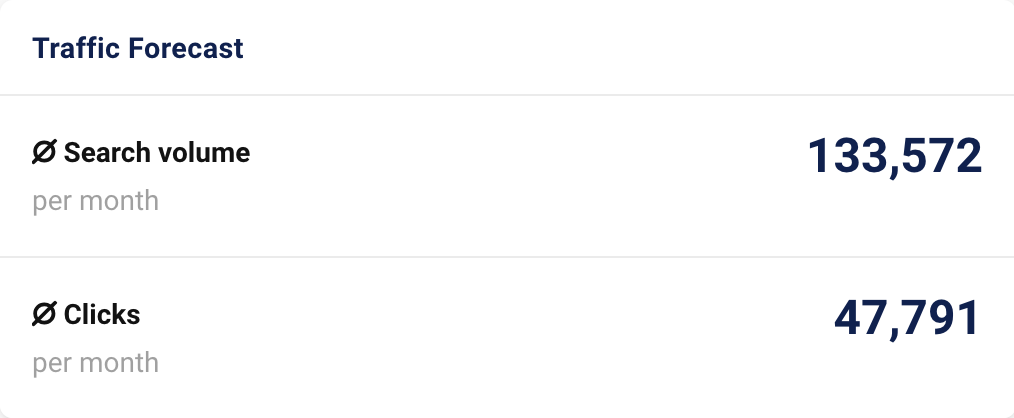 SectorWatch is a monthly publication from the SISTRIX data journalism team. All SectorWatch articles can be found here.
Related analyses can be found in the TrendWatch newsletter, IndexWatch analysis along with specific case studies in our blog. New article notifications are available through Twitter and Facebook.