Online retailers cannot ignore marketing and advertising if they want to be successful in selling their products. This is especially true in a large marketplace like Amazon, where numerous brands compete with one another. Amazon AMS is an important tool for sellers in this respect. This article explains what these advertising options look like.
What is Amazon Marketing Services, or AMS?
AMS stands for Amazon Marketing Services, a service offered by Amazon to allow sellers to increase the visibility of their products on the Amazon platform.
Amazon usually rewards products or brands that have a higher number of clicks and sales with better rankings in the search results. As a result, newer, unfamiliar products sometimes get off to a rough start. Amazon introduced the AMS feature, among other things, in order to compensate for this in 2012.
Until September 2018, there were two other options available to advertisers:
Amazon Advertising Platform (AAP)
Amazon Media Group (AMG)
Amazon then made the decision to unite the various divisions under one roof, with the name "Amazon Advertising". Amazon also renamed Amazon Marketing Services to Advertising Console. These steps were taken in order to avoid confusion and make it easier to serve ads. Nevertheless, the name "Amazon AMS" is still frequently used.
How does Amazon Advertising work?
Amazon Advertising allows merchants to display their brand or products in its search results, on its product detail pages and even on external websites.
Advertisers only incur costs when potential customers click on their ads. This pay-per-click model gives merchants greater control over their advertising spend.
Sellers have three marketing options to choose from:
Amazon Sponsored Product Ads
These are ads that relate to keywords and products. They link to product detail pages and are almost indistinguishable from organic search results. They are presented either at the top, in the middle or at the bottom of Amazon's search results.
They can also be found on product detail pages under headings like "4 stars and above" and "Sponsored products related to this item". Merchants use these ads to reach potential customers who are further along in the buying process.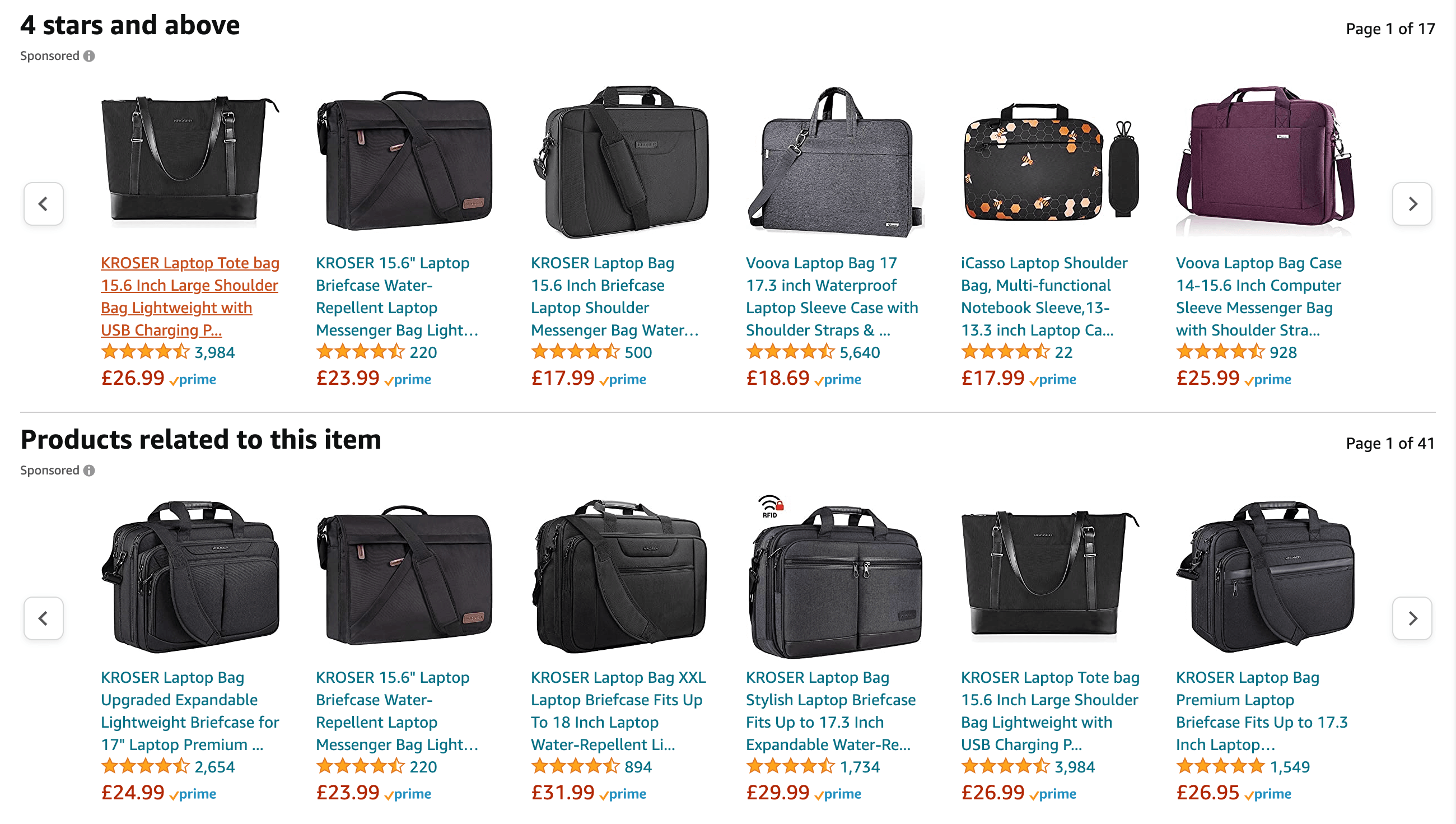 Sponsored Brands Ads
With Sponsored Brands Ads, retailers can establish their own brand more prominently in the Amazon marketplace. The ads are always displayed above the organic search results. They consist of a headline created by the advertiser, the brand logo and images of the products that are offered by the brand.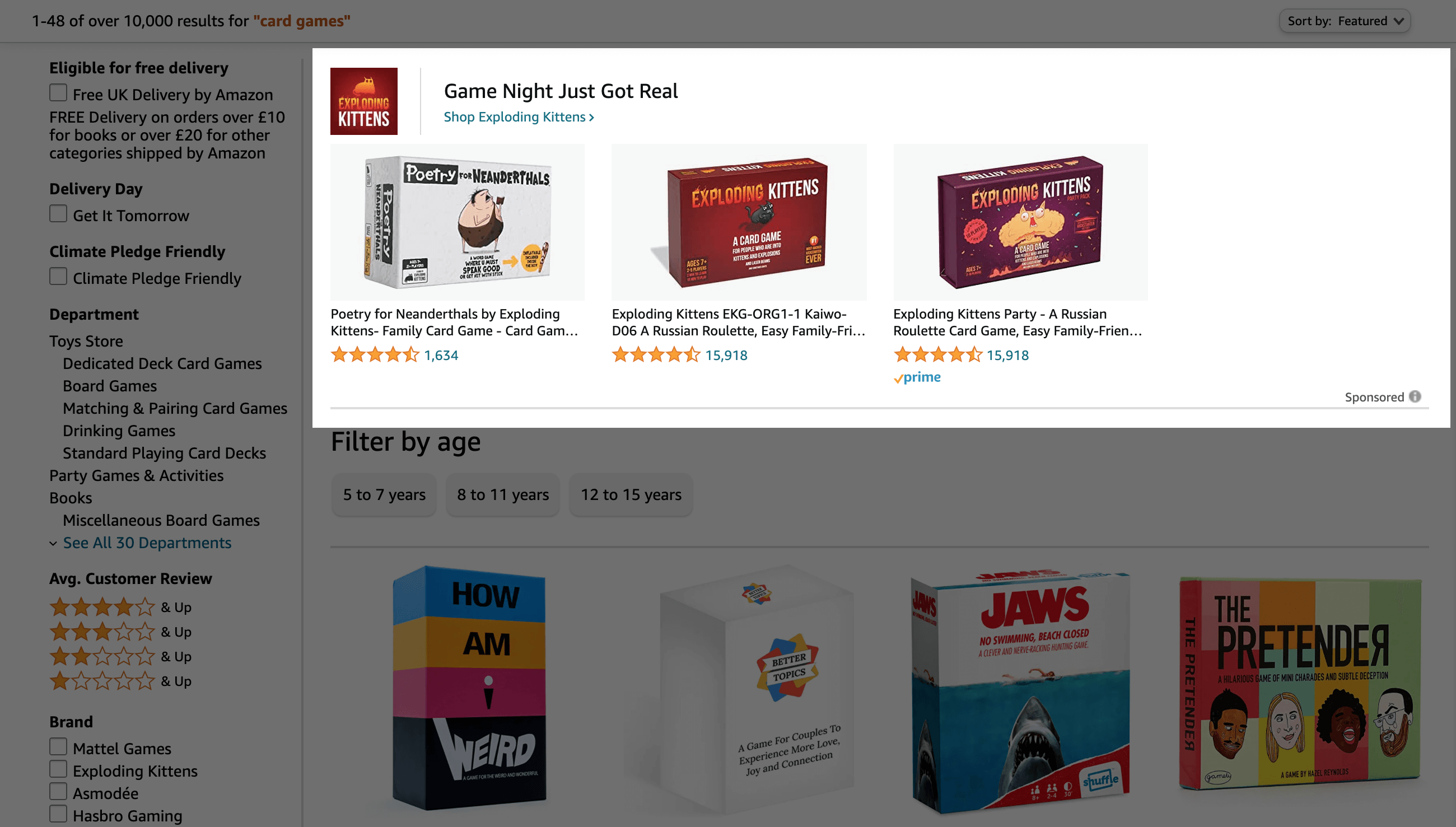 Clicking on these ads can take customers either to a product page or to the seller's Amazon Brand Store. The chance of winning new customers – not only for an individual product, but for the brand as a whole – is thus much greater. In addition, no competitors ads are displayed in the Brand Store.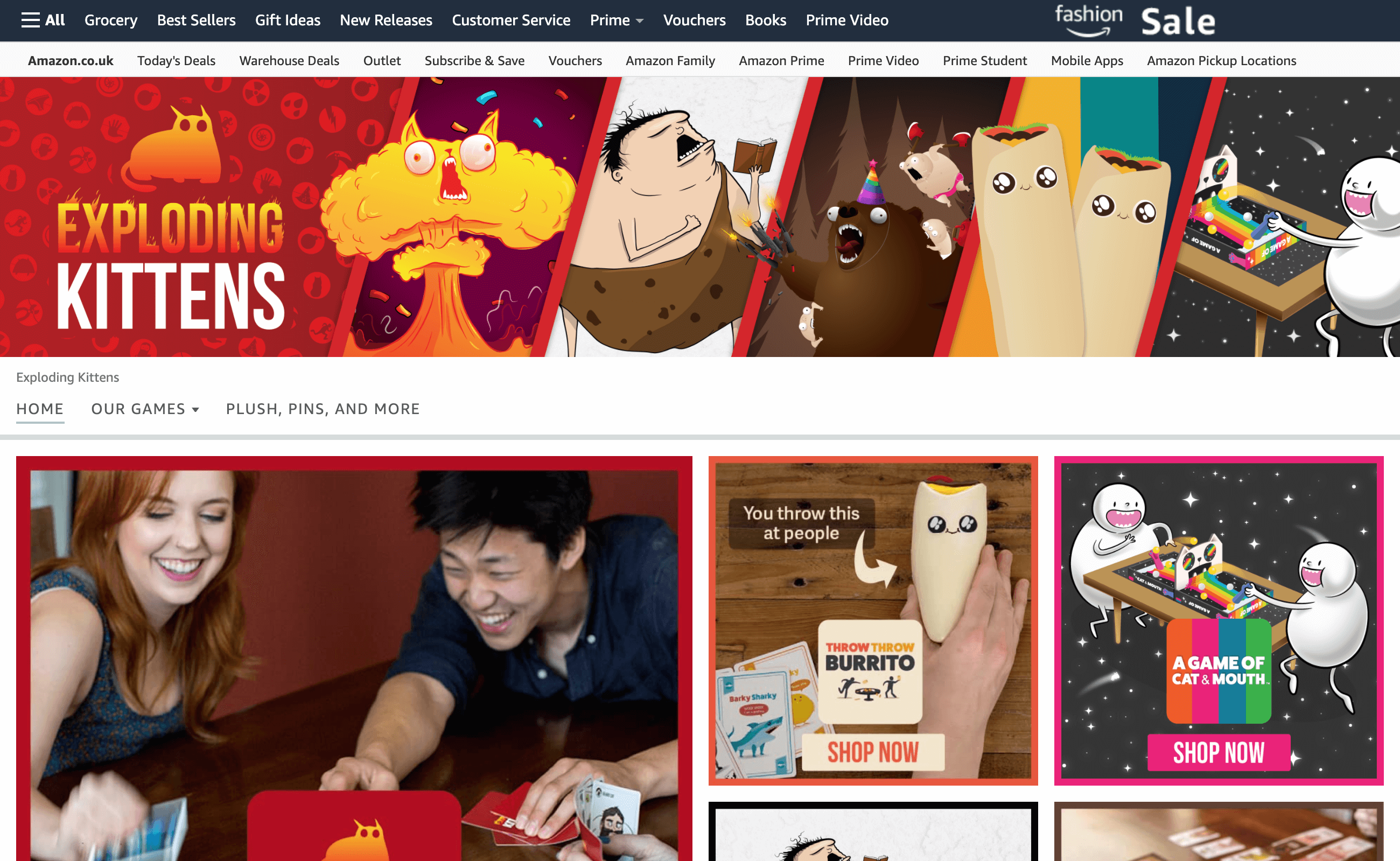 Sponsored Display Ads
Amazon displays Sponsored Display Ads on its home page and on product detail pages. On the latter, they appear under the so-called Buy Box or under the product features. Advertisers are also allowed to integrate their own brand logo and a short section of text in these ads.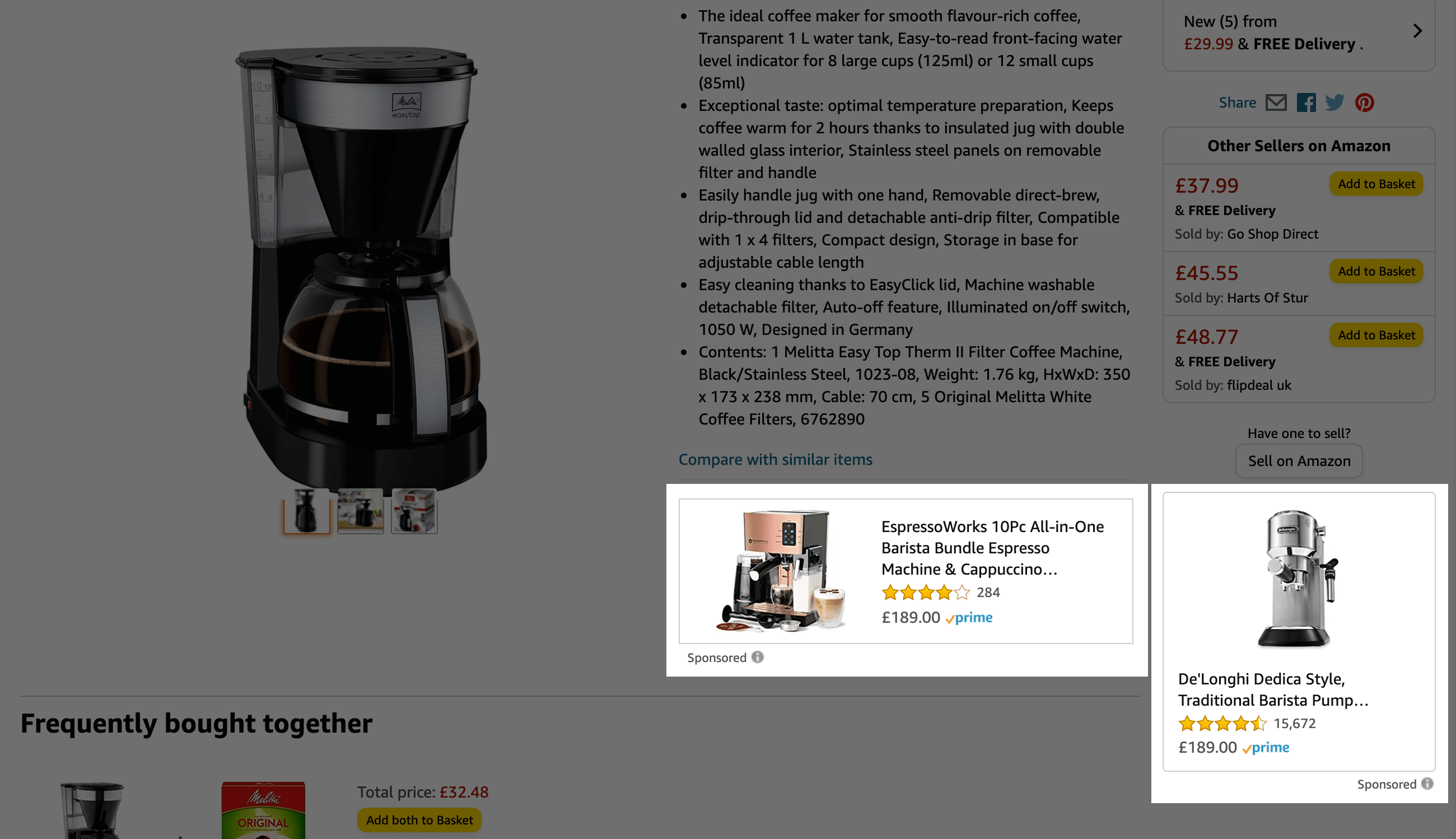 These ads can also be displayed to potential customers on external websites. The ads stand out from the rest of the website with a typical Amazon design, feature a call-to-action button and direct customers to the relevant product page.
Merchants can target different groups of people with these ads:
Potential customers who have viewed the seller's products or similar goods but have not yet made a purchase
The ads can target similar product categories or Amazon Standard Identification Numbers (ASINs)
Merchants can even set up ads for other products that they sell on their own product detail pages
The buying and search behaviour of potential customers over the last 90 days can also be analysed. Ads can be published in accordance with this analysis on the appropriate product pages.
Ad auction via the Amazon Advertising Console
Merchants can buy ad space at an auction. This involves bidding on search terms that match their product offering. Amazon can also suggest suitable alternatives, frequently searched keywords and related product detail pages in which the seller's ads could be displayed.