Amazon is not just a sales platform; it is the most important search engine for online shopping, even more so than Google. We explain how Amazon ranking works and what sets it apart from the Google model.
What is Amazon SEO?
When it comes to the visibility of your product page in the search results, you can work towards much better rankings with Amazon SEO in much the same way that you use standard SEO techniques when optimising for Google search results.
Unlike Google, Amazon rankings revolve around a single, clearly defined search intention amongst users: they want to find a specific product with specific features and choose the best deal.
All of your Amazon SEO efforts are aligned with this intention – from keyword optimisation to the design of the product detail page. Although there are some features that are specific to Amazon SEO and Amazon rankings, the basic mechanisms are identical to Google rankings:
The most relevant products/search results matching a search query achieve high rankings on the first page
The algorithm searches through all of the indexed product pages
Certain rules and ranking factors apply to indexing
Your offer and content must provide click and purchase incentives
The last point, in particular, is crucial for Amazon SEO: on this platform, conversion is everything at the end of the day. Every sale generates money for Amazon, and the more that you sell, the better your Amazon ranking will be. But in order to achieve higher sales, you need good visibility. This is one of the biggest challenges in Amazon SEO.
How does the Amazon algorithm work?
Amazon's algorithm is called A9, and it is not quite as transparent as its Google counterpart. Where the search engine giant has established and published more than 200 ranking factors, Amazon's engine remains far more open to interpretation.
What is certain, however, is that Amazon's algorithm pays attention to two elementary things:
Your product page's fit to a specific search query (keywords),
The performance of your product (click-through rate and conversion).
Both factors influence each other, which is why they cannot be separated when trying to understand Amazon SEO. While there are certainly some imponderables in terms of performance, you have all of the strings in your hand when it comes to keywords, and you should focus on this first and foremost.
The keywords for Amazon SEO influence your ranking both directly and indirectly via five main page elements, listed here in descending importance:
Product title
Product attributes (bullet points)
Product description
Alt tags for product images
Other descriptive elements
How do I write an optimal SEO product title for Amazon?
The keywords in the Amazon product title are a direct reflection of typical search queries. How broad or narrow they should depend upon the target group and the product. It is difficult to choose the right approach here right away. This is because Amazon's algorithm sees the product title simultaneously as a semantic and a technical performance factor:
A9 evaluates the title according to the exact fit of the keywords to the content, the number of keywords and their order in the search query.
However, products with longer titles tend to get fewer clicks than short, concise versions. Fewer clicks are a reason for a poorer ranking.
So you have to find a middle ground between the greatest possible keyword density and the most clickable title possible. You have a maximum of 200 characters available for this, even though Amazon recommends a maximum length of 80 characters for SEO.
You have several options to find the optimal product title: you can use various search queries and the autofill function to find out which searches are most frequently performed for a product.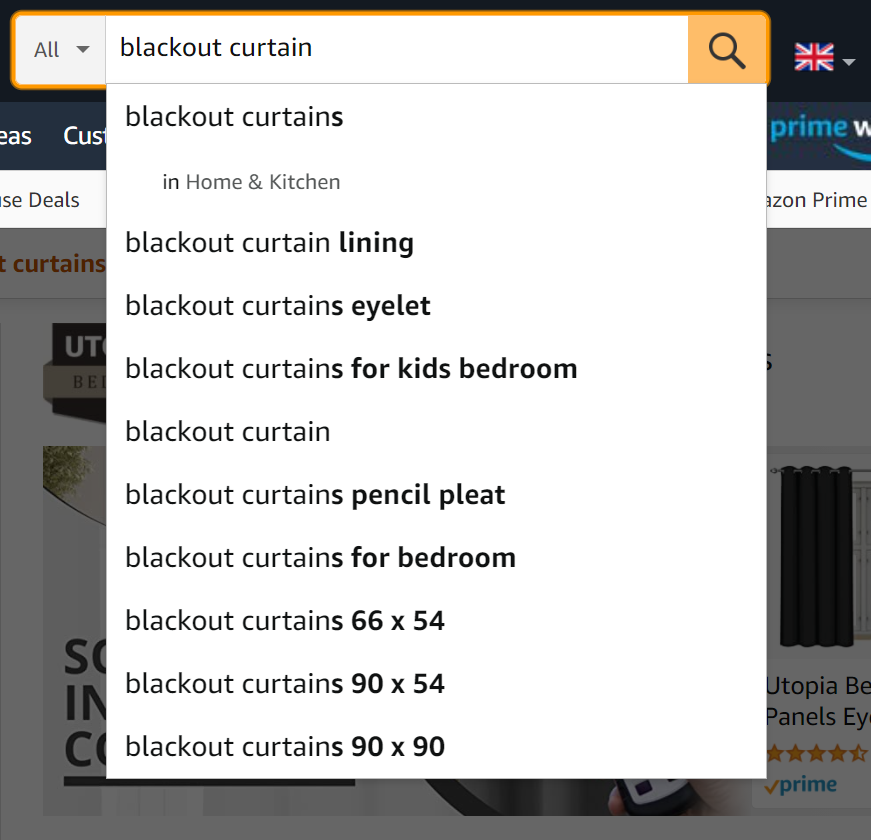 However, this is somewhat laborious, and it does not mean that you will achieve an algorithm-friendly title. Undertaking keyword and search query research via the SISTRIX Amazon SEO tool is more accurate and time-efficient.
What role do product attributes play in Amazon SEO?
As soon as an Amazon user clicks on your search result in the list, the focus of your Amazon SEO efforts shifts – at least somewhat. The list of product attributes in bullet points next to the product images is the most important source of information for buyers.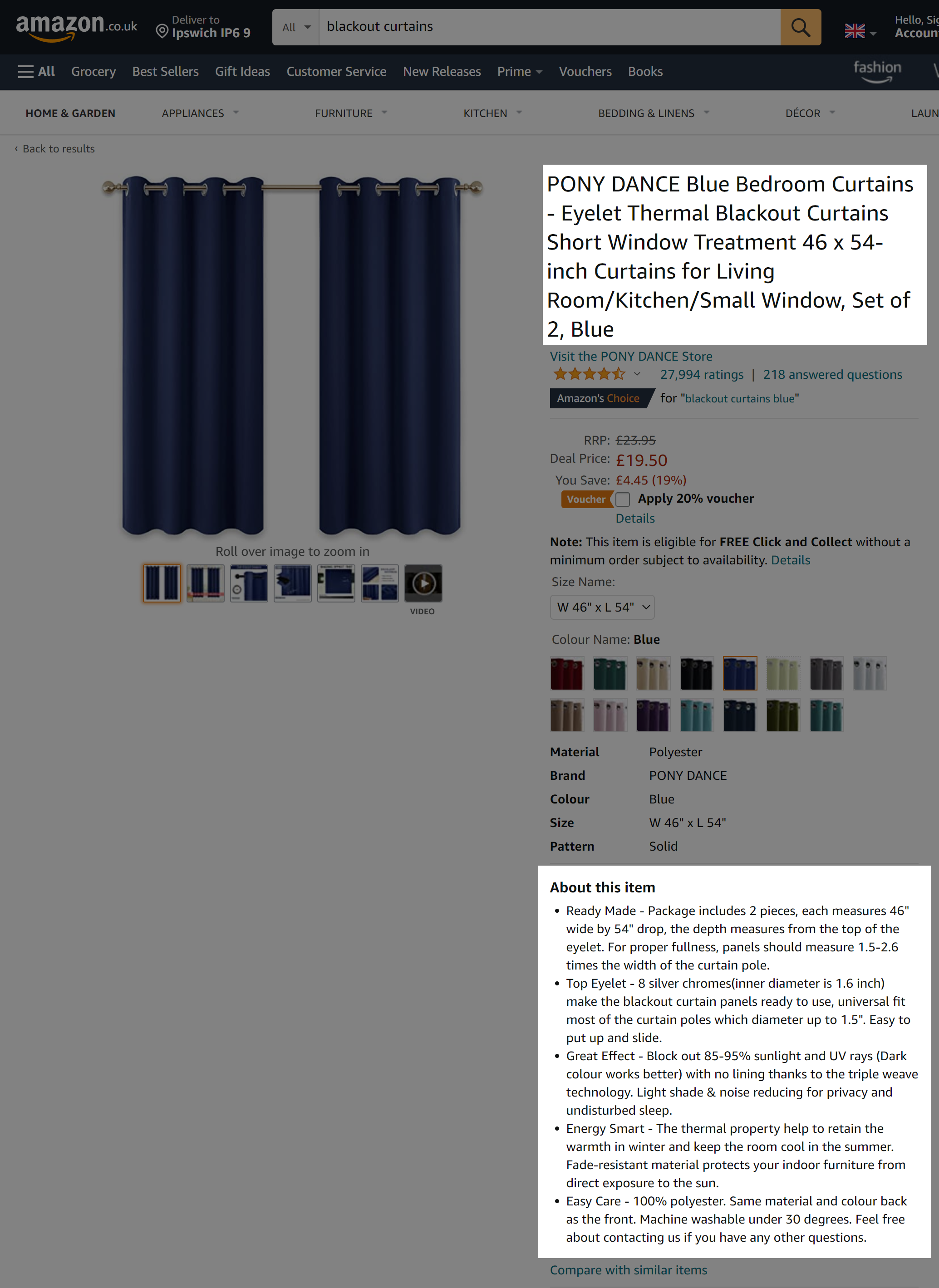 Although you can (and should) include keywords here, it is much more important that you provide an appealing, informative and persuasive explanation of what your product has to offer. List all of the relevant product features and especially emphasise your offer's USP.
Use the maximum 200 characters per bullet point allowance if your product demands it. Simple, inexpensive products that require little explanation benefit from the most important information in a clear, concise form. The inhibition threshold for a purchase is lower here anyway. However, the more expensive, complex and/or unusual the product, the more time and care you should invest in the formulation of your bullet points.
How important is the product description for Amazon SEO?
The position of the product description on Amazon alone indicates that this SEO element theoretically plays a secondary role in determining product rankings. After all, you have to scroll in order to read it. Many users don't feel like doing that unless you give them a good reason to do so. In addition, the A9 algorithm does not index the product description.
However, it would be a very bad idea to neglect this page element. This is because the product description is becoming increasingly important for your visibility and sales success for two reasons:
Although the product description is not indexed by Amazon, it is indexed by Google, which means that it can bring external traffic directly to your product page.
With Amazon A+ content, you can upgrade the description to a glossy brochure with images, interesting text and videos.
Amazon A+ Content is a feature that is available to Amazon Vendors and Amazon Sellers (or registered brand owners). A+ Content expands the product description into a multimedia online presentation, and it often provides the final incentive for customers to buy – especially in the case of high-price products that require further explanation.
However, the normal description format, in which 2,000 characters are available, is also a powerful tool. It closes the gap between Amazon SEO and Google SEO: you can make your product page attractive to Google with an optimised product description. You should therefore apply the typical ranking factors that are relevant in classic SEO here.
Further direct elements of Amazon SEO
In the General Keywords menu item on Amazon Seller Central, keyword stuffing is not only allowed; it is an excellent idea when optimising for Amazon SEO.
This field is only relevant to the algorithm. It therefore contains all of the keywords that you could not use when writing with the user in mind. Be sure to avoid duplication with the other SEO fields and observe the absolute upper limit of 249 bytes; if you exceed this limit, the field will be completely ignored.
Product images play an important role in optimising for the algorithm, as entries without images do not appear in the search results. Much more important, however, is the effect that they have on buyers. Images emotionalise, explain, inform, and convince. The product should be depicted from all angles, preferably in action, and as realistically as possible.
How do I optimise indirect ranking factors for Amazon SEO?
You can quickly get the impression that you are at the mercy of the algorithm and the buyers when it comes to click through rate (CTR) and conversion rate on Amazon. After all, even the best sales page is no guarantee of a sale.
However, the connections to the direct elements of Amazon SEO are obvious: the click-through rate is significantly affected by your product title and product images, and the conversion rate by the persuasiveness and quality of the SEO elements on your product detail page.
However, Amazon would not be Amazon if other ranking factors that you can influence either directly or only indirectly did not also play a role. These include, for example:
Your pricing – exactly in line with the market, but always slightly below the competition.
Whether you occupy the Buy Box – if several merchants offer an identical product, Amazon users can choose the merchant via the Buy Box. Hardly anyone does this, so you have to "win" the Buy Box.
The dwell time (Time On Page) is classified by Amazon as a fundamental CTR element, even if this factor can be very subjective and goes against Amazon's buying behaviour to a certain extent. In general, the longer the user stays on your detail page, the better.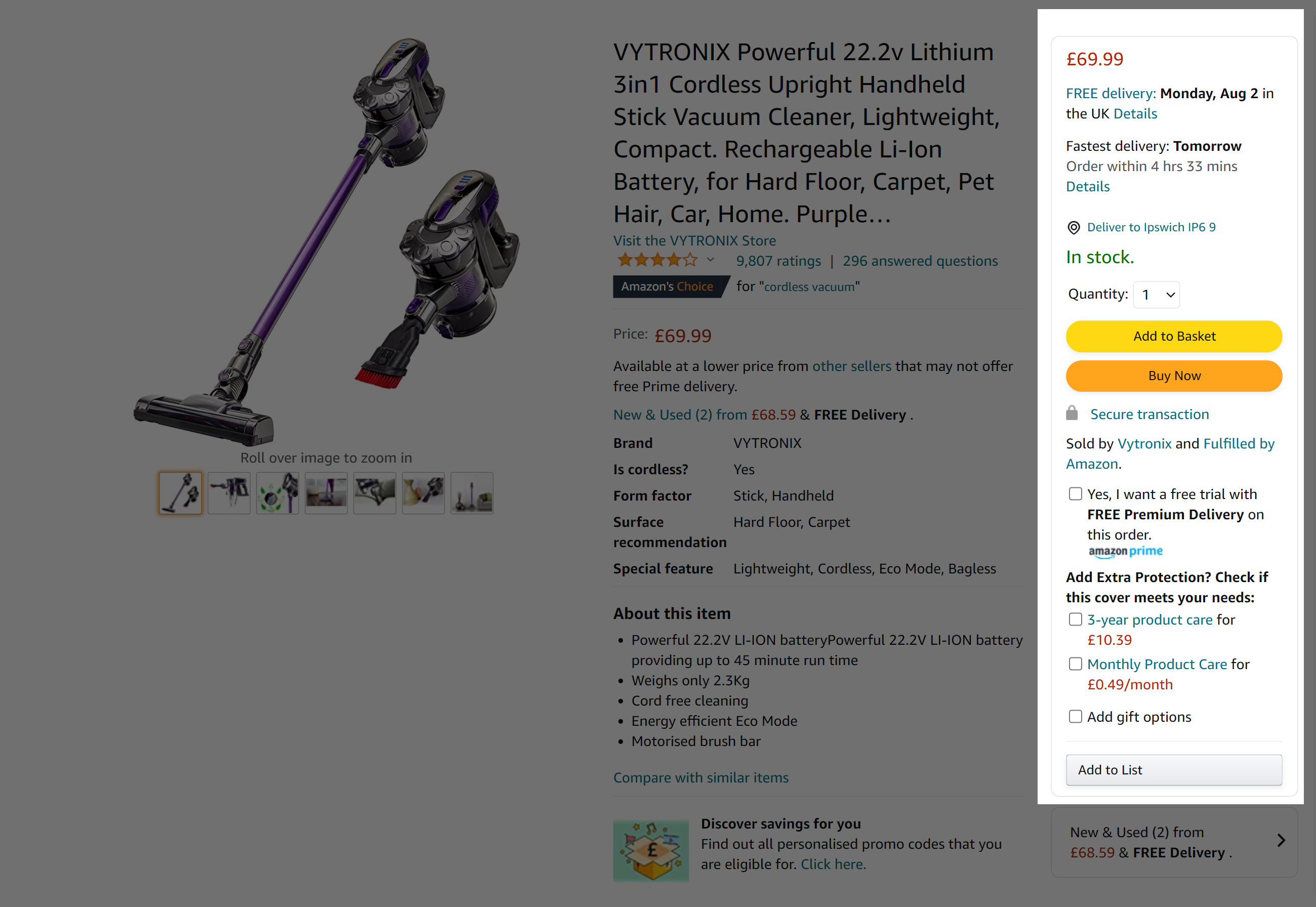 What other performance factors play a role in Amazon SEO?
Putting aside all of the SEO factors related to the presentation and description of your offer, Amazon is a trading platform. Therefore, ranking factors that solely concern the buying process and all after-sales activities also play a decisive role:
Price – your products need to be sold at a competitive, reasonable price point.
Deliverability – aim for immediate, fast, and always available. "Currently not available" must be avoided.
Delivery costs – low or none at all, otherwise you will be penalised by the algorithm.
Customer enquiries – merchants must respond within 24 hours (see Amazon guidelines – UK).
Categorisation – the bestseller rank in a category can only be achieved if the product is precisely classified.
Product reviews – here the algorithm looks closely at the average score, the topicality, and the number of reviews.
Seller ratings – this is also of critical importance, and it is judged by the algorithm according to the same process as product reviews.
Returns – the fewer the better, because otherwise Amazon will lose money. And they don't like that at all.
Conclusion
Amazon SEO can be a little tricky, but you can find your way to the top of the search results much faster than on Google, and without having to worry about as many ranking factors. It is essential that you optimise your product pages when selling on Amazon.