Do you want to get started as a merchant on Amazon? Then try to secure the Buy Box as soon as possible, because nine out of ten sales go through this box.
The small box determines how difficult it is for Amazon customers to find your offer as a retailer. The greater the competition, the more difficult it will be to win the Buy Box.
What is the Buy Box?
There are two types of sellers on Amazon: Amazon itself and sellers If a customer is not aware of this, they may not even know whether they are buying directly from the shipping giant or using the services of a merchant.
This is because most customers click "Add to cart" or "Buy now" without hesitation. The white box containing all of the important information about the purchase, i.e. the price, delivery date and retailer, is the Buy Box.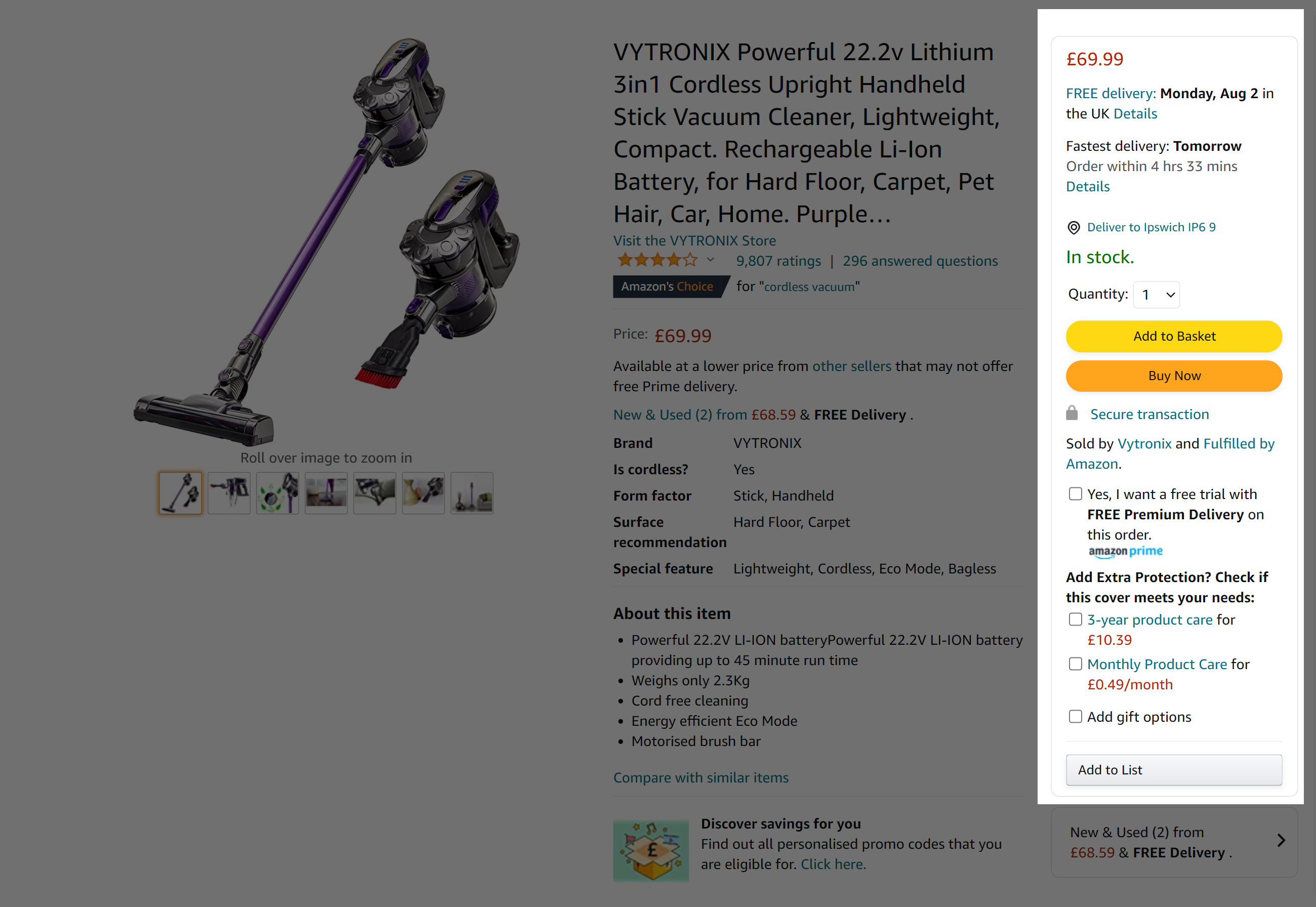 In this example, Vytronix the brand, and Vytronix secured the Buy Box. Sales that are made via the buttons are forwarded to the merchant, or as in this case, fulfilled by Amazon (FBA). Buyers have the option to choose a different merchant. However, only very few users pay attention to this option, which is located under the Buy Box.
That is why most sales on Amazon are processed via the Buy Box.
The background to this Buy Box is as follows: Amazon allows third-party sellers to offer their products on its site. In this way, it can offer a tremendously wide range of products for which it is not liable at a low cost. Of course, Amazon still has to make sure that the merchants offer a good customer experience.
Otherwise, reputation and sales will suffer from too many negative customer experiences. That is why Amazon tries to find retailers who offer the best possible service and give them preferential treatment. To do this, the shipping giant determines the optimal seller for each product and enables them to make more sales via the Buy Box.
Why is the Buy Box so important?
For retailers, the Buy Box determines the number of sales: according to Amazon, around 90% of customers buy their goods via this button. Amazon on mobile devices does not currently provide the option to select other merchants.
This means that if you win the Buy Box, you sell more. That's because many customers don't know that they can't buy directly from Amazon or how to select other merchants. Others trust that it's the best deal. Since this is often the case, even those who compare merchants often still choose the merchant in the Buy Box.
However, the Buy Box is not only important for your sales success when a customer is already on the product page. The Buy Box opens up PPC campaigns and Amazon promotions as valuable marketing channels.
You can use these just as well without the Buy Box, but the money you spend on them would primarily help your competitor in the Buy Box.
What are the requirements to win the Buy Box?
To have a chance of winning the Buy Box, you need to meet the following requirements:
You have been selling on Amazon for at least 90 days
You sell new products
The goods are available at short notice
You offer a price that does not exceed the average price of the previous weeks
You have a professional account
If you do, you are in the draw. Amazon then checks how good your offer is in relation to the competition. You are now in competition with all Amazon merchants who offer this product and Amazon tries to filter out the best offer.
How do I win the Buy Box when there are competing offers?
In order to provide customers with the best offer, Amazon relies on a mixture of price and quality. The shipping giant determines this with a specially developed algorithm.
It is not enough to make the cheapest offer. Amazon places great emphasis on customer satisfaction and tries to determine in advance how good this would be in the case of a purchase. Factors such as delivery time are taken into account, as are experiences that Amazon customers have had with a retailer.
The big hurdle when you're just starting out on Amazon is that, without sales and reviews, you can't prove that you value service quality. Amazon favours merchants with many good reviews because they have proven to work in a customer-oriented way.
Also, non-public statistics, such as exceeded delivery times, returns, complaints, etc. will lead to Amazon not selecting you as a Buy Box holder. So you need a good seller performance.
Amazon does not reveal in detail which factors are included in the determination of the retailer and to what extent. However, if you want to win the Buy Box, you should consider these Amazon Buy Box criteria:
Delivery time: If your product is available much faster than the competition, your chances of winning the Buy Box are good.
Price: The retailer with the best price does not always win the Buy Box. However, you need to call out a competitive price if you want to have a chance of doing so.
Shipping via FBA: Those who use Amazon's logistics meet shipping standards and can ship goods via Prime. Both of these are big advantages from Amazon's point of view.
Customer reviews: For the Buy Box, customer satisfaction is an important factor. Accordingly, it is important to offer good customer service.
Response to customer questions: If you respond quickly and satisfactorily to customer questions, it shows that you favour customer satisfaction. Amazon tracks your response time, so respond promptly.
Customer complaints: Amazon penalises high exchange rates in a certain category – customer complaints about allegedly used goods or opened packaging.
Just how hard it is to win against the competition depends on their strength. Those who are active as private label merchants win the Buy Box very easily as the only seller. Once the account is 90 days old, it pretty much happens of its own accord.
It gets harder when your competitors ship via Amazon FBA, but you don't. A lot of good reviews from your competitors will slow down your start as a seller on Amazon.
When Amazon sells your product, it's like playing against the boss on the highest difficulty level. But you can still win the Buy Box if you do everything right.
Losing the Buy Box: when and why does Amazon take the Buy Box away?
The Buy Box is not always 100% reserved for a merchant. The delivery time is crucial and can vary from region to region. Even with frequent sales and many competing products, it is quite common for two or more merchants to win the Buy Box in different proportions.
Most of the time, a trader loses the Buy Box because a competitor makes a better offer. So if you want to win back the Buy Box, you need to keep an eye on the competition's prices, delivery time and reviews. If the new Buy Box winner is superior in one area, you'll have to make improvements there – if it is worth your while.
There are also mistakes that the Amazon algorithm doesn't seem to like. One of these is a quick and sharp price reduction or increase. Therefore, you should always change prices in small steps.
I didn't get the Buy Box. Can I still sell on Amazon?
If you want to sell on Amazon without a Buy Box, you still have the "all offers" section and your own store page. You will sell less, but your visibility will still increase. Make sure that your service quality is good, that you get positive customer reviews and thus increase your chances of getting the Buy Box.
Conclusion
The Buy Box is crucial for your sales as a retailer on Amazon. To win the Buy Box, you must have a better offer than your competitors. If your price and service quality are better, you can even beat Amazon.