Amazon search is similar to standard search engines like Google and Bing. However, its search algorithm, also called the A9 algorithm, is less complicated and there are fewer ranking factors that play a decisive role. As with these search engines, however, keywords are one of these factors. In this article, we describe the relationship between Amazon rankings and keywords, where you can best use keywords and the tools that can assist with your research.
The differences between search engines and Amazon
While Amazon may look rather like a search engine, it is, first and foremost, an online marketplace. This means that the overriding objective is for as many goods as possible to be sold. Users of search engines like Google do not always search for specific products. They often undertake research on brands and products, but they also use search engines to find out more about countless other topics.
The Amazon algorithm, on the other hand, focuses on pure product searches. Users have already decided that they want to buy something, but they may still be undecided about which product, and from which brand, they want to order. The two algorithms therefore pursue different goals.
Relevance is the most important factor here. Amazon only displays search results that are relevant to your query. If you search for a chair, for example, you won't get any coffee machines in your search results.
In order for Amazon to include a retailer's product or products in its search results, the right keywords are required. Using a wide range of relevant keywords will also increase your visibility to customers.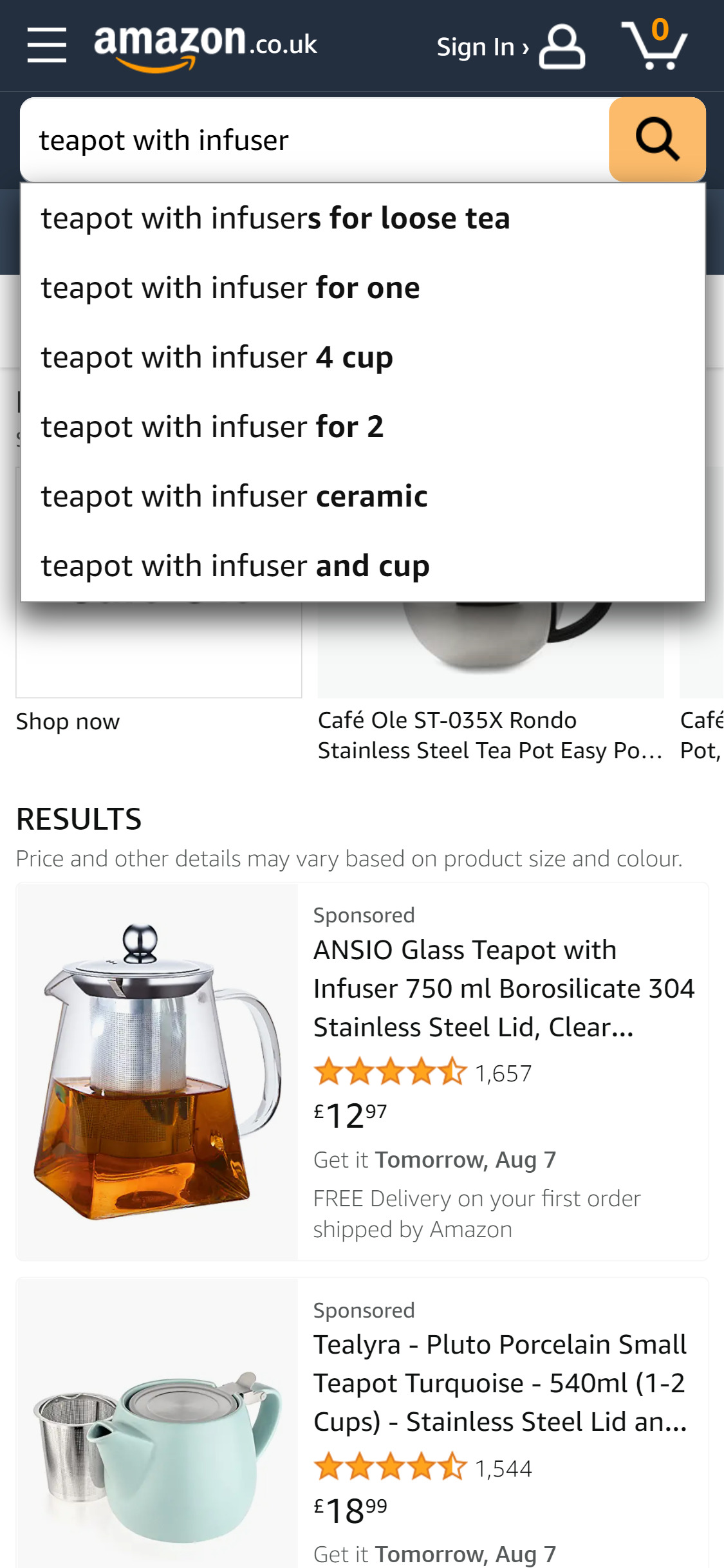 Uses for Amazon keywords
There are a number of ways in which Amazon sellers can use keywords. All of them can help make a product more visible to searchers and encourage them to make a purchase.
Keywords in the product title
Potential customers usually don't click on each individual product in the search results to read through the product details. Instead, they scan the titles for the information that is most important to them. Therefore, you should include the most important keywords in the product title. These include:
Brand and/or product name
Key features
Size
Colour
Quantity
Etc.
Bear in mind that product titles are displayed in different ways on different devices. Less of the title is visible on a smartphone or tablet app than on a computer screen. The most important keywords, therefore, belong at the beginning of the title.
Keywords on the product detail page
The detail page serves to present a concise, promotional description of your products. In addition, you can include keywords here for which there is no space in the title. If you neglect the keywords on the detail page, the bounce rate may increase, and potential customers may turn to the competition.
Note: As with search engine optimisation, you should also avoid keyword stuffing on Amazon. Make sure that you only use keywords that are related to your product and brand.
Hidden keywords in the backend
You can and should enter additional keywords in the backend of Amazon Seller Central. Whilst potential customers cannot see them, this allows Amazon to receive important information about your product.
However, you only have five lines and 250 characters available here. Ideally, you should not use keywords here that you have already used in the product title or on the detail page. In order to save space, you should also avoid using punctuation to separate the keywords.
How to undertake keyword research for Amazon
Your goal is to compile a comprehensive list of relevant keywords for each item. This will enable you to make your product as visible as possible. Proceed as follows:
Use synonyms. If you can't think of any yourself, use free tools and databases on the internet that generate several related terms for a keyword.
Look at the details included in pages that your competitors are using to sell similar products in order to find relevant keywords. You can also identify which related keywords your competitors are neglecting and use these to your advantage.
Use the Amazon search box to get ideas and suggestions for relevant keywords. When you type in a search term, Amazon automatically suggests items that customers regularly search for.
Use an Amazon keyword tool that generates hundreds of relevant keywords and new keyword ideas. These applications often provide search volumes, trends, competition and cost-per-click for each keyword. Focus on words with:
High search volume and high competition
High search volume and medium and low competition
Medium search volume and low competition
Free and paid Amazon keyword tools
Because keyword research for Amazon is different from research for search engines, there are keyword tools that are tailored to each engine. However, these are usually subject to a fee, and customers can only use a limited range of functions free of charge:
If you have registered your own brand, you can use Amazon Brand Analytics for free
You can test the keyword research tool from SISTRIX for free. After that, you have to pay for the service.
With Keywordtool.io, you only get to see the data for four keywords for free. Additional keywords and information are subject to a charge.
Tip: The task of undertaking keyword research is never actually finished. You should continuously review your progress and search for new relevant keywords. This is the only way to guarantee that your target group will continue to find and order your products in the future.