This month, as part of our project looking at the Visibility Leaders in travel, SectorWatch is packing its bags and putting on the suncream as we jet off to the family holidays sector. Which domains get the most visibility in this competitive market, and what are the most successful content formats?
For many families, holidays together are a time to create memories with loved ones, explore new destinations and cultures and take a break from the stresses of everyday life. As you'd expect with a luxury this valuable, the UK search market for family holidays is highly competitive, so let's kick-off with some facts:
If you haven't got time to look at the full lists and analyses below, here are the top three domains for two sets of keywords.
Leading domains for family holidays
Top 3 domains for 'do' (transactional intent) searches:
tui.co.uk
onthebeach.co.uk
firstchoice.co.uk
Top 3 domains for 'know' (informational or research intent) searches:
thetimes.co.uk
tui.co.uk
101holidays.co.uk
Now let's look a little deeper into the details, expose the important keywords and show you a list of 100 leading domains, along with analysis of some of the content formats we've seen in these leading domains.
Keyword research in the travel sector
To find who is the most visible, we've curated two lists of popular family holiday-related keywords, split across different search intents.
First is our selection of 'know' keywords. These are keywords with a commercial research or informational goal, such as inspiration for the best family holiday destinations. For example, there are searches for those looking for the best family holiday destinations (2,450 searches a month in the UK), or keeping closer to home and wanting to know the best holidays for families in UK (3,150 searches a month).
Our second list is for 'do' keywords. These are commercial searches where someone is looking to buy or order a product or ticket, hire a service or download something. In this case, these are our keywords where the searcher is looking for a site to book a holiday.
We have very generic searches such as family holidays 2023 (searched for 10.600 times a month on average in the UK) and cheap family holidays (4,650 searches a month). And we also have slightly more specific queries, including family all-inclusive holidays (6,100 searches), kids go free holidays (4,700) and holidays family Spain (3,600).
For both lists, we excluded brand names, queries with past years in them and certain other queries to curate a list of current, generic searches being made right now.
With this kind of list, we can see who is winning the UK search market today for the most competitive and relevant keywords.
The keywords used in this analysis are available for download at the end of the article.
Domain analysis: The top competitors in the online market for family holidays
So, who are our winning sites? Here is the complete list of those at the head of the pack:
Leading 25 domains: 'Do' intent
Leading domains for family holidays (577 do intent keywords)
| Domain | Market Share |
| --- | --- |
| tui.co.uk | 9.47% |
| onthebeach.co.uk | 4.73% |
| firstchoice.co.uk | 4.63% |
| thomascook.com | 3.72% |
| jet2holidays.com | 3.32% |
| loveholidays.com | 2.79% |
| tripadvisor.co.uk | 2.66% |
| awaywiththekids.co.uk | 2.38% |
| centerparcs.co.uk | 2.01% |
| haven.com | 1.78% |
| parkdeanresorts.co.uk | 1.70% |
| kuoni.co.uk | 1.68% |
| takethefamily.com | 1.57% |
| hoseasons.co.uk | 1.50% |
| virginholidays.co.uk | 1.42% |
| lastminute.com | 1.39% |
| kiddieholidays.co.uk | 1.34% |
| holidaypirates.com | 1.34% |
| holidaycottages.co.uk | 1.34% |
| forestholidays.co.uk | 1.30% |
| trailfinders.com | 1.21% |
| parentfriendlystays.co.uk | 1.02% |
| responsibletravel.com | 0.97% |
| travelsupermarket.com | 0.95% |
| jamesvillas.co.uk | 0.95% |
| quirkyaccom.com | 0.91% |
| icelolly.com | 0.86% |
| britishairways.com | 0.85% |
| easyjet.com | 0.82% |
| theguardian.com | 0.82% |
| familyhotelexpert.co.uk | 0.80% |
| thetimes.co.uk | 0.79% |
| familiesworldwide.co.uk | 0.76% |
| timeout.com | 0.74% |
| 101holidays.co.uk | 0.70% |
| lastminute-cottages.co.uk | 0.61% |
| prima.co.uk | 0.60% |
| eurocamp.co.uk | 0.52% |
| dealchecker.co.uk | 0.52% |
| oliverstravels.com | 0.50% |
| mumsnet.com | 0.50% |
| sovereign.com | 0.50% |
| clubmed.co.uk | 0.48% |
| magicbreaks.co.uk | 0.46% |
| travelrepublic.co.uk | 0.46% |
| expedia.co.uk | 0.45% |
| scottdunn.com | 0.44% |
| holidayhypermarket.co.uk | 0.43% |
| intrepidtravel.com | 0.42% |
| holidaygems.co.uk | 0.41% |
Leading 25 domains: 'Know' intent
Leading domains for family holidays (253 know intent keywords)
| Domain | Market share |
| --- | --- |
| thetimes.co.uk | 7.84% |
| tui.co.uk | 6.34% |
| 101holidays.co.uk | 6.06% |
| tripadvisor.co.uk | 4.02% |
| mumsnet.com | 3.95% |
| oliverstravels.com | 3.59% |
| prima.co.uk | 3.15% |
| cntraveller.com | 2.83% |
| kuoni.co.uk | 2.69% |
| onthebeach.co.uk | 2.56% |
| travelsupermarket.com | 2.19% |
| independent.co.uk | 2.07% |
| theguardian.com | 2.02% |
| goodhousekeeping.com | 1.95% |
| inspiringtravel.co.uk | 1.94% |
| familyhotelexpert.co.uk | 1.93% |
| kiddieholidays.co.uk | 1.86% |
| virginholidays.co.uk | 1.51% |
| wheretogowithkids.co.uk | 1.46% |
| hellomagazine.com | 1.07% |
| lastminute.com | 1.04% |
| awaywiththekids.co.uk | 0.93% |
| takethefamily.com | 0.92% |
| holidaypirates.com | 0.88% |
| sykescottages.co.uk | 0.83% |
| timeout.com | 0.78% |
| haven.com | 0.77% |
| parkdeanresorts.co.uk | 0.70% |
| roughguides.com | 0.70% |
| tropicalsky.co.uk | 0.67% |
| thetravelexpert.ie | 0.65% |
| parentfriendlystays.co.uk | 0.63% |
| thomascook.com | 0.63% |
| europeanbestdestinations.com | 0.61% |
| countryliving.com | 0.58% |
| quirkyaccom.com | 0.57% |
| thehealthyholidaycompany.co.uk | 0.54% |
| holidaycottages.co.uk | 0.54% |
| telegraph.co.uk | 0.54% |
| muddystilettos.co.uk | 0.53% |
| forbes.com | 0.52% |
| firstchoice.co.uk | 0.50% |
| trailfinders.com | 0.48% |
| mirror.co.uk | 0.44% |
| sovereign.com | 0.43% |
| letsgowiththechildren.co.uk | 0.42% |
| madeformums.com | 0.40% |
| scottdunn.com | 0.39% |
| responsibletravel.com | 0.38% |
| flashpackingfamily.com | 0.36% |
Content examples: What type of content is performing?
Looking at our winner lists, there are some clear patterns & takeaways we can learn from:
For our 'do' keywords, Google is clearly focused on delivering booking opportunities for these commercially minded queries. The top 20 domains are nearly (19 out of 20) all suppliers where you can book a holiday, from TUI to Trailfinders

Even the exception, Trip Advisor has the option to book hotels and holidays rentals, even if you can't book a whole international 'holiday'
For these keywords, Google has interpreted there is only one intent, to find a site where you can book your holiday. That means booking sites dominate

Within those suppliers, there is some variety. We have big-name brands such as On The Beach, First Choice, and Thomas Cook, luxury brands such as Kuoni, and speciality sites such as Take The Family and Forest Holidays

There are also a few direct suppliers for those interested in UK holidays, including Center Parcs, Haven and Parkdean

For our informational queries, we see a much wider variety of sites. As we are looking at queries searching for guidance or inspiration, there are fewer constraints on who Google thinks can provide a suitable answer – any expert can provide this type of knowledge, whereas not everyone can help you make a booking with them
As a result, we see a lot of publishers entering the mix, such as The Times, CN Traveller, The Independent, Good Housekeeping and The Guardian

There are also travel specialist websites, such as 101 Holidays which is run by noted travel writers
Sites with lots of reviews and user-generated content, such as Trip Advisor and Mumsnet are popular sources of information that Google trusts to provide helpful insight
And a few of our holiday suppliers, including TUI, Oliver's Travels and Kuoni
To further learn what content Google is looking to reward, we need to take a deeper look into these winning domains. What content, and which formats, are doing well?
High-performance content can help us learn what works. We classify it as a set of content where its keyword rankings are weighted towards the first page of Google search results. Let's look at some examples by finding the domains whose content consistently performs.
High-performance 'do' content examples
The most popular keyword in our curated list is 'family holidays 2023' and the top ranking page for this (at the time of writing) is Jet2holidays' dedicated page.
This page alone ranks for 500 keywords in the UK, and over 45% of the most important rank on page one. A clear sign of high performance content.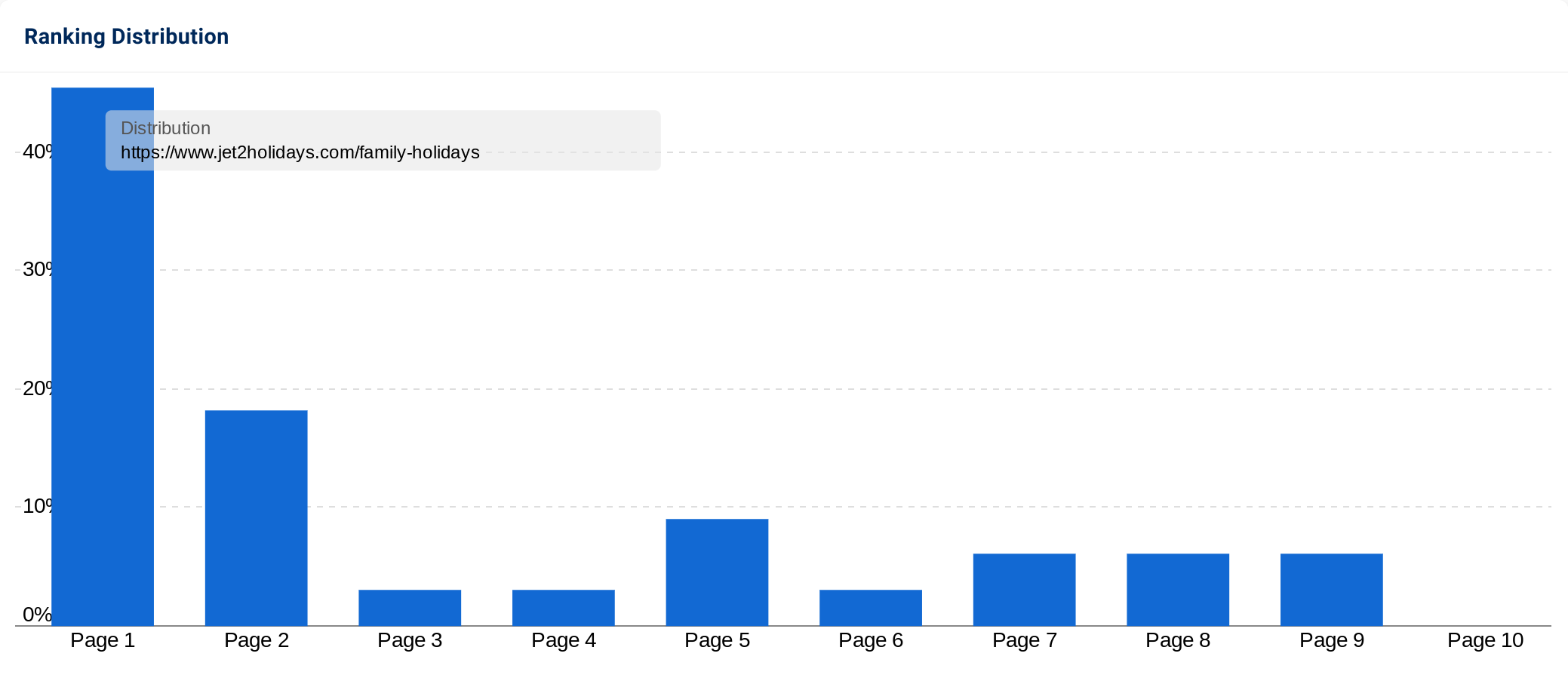 As with most travel sites, this landing page has only a little original content. The main conversion goal of the page is clear – there's a booking engine at the top of the page followed by reassurance content showing the benefits of booking with Jet2holidays.
Below that though, the page is a curation of related content.
There are links to more specific landing pages for different types of family holidays, such as holidays with babies, holidays with teenagers or for large families or those with single parents.
Then we have more links, this time to dedicated pages for holidays with specific features. This includes holidays with aqua parks and a selection of 'family favourite' destinations. Then we have links to more family holiday options such as camping holidays, family city breaks and family villa holidays.
Some of these landing pages live in the same /family-holidays/ directory and others are sub-categories of other holiday types, such as the page for luxury family holidays living under the luxury folder (/indulgent-escapes/perfect-for-families).
This internal linking & set structure helps provide as much cross-merchandising variety as possible while preventing Jet2 from having multiple pages targeting the same audience intent.
Further down the page, there are some example hotels within the category, and links to the landing pages for popular family holiday destinations including Majorca and Crete. Finally, there are links to useful further reading, such as their page for breaks during school holidays.
Interestingly, Jet2holidays have some intro copy about their family holidays, right at the bottom of the page… This indicates that this might be more for search engines than it is for customers.
Together, the many links on this page achieve three goals:
Funnels the audience to a more specific booking page that might suit them better
Provides internal links to many important pages from this key page that sits high in the site's structure
Demonstrates to search engines that there is a lot of relevant content on this site for those looking for a family holiday
While many of the pages linked from the main family holidays page live in other parts of the site, there is still a lot of useful content within Jet2holidays' /family-holidays/ directory.
The overall visibility for the directory has fallen from a high point back in 2019 but has recently been growing. Twelve pages rank for at least one keyword in the UK, and together they rank for over 900 keywords, with 23% of those on page one.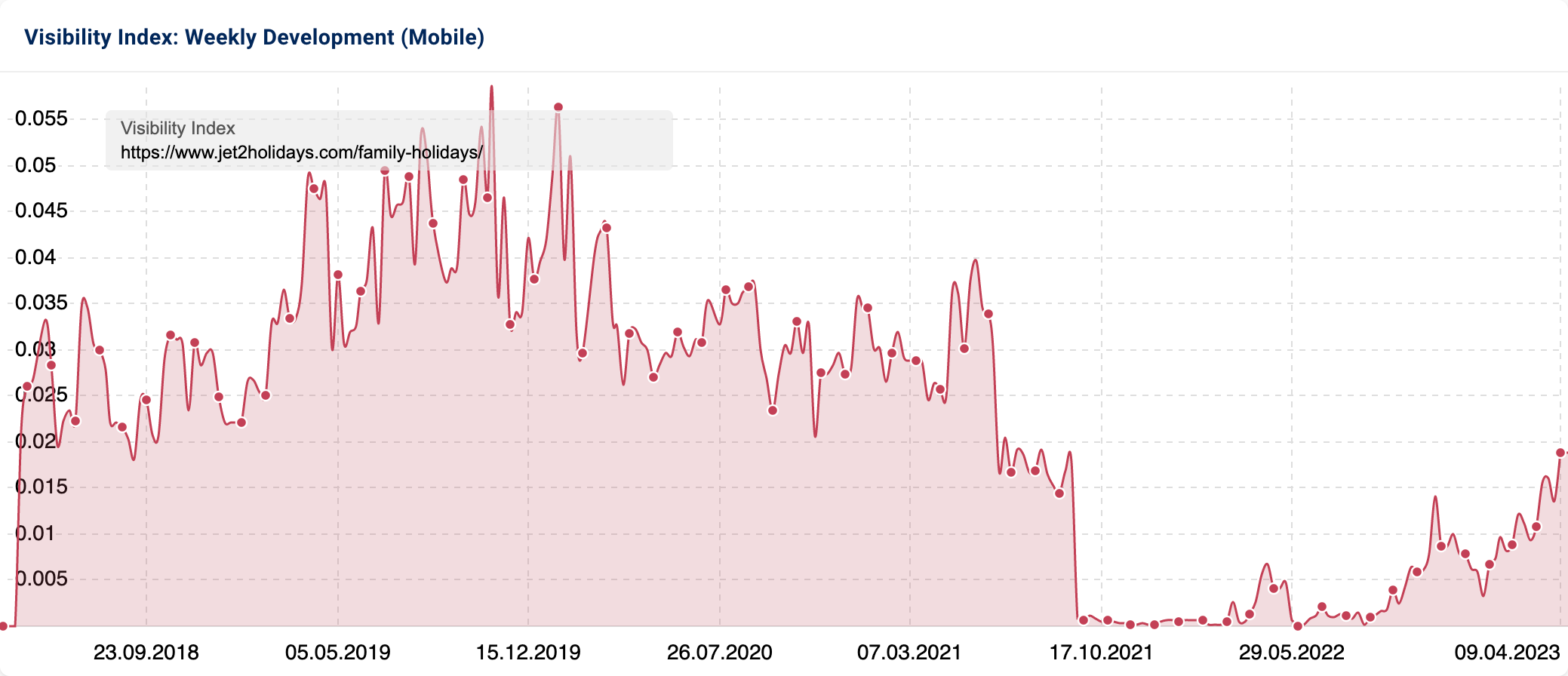 These child pages follow a simpler version of the main page's template:
Booking engine
Benefits of booking with Jet2
Example hotels
And some 'intro' copy
On The Beach follows a very similar section structure, with a main family holidays page that performs strongly.
It ranks for 1,440 keywords in the UK, appearing on page one for 54% of the most important including number one for cheap family holidays which is searched 4,650 times a month on average with a big peak each January.
Sistrix estimates this page brings in over 15,000 visits a month, worth over £28.5k.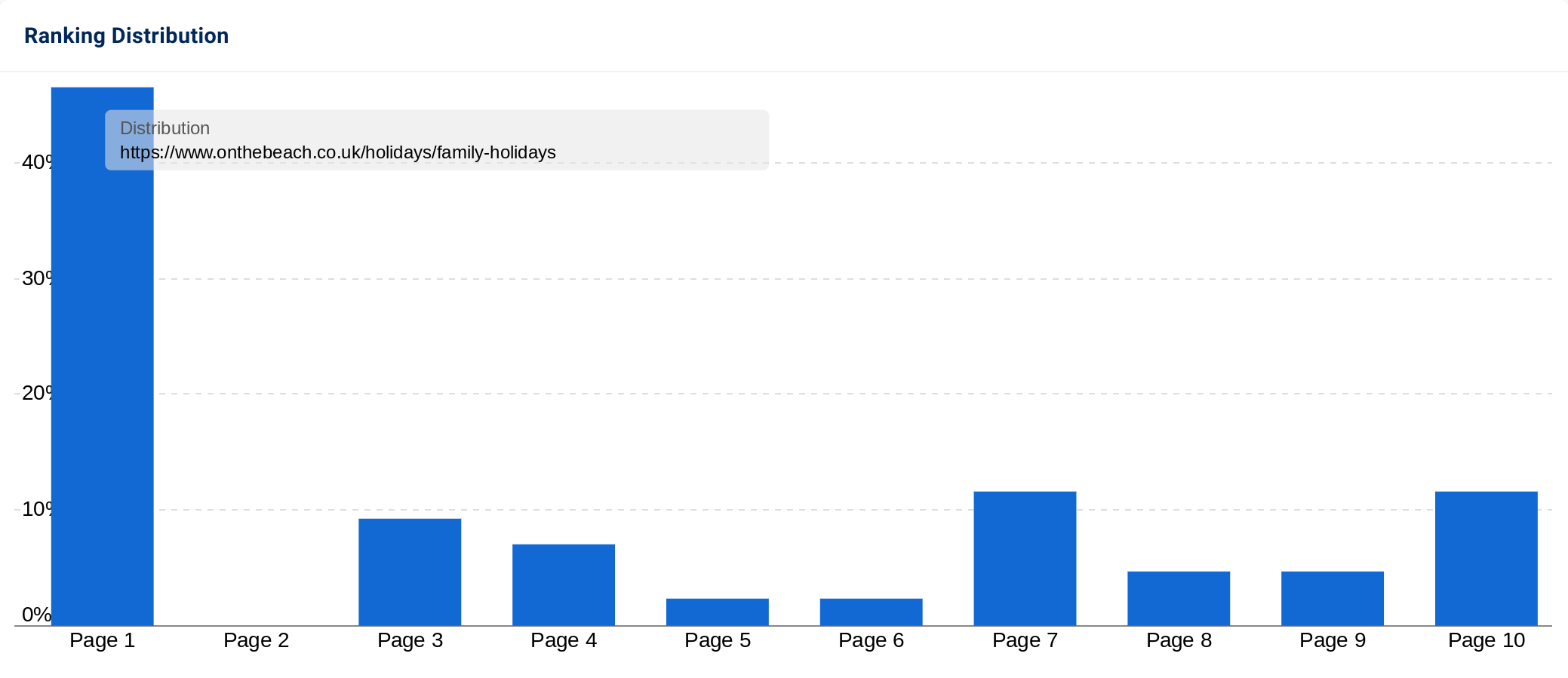 This page has been on an upward trajectory over the past nine months, growing considerably after a downturn in performance in August 2022.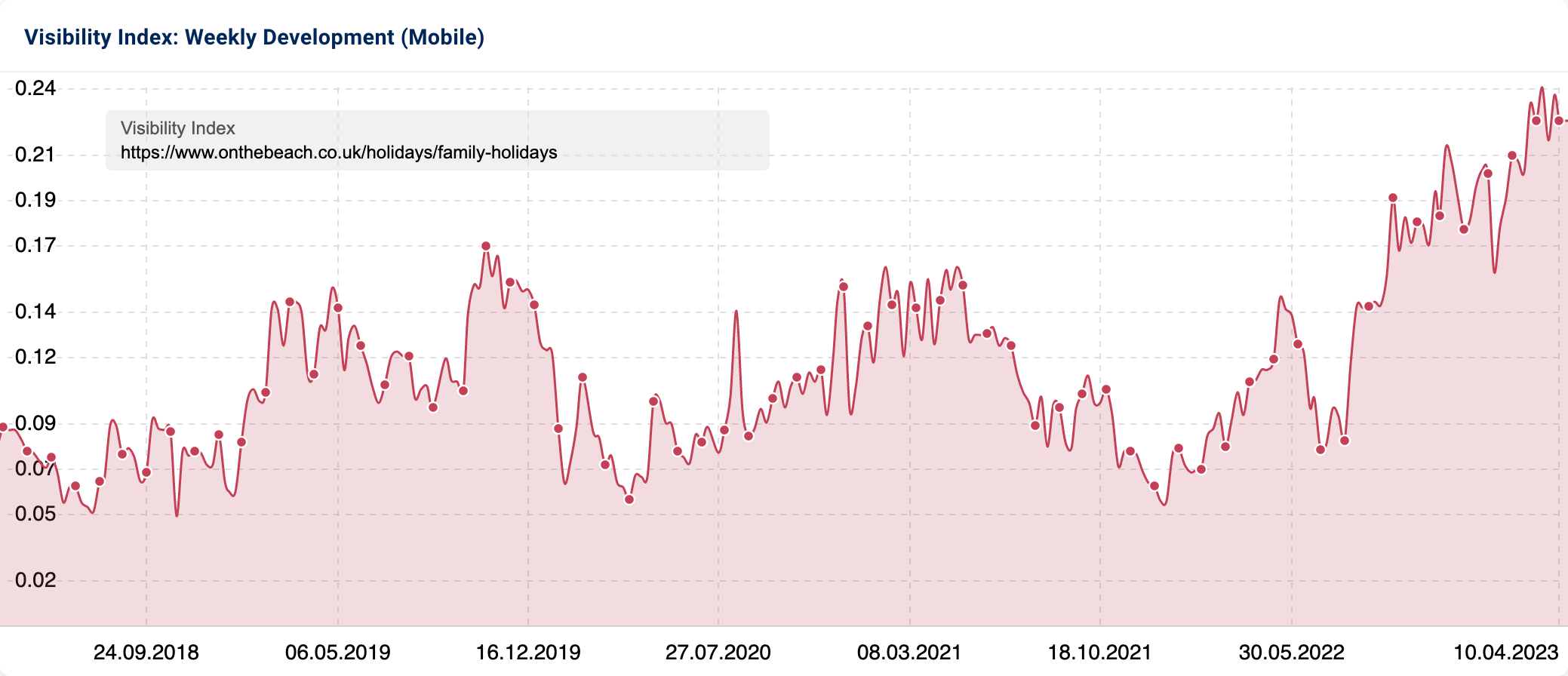 This page has some similar design points to Jet2holidays:
Booking engine
Benefits of booking with On The Beach
Example hotels for families
Links to relevant destination pages
But it differs in a couple of interesting facets.
It puts the intro copy section near the top of the page, just below the booking engine.
And it has a series of subsections for important family holiday subcategories, with an (H2) heading, explanatory copy and example hotels for these related concepts. There are subsections on 'cheap family holidays', 'All-inclusive family holidays', 'Relaxing family holidays', 'Family holidays with waterparks', 'Family holidays for babies and toddlers', 'Family-friendly LGBTQ+ Holidays' and more.
There's also an FAQ section, links to landing pages for different seasonal holiday times (such as a page on Easter holidays) and to related blog posts.
Could this extra detail be the reason this page has a wider keyword footprint? And why it ranks well for terms like cheap family holidays? It certainly shows a slightly different approach.
As with Jet2holidays, there is a selection of pages within the family holidays directory. These five pages (which match most of the subsections on the main page) rank for 846 keywords, with over 60% of the most important ranking on page one.
Our winning domain is TUI.co.uk, and their family holiday page is a little smaller in content but highly successful.
It ranks for 825 keywords in the UK, but pulls in 22.5k organic visitors a month, with that traffic worth £42k thanks to it ranking highly for some of the most desirable terms. It is in the top three for family holidays, family holidays 2023 and cheap family holidays.
It also does very well with branded terms that weren't part of our keyword set – the query tui family holidays is searched for 1,900 times a month in the UK for example.
In fact, this page ranks on page one for over two-thirds of its most valuable keywords – another example of high-performing content.
Unlike their rivals, TUI doesn't have a family holidays 'section', instead they use 'family as a subcategory within their destinations. So, they have a page for family holidays in Spain under the /destinations/europe/spain/ directory.
This ranks for only 88 keywords but it ranks at number one for a host of popular keywords such as Spain for family holidays and holidays for families in Spain. This page brings in almost 7k organic visitors a month and that traffic is worth £13k!
High-performance guidance ('know') content
Speaking of TUI, they are the most successful of the operators for our curated list of informational 'know' keywords. Unlike many of their rivals, they've successfully branched out into inspirational content around the holidays they sell.
Their guidance content mostly lives in their 'Discovery' directory, which overall ranks for almost 8.5k keywords in the UK.
The section was launched in December 2021 – just in time for peak season in early 2022 – and has seen a couple of jumps in organic visibility since then.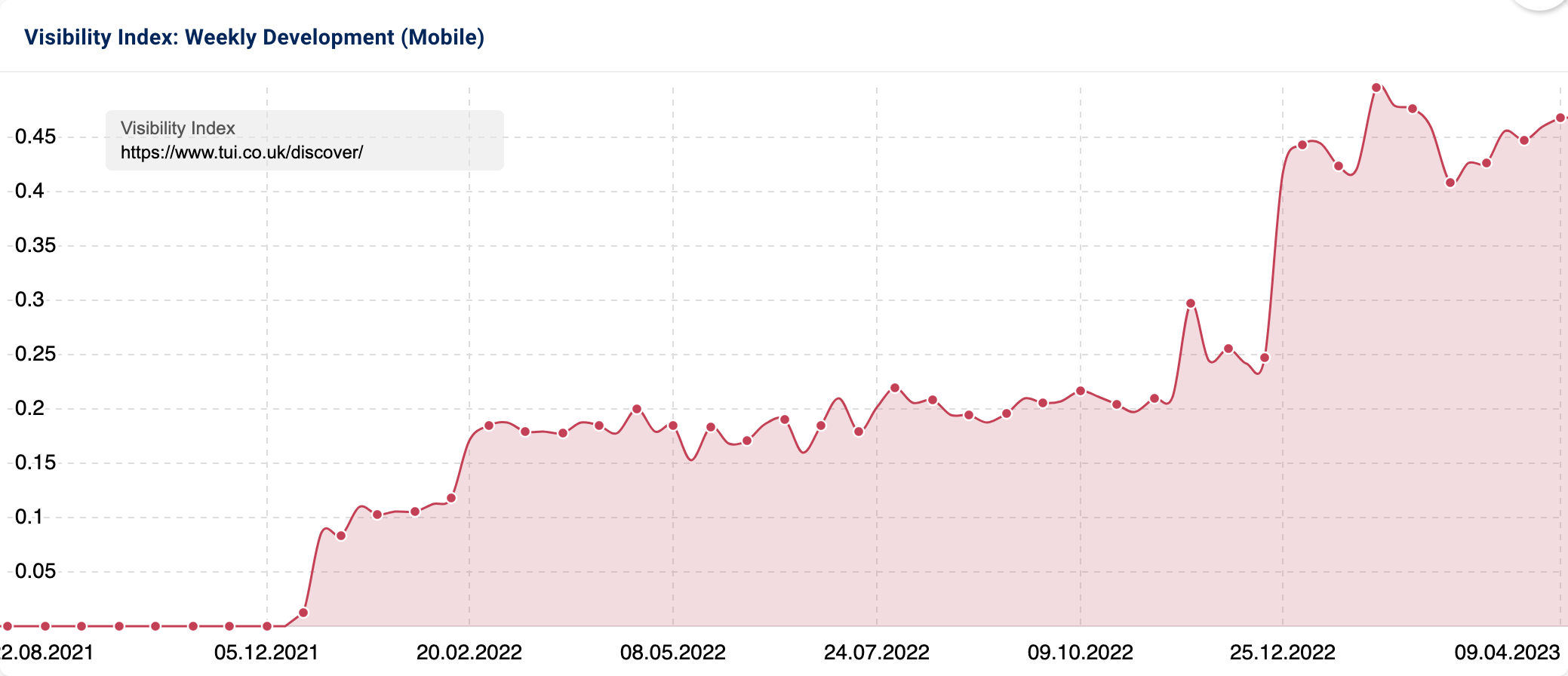 Even better, it now ranks on page one for over 27% of the most valuable keywords Google shows it for.

Inside the directory is 385 articles that rank for at least one keyword, and together these pages bring in 139k organic visits a month. That traffic is estimated to be worth a huge £281k were you to pay for it via Google Ads. This shows the potential value of tapping into this guidance content.
A great example of its success is its guide to the best family holiday destinations. It ranks for over 300 keywords in the UK and brings in over 5,000 organic visits a month (worth over £8k alone!)
This success is despite it being a relatively simple guide. It does just enough to be a useful piece of content that Google wants to show searchers:
It covers a decent number of destinations – eight – with a few good examples from each to get readers inspired
There are photos for each destination, which look like stock photography, but are likely from TUI's library of holiday images
The article does have lots of handy links to each country and to pages for each region, destination or resort suggested making it easy to find out more
The article does mention its authors and the date it was last updated (September 2022)
The main strength of the article is perhaps that it comes from a strong domain that is a recognised expert in the area
And at the bottom of the page is a clue as to the Discover section's success – links to over 30 Discover topic pages based on different holiday types, such as luxury holidays and over 30 pages based on different destinations such as this one for Italy.
These are the same as blog categories or tag pages, and list all the relevant articles on that topic.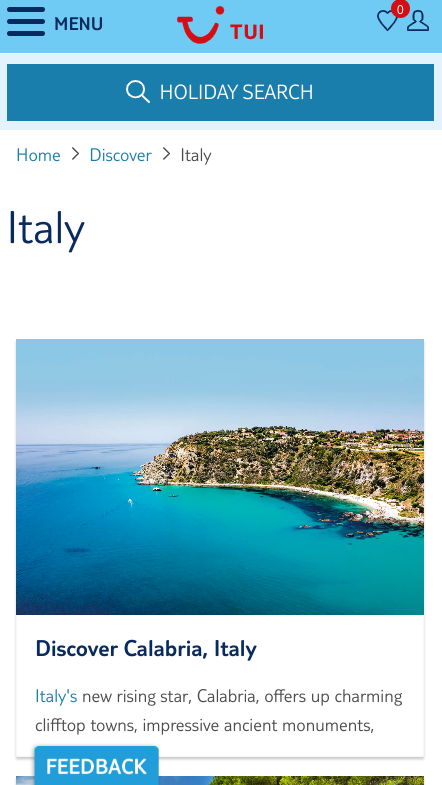 Essentially, these create mini content hubs of inspirational content on each subject, with the opportunity for further optimisation should TUI want to push this further (which based on the section's current success, could well be worth it).
Another operator seeing success with the guidance content is luxury travel agent Kuoni.
They take a slightly different approach. Each of their destination directories contains evergreen long-form guides. For families, they have a guide on where to go in the school holidays for example, which ranks for 87 keywords.
Kuoni also has a 'Travel inspiration' section, acting somewhat as Kuoni's travel blog. This section ranks for over 800 keywords, with almost 20% of those on page one.

Our top-performing site for 'know' keywords was The Times, which ranks for 191 out of our 253 keywords. 126 of those rankings – 50% – are on page one.
One of their most successful articles for our keyword lists is their guide to the Best family holidays for 2023. First published in January 2022, the article has been updated for 2023 and has seen a big jump in visibility since the December Helpful Content Update.
It currently ranks for over 470 keywords in the UK, with 15% of those on page one, bringing in over 2.5k organic visitors a month.

A look at the article shows why Google likes to rank it so often. It positively answers many of the questions Google recommends we ask of 'quality' content:
There's a clear goal to the page, setting out to deliver the information it promises
There's an identified author, a clear publication (or in reality, updated) date and a prominent notification that it contains affiliate links
The end of the article has links to related articles such as 'the best luxury holidays for 2023'
The site structure is laid out for search, with a sub-navigation highlighting the most important parts of the travel section (such as destinations, holiday types etc.) plus tags at the foot of the article linking to hub pages for destinations mentioned in the content

Just like TUI, The Times has a large number of hub pages that collect all the relevant articles for different destinations and holiday types, each of which get links back from the relevant articles and can rank for inspiration searches on that subject

Most importantly, there's a lot of inspiration in the content. The article lists 17 different destinations to consider each with an explanation of what this is 'Best for' plus notes on the potential price level and if bookings are flexible
Each suggestion also links through to a related article so the reader can find out more. For example, the suggestion of going on a Disney cruise has a link to their article on the best family cruises
Plus, the page has well-optimised on-page SEO elements such as the H1, title tag, sub-headings, meta description, lazy loading for page load speed and more
This is just one of the hundreds of articles in The Times' travel section. Together, they rank for an incredible 165k keywords that combined earn organic traffic worth £1 million every month.
When you look at the growth in visibility for the directory, you can see the power of a major domain doing a content section well.

But what if you are not a major newspaper? Can you still compete?
101 Holidays is a good example of a smaller, expert site earning success.
Third in our list of winning sites, it has a variety of powerful articles on family holidays. Their main page on family holidays doesn't have much content, but this isn't the page driving traffic to the site.
Instead, it offers a clue to their SEO-driven tactic – building lots of articles based on popular searches:
If there's a popular sub-topic on family holidays, 101 Holidays likely has an article for it!
How many guides are we talking about? The /family/ directory contains 121 articles ranking for at least one keyword, and the section references plenty of related articles from other sections as well.
The /family/ directory is an incredible example of SEO-focused content performing well, powered by content from experts that seeks to provide a good answer to as many popular questions (every search query is a question in some form) as possible. 101 Holidays repeat this SEO formula across their site.
The section ranks for over 3,000 keywords, worth £16k in organic traffic each month. 11% of these rankings are on page one, and the footprint has grown consistently up to the recent March 2023 Core Update.

Summary
What have we learned from our excursion into family holidays?
In some sectors, Google knows exactly the type of content experiences it wants to deliver to searchers. In this case, travel site landing pages dominate our 'do' keywords. When this happens, it is incredibly hard to try and break in with a different content format
But, that doesn't mean you have to copy everyone else's template slavishly. We can see the major travel operators trying different ideas. Testing out better formats (without contradicting UX best practices), and finding what works best for your audience and potentially for the search engines will help you stand out in a crowded field
When it comes to recommendation content, it is possible for a range of sites to get in on the action, as long as you can satisfy Google's demands for quality content and helpful reviews
Understanding your audience's needs through keyword research can help you build incredibly successful site structures and content hubs. Understanding the range of searches made in a subtopic can help you understand the content you should create, and when done well and at scale, still drives a lot of organic traffic
And speaking of hubs, creating content centres of related articles and pulling them together under a hub page or pillar article can help set your site structure, guide audience journeys and build topic expertise
Our process
For this SectorWatch, we used relevant keywords from a selection of family holidays keyword discovery tables.
We chose a selection of highly targeted keywords with a 'do' or 'know' intent. From these, we harvest all the ranking keywords for the URLs in the SERPs. We call this the Keyword Environment. Most SERPs will have some mixed intent so we re-filter the list for the correct intents and sanitise it by hand to leave a smaller, highly-relevant set of searches made by the UK public broken down by searcher journey. The results are based only on organic result rankings.
Keyword Set: Family holidays
Core keywords: family holidays 2023, cheap family holidays, all-inclusive family holidays, kids holidays, family holiday destinations, best holidays for kids, best family holidays.
The full keyword set is available for download and further analysis can be done in the SISTRIX keyword lists feature, including competitor analysis, SERP feature analysis, questions, keyword clusters and the traffic forecast shown below.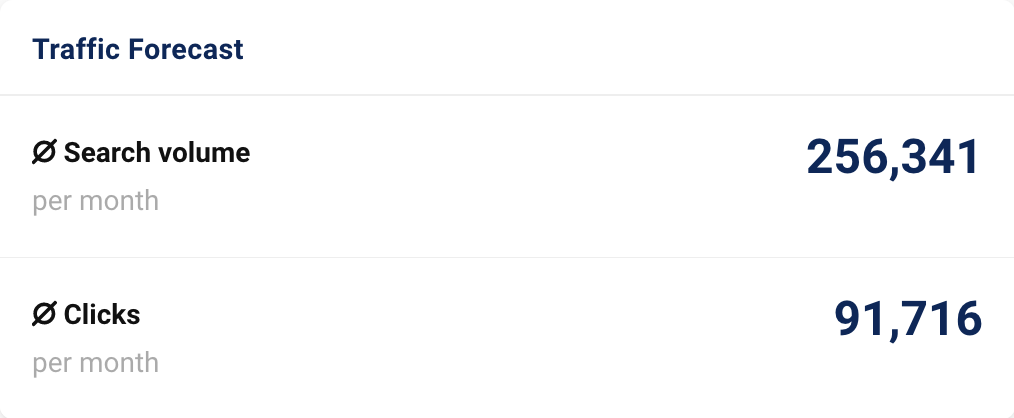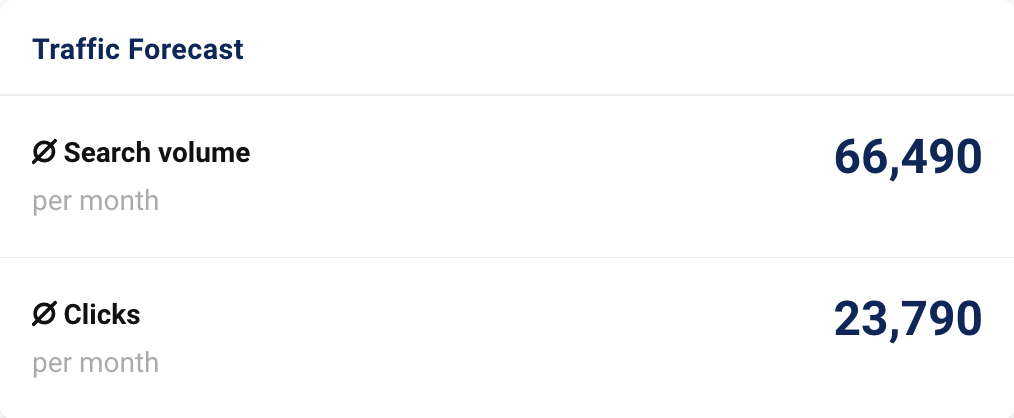 SectorWatch is a monthly publication from the SISTRIX data journalism team. All SectorWatch articles can be found here.
Related analyses can be found in the TrendWatch newsletter, IndexWatch analysis along with specific case studies in our blog. New article notifications are available through Twitter and Facebook.