Our link opportunities feature looks at a competitors domain and returns opportunities. Thanks to it you'll get a list of websites that are linking to your competitors, but not to your domain. Video walkthrough at end of article.
How to start
To begin the analysis, click on the button "Add" to type up to three competitors, which can be domains, hosts, directories or even URLs.
Note that directories and URLs need to be written with the entire protocol (eg. https://).
The SISTRIX Toolbox could need some time to process the links, depending on the competitors' profile.
Link Opportunities
After adding the competitor(s), the Toolbox will look at their domains and returns opportunities. By using our Visibility Index we're able to show you an ordered list with potentially valuable opportunities at the top.
Host: Hostname which links to the competitor(s), but not to your website.
Visibility Index Host: Higher visibility index value of the linking host and the corresponding Country. This allows you to quickly understand how big the linking domain is.
Competitor(s): Number of backlinks which the competitor(s) get(s) from the hostname.
To get more information about the links, click on the corresponding entry inside the competitor's column.
General Options
At the top right corner you'll find general settings for the whole page, in particular:

Filter

: Save and access filters or use the advanced filter.

Export: With this button you can export the displayed table, downloading (filtered) keywords and the data contained in every column. Read more about exports and credits here.
Shortlink: Share the page with other Toolbox users. You'll get a personalised shortlink, active for a few days, that you can share without any limitations.
Finally, the cogwheel icon of the table will let you export the data, or add them in a dashboard or a report. Here you'll also find the function "Select columns" which allows you to add more interesting columns to the table.
Filters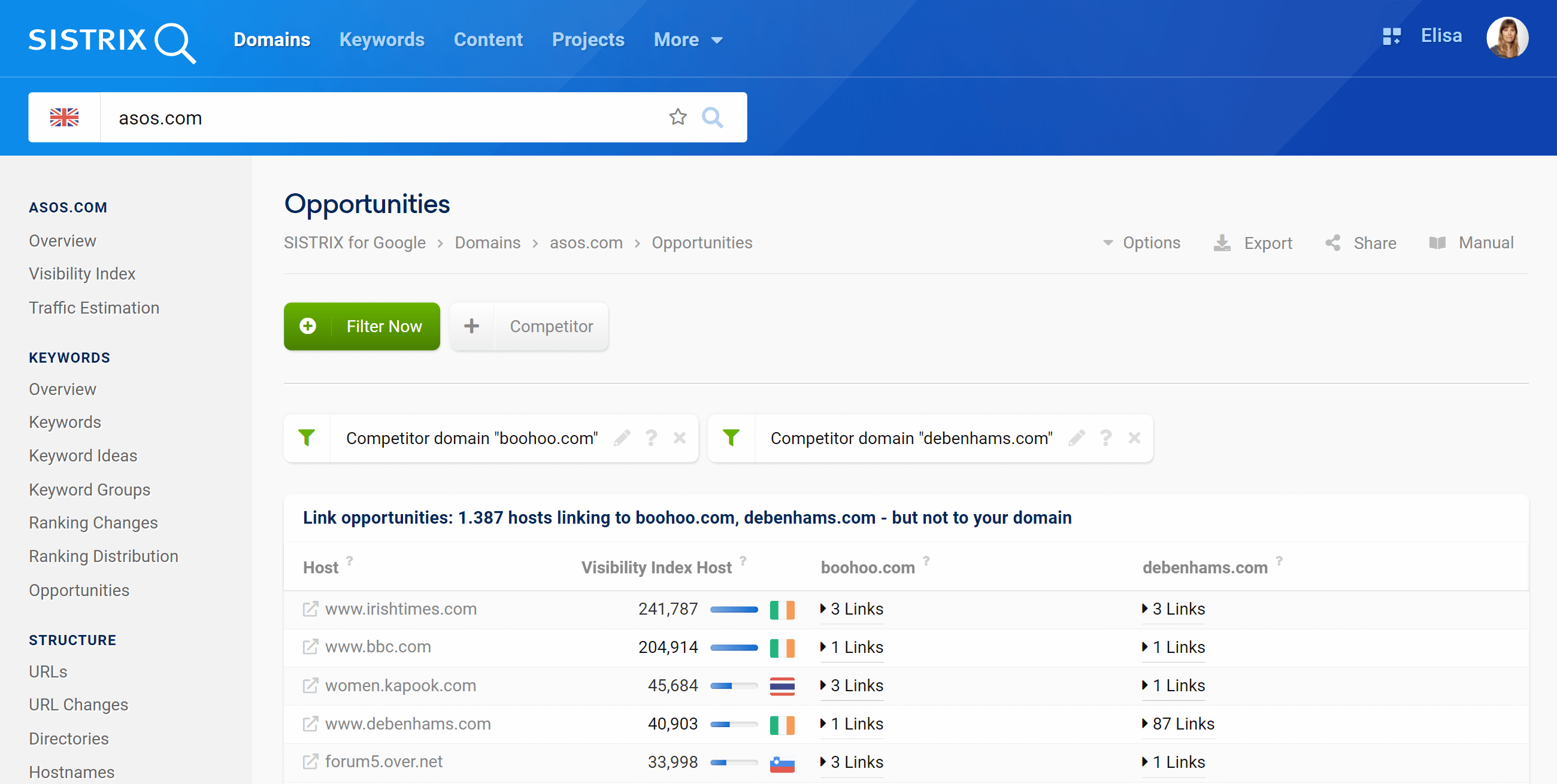 You can use the quickfilter "+ Competitor" to add another domain (or host, directory, URL) to compare. You can also change or delete the competitors you already added using the icons inside the corresponding filter.
Click on the green button "Filter now" to filter the table according to a specific host, competitor or visibility index value.