This table will show you how Google displayed your results within their search engine result pages. The results can be sorted, filtered and exported.
General options
In the white bar, located between the Toolbox navigation menu and the filters, you'll find general settings for the whole page, in particular: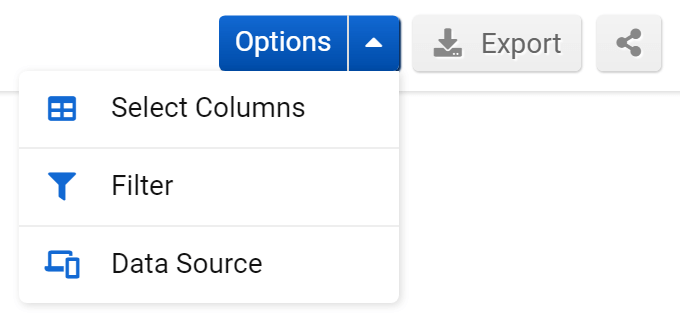 Select Columns: Tailor the table according to your personal needs and requirements. Thanks to the function "Select column" you'll be able to add more interesting columns to the table.
Filter: The "Expert filter" allows you to create complex filter combinations, which you can also save and load.
Data source: The Toolbox offers an extended database for mobile SERPs, which is why this is the default option for the table. Here you can also change the data source, choosing desktop results.
Export: With this button you can export the displayed table, downloading (filtered) keywords and the data contained in every column. Read more about exports and credits here.
Shortlink: Share the page with other Toolbox users. You'll get a personalised shortlink, active for a few days, that you can share without any limitations.
Filters

With the help of our filters, you can easily find problematic Snippets.
How filters work: choose one of the suggested Quick Filters or click on the green button "Filter now" to select one of the 20 different filter options available. You can create complex filter combinations using the Expert Filter.
The filter "Shortened Snippet Title", for example, will show you keyword/snippet-combinations where the title is too long to be shown in full within Google's results. Google will then shorten the title with "…", which might cause important information to be lost.
With the filter "Just One Snippet-Row" you will find all results where Google does not show the two possible rows of text within the text-preview, but decided to use only one. This is another starting point for your snippet optimisation, in order to gain more traffic from the same ranking positions.
SERP-Snippets Table
Thanks to this table you'll be able to improve your SERP-Snippets, as you can see exactly how they are displayed in Google's search results pages.
The visible rows are:
SERP-Snippet:
what did the Google Snippet (made up of title, URL and meta-description) look like in the search results?
Keyword:
for which search phrase was this result shown?
Position:
the current ranking position on Google
SERP-Features:
did Google show other search integrations (AdWords, Newsbox, etc.) alongside the organic results?
Traffic:
the keyword's search volume
Competition:
The intensity of competition (difficulty) of ranking for this keyword, on a scale between 0 and 100 (calculated by SISTRIX through various measures)
Trend:
did the search behaviour for this keyword show a seasonal trend?
Video demo with closed captions