The Knowledge Graph data help you understand how Google delimits and ranks topics in the SERPs. Use this feature to discover new content opportunities for your website.
General Options
In the top right corner of the page, you'll find general settings for the whole page.
There you can export the data or share the live page on Social Media.
Click on the cogwheel icon in the table and select the option "Select column" to hide or add the columns in the table.
Knowledge Graph – Table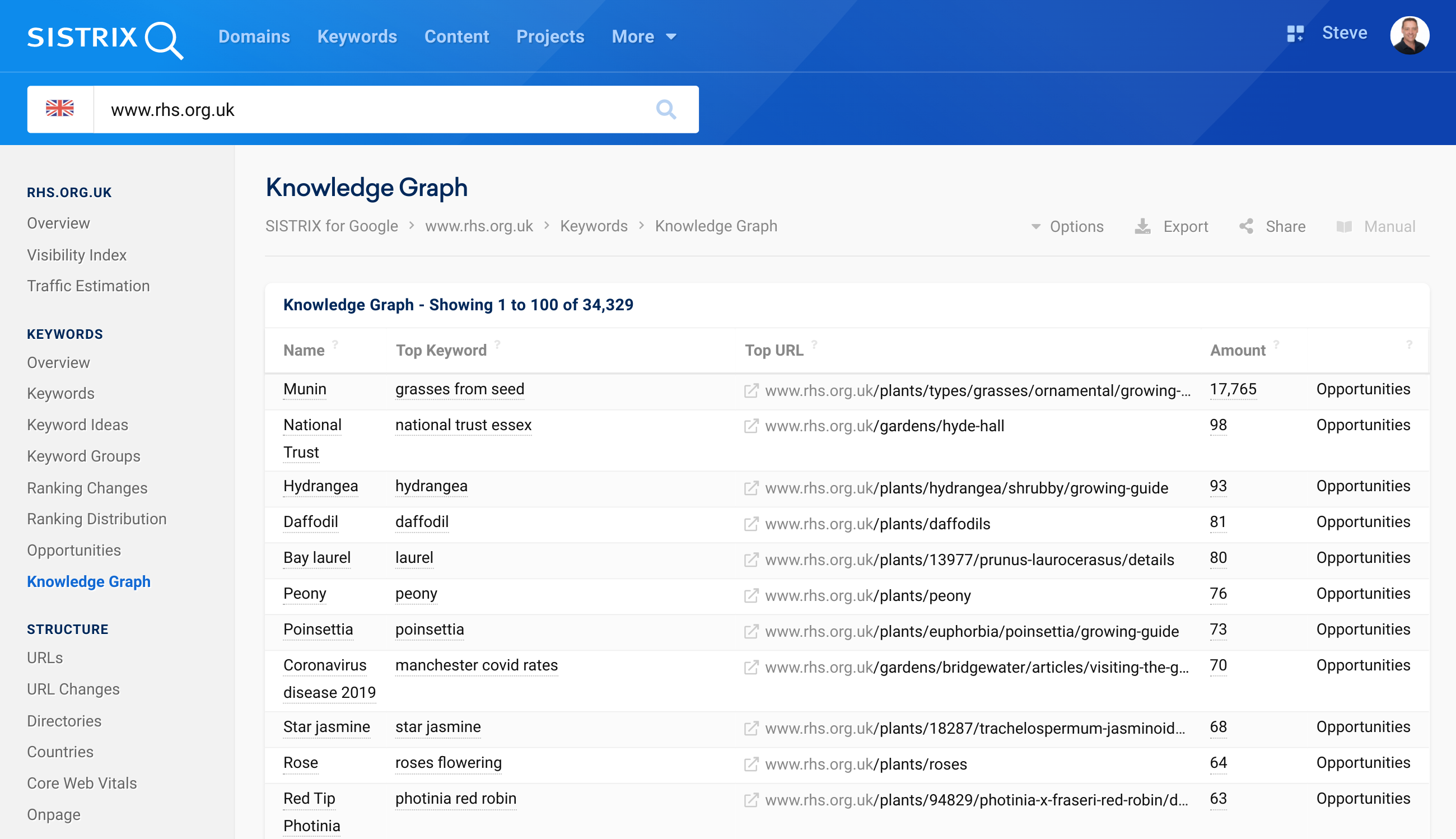 Google wants to organise the world's information, and in order for this to succeed, Google must understand topics, contexts and connections. The Knowledge Graph is Google's database for this.
Thanks to this feature, you can understand how Google delimits and ranks topics in the SERPs. Use this data to figure out how comprehensively Google understands the topics and to discover topic opportunities for your content.
The table provides the following columns:
Name: The name of the Knowledge Graph entry in Google. Often this is the main keyword, but sometimes it is not. We use the display name in Google here. In a few cases, we only show the Google-internal ID of the entry there.
Top Keyword: The keyword of this domain that shows this Knowledge Graph panel with the highest search volume. Name and Top Keyword are often closely related, but not always.
Top URL: Like Top Keyword, but the ranking URL of the analysed domain.
Amount: The number of keywords of this URL that show the corresponding Knowledge Graph panel. Clicking on the number takes you directly to the pre-filtered keyword table.
Opportunities: A list of keywords for which the Knowledge Graph panel is displayed, but for which the analysed domain is not currently ranking. It is often worth expanding the content accordingly.
Listing the domain's ranking keywords, for which a specific Knowledge Graph panel is displayed, can provide interesting clues about synonyms and related keywords.
By clicking on the Knowledge Graph panel name, the interface switches to that of Keyword Discovery where we will then show all keywords from our database that show the corresponding knowledge panel in the organic results.