The overview page of the Link Module offers you two interesting tools to analyse the link profile of any website you want.
Note: This handbook refers to the old header menu of the Toolbox. In the new header menu this Start page has been replaced with the
"Keywords" Start page
.
Here's an overview of the Link Module start page.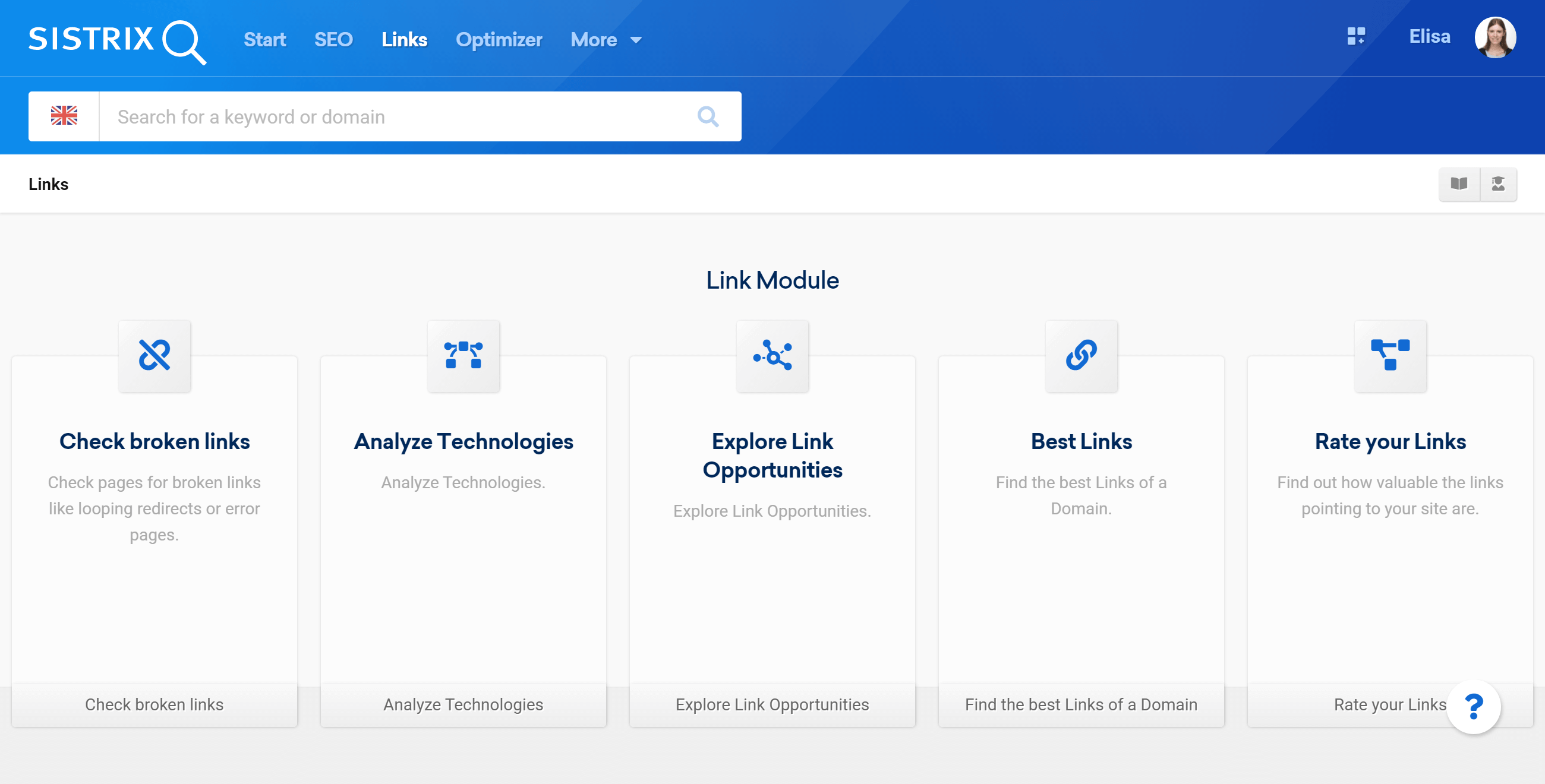 In the header section in the SISTRIX Toolbox you will find links to the start page as well as module overview and information pages for all the Toolbox modules you are subscribed to.
Note that this section will not allow you to analyse a specific domain: for that, use the search bar instead.
Linkrating
The Linkrating tool helps you to, very quickly, and in real-time, evaluate the quality of your backlink profile.
It enables you to combine link data from many external sources with those of the SISTRIX Toolbox to analyse and rate as many links as possible, in one place.
Click on the button "To Linkrating" to begin your evaluation. To know more about how to use this tool, read our tutorial: "LinkRating: Evaluate the Quality of the Link Profile".
Linkmanager
The Link Manager will help you monitor the existence of important external incoming links on a regular basis. It will also allow you to upload and check a batch of URLs in one go.
To bulk-check a set of link sources you must have a CSV file with source and destination links that uses the semi-colon as the separator. You can upload and check the links via the Options menu. Select the bulk upload feature, select which of the fields contains the external link and select "Upload".
To input a link for monitoring, use the Options menu and select "Add new Link". The external link must be entered and then the URL will be checked for external links.
You are given the option to select a link that can then be managed. Set contacts, frequency and, optionally, add information about the link itself.
Video demo with closed captions