We're slowly, very slowly, moving into the new season and, as we saw in our Travel special a few weeks ago, travel is a big topic. Here, for the regular TrendWatch newsletter we have a few other seasonal topics. Fashion, an annual US sports topic and an educational trend are among the 10 trends I've picked out for you this month. The full 10-trend report only appears in the newsletter version. (Sign up before May 4th to receive this month's newsletter.)
Vinted UK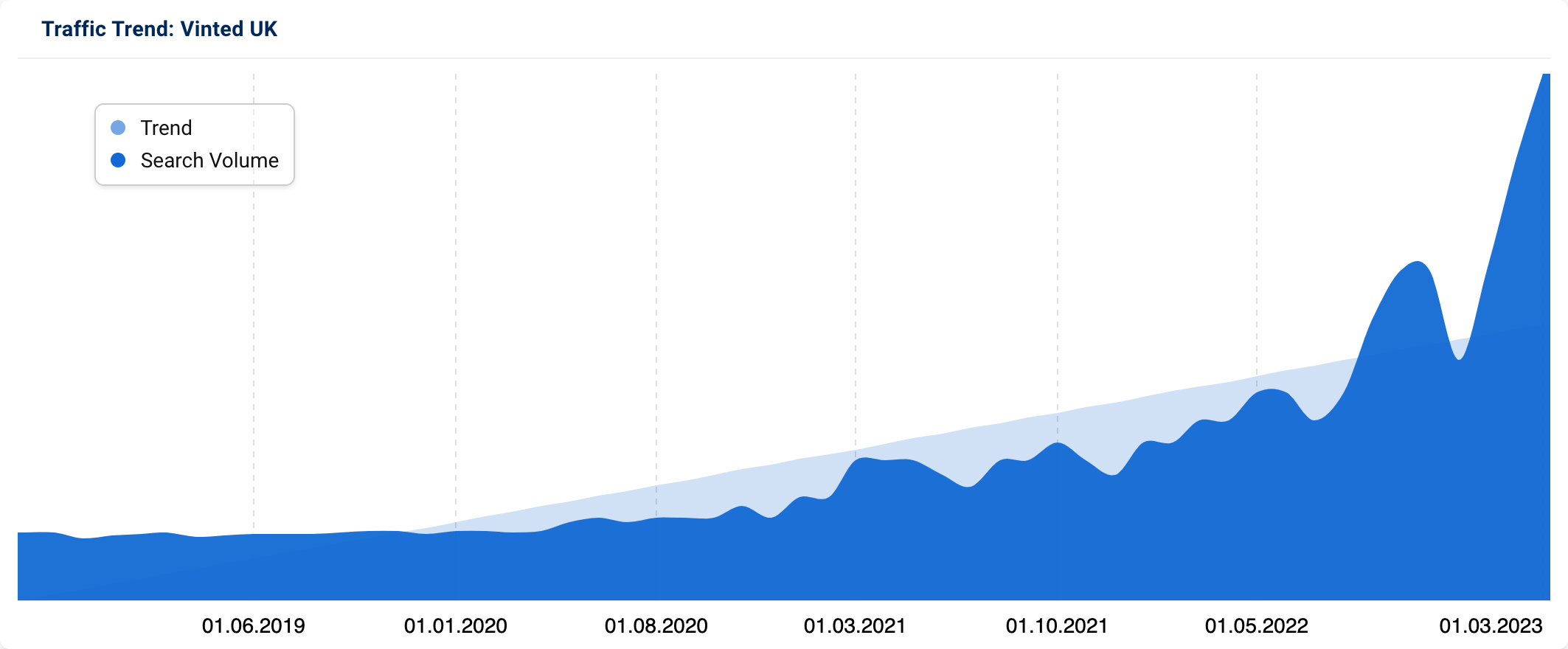 Are you tired of fast fashion? Well, is Vinted UK, and they're not afraid to spend big bucks to spread the word! Second-hand clothing platform Vinted has been ramping up its advertising spend to reach a wider audience and compete with traditional fashion retailers. According to The Drum Vinted's ad spend has increased by over 300% since 2020, reaching €50m in 2022. The company is using a mix of traditional and social media advertising to target younger audiences who are interested in sustainable and affordable fashion.
Vinted has also partnered with influencers and celebrities to increase brand awareness, according to Disprut, their advertising agency. The growth of pre-loved fashion platforms like Vinted reflects a wider trend towards more sustainable and ethical consumption, particularly among younger consumers.
Sweaty Betty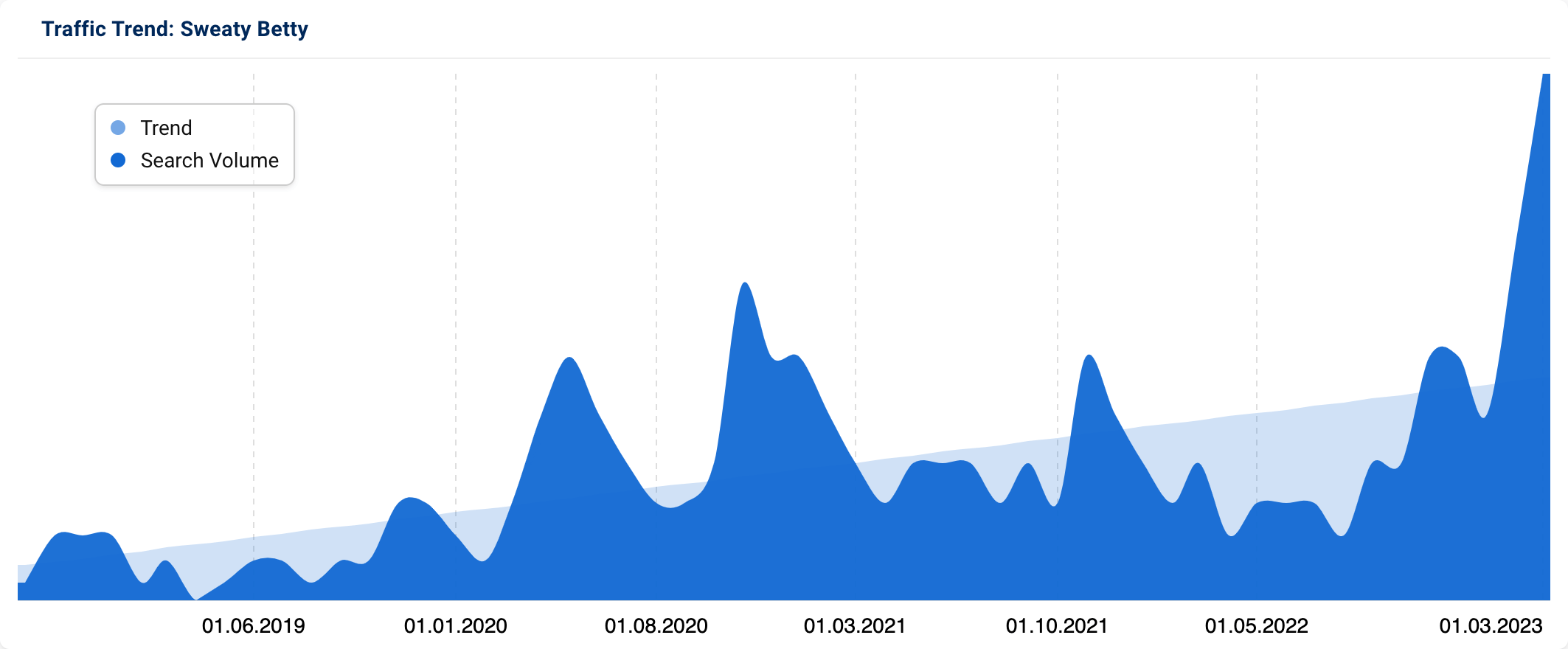 Sweaty Betty, a UK-based women's activewear brand, has partnered with Strava, a social network for athletes, to create a digital community for its customers. At the start of 2022, Sweaty Betty created a virtual club on Strava where customers can connect, share workouts, and participate in challenges.
The brand has also integrated Strava's technology into its website, allowing customers to track their workouts and earn rewards such as discounts on future purchases. This integration has increased engagement and retention among Sweaty Betty's customers, while also providing valuable data on their activity and preferences. By leveraging Strava's social network and technology, Sweaty Betty has created a unique experience for its customers that aligns with the brand's focus on empowering women through fitness.
Even though interest has been steadily increasing, the final spike is because Sweaty Betty has recently announced job cuts following its acquisition by Wolverine Worldwide in 20211. The sportswear retailer's owner will consolidate the London space and reduce headcount as it looks to streamline the company's operations.
Tote Bag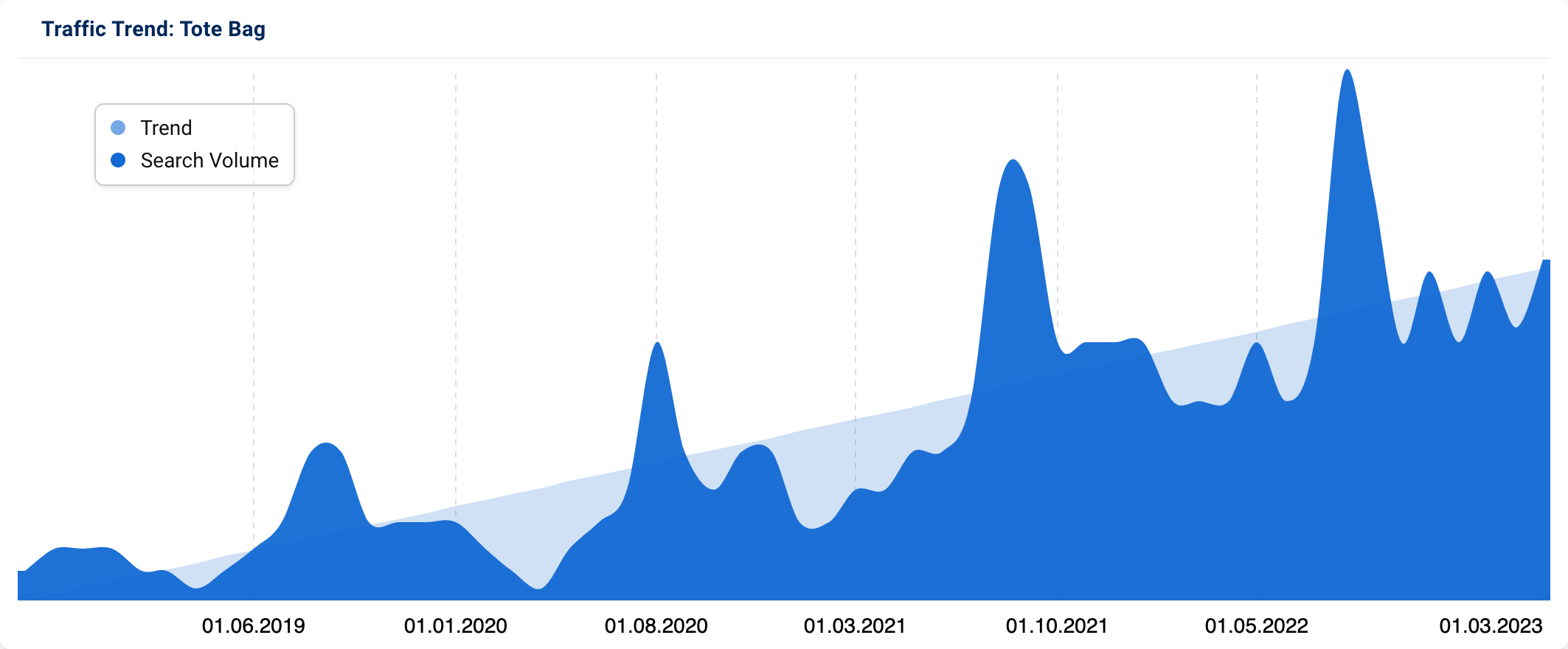 The lowly tote bag is gaining popularity, and it's not hard to see why. With its practicality, versatility, and sustainability, many people are turning to reusable tote bags as an eco-friendly alternative to plastic bags, driven by growing concerns about the environment.
Luxury brands such as Louis Vuitton and Prada have also started to release their own versions of the tote bag, such as "The Tote Bag" from Mac Jacbos and the Prada Small antique nappa leather tote for $3950, which has helped to elevate the tote bag's status as a fashion accessory. Most luxury brands have a category for Totes or Tote Bags.
The annual spikes in interest are in the fall when new haute couture totes are often featured in the spring/summer designer collections.
The tote bag's combination of practicality and style has made it a popular choice for many consumers, including those who are looking for luxury options from high-end brands. But we are also seeing a surge in searches on Amazon.
---