Here's the back story to ten search terms that have grown in popularity recently. This month we look at a waxed jacket brand, a fringe tech at tipping-point, home-frothing trends, a refresh of an 80's trend and an array of fashion and health items for you. Trends are curated from many thousands of recent and longer-term trends, calculated from multiple sources, at SISTRIX.
Barbour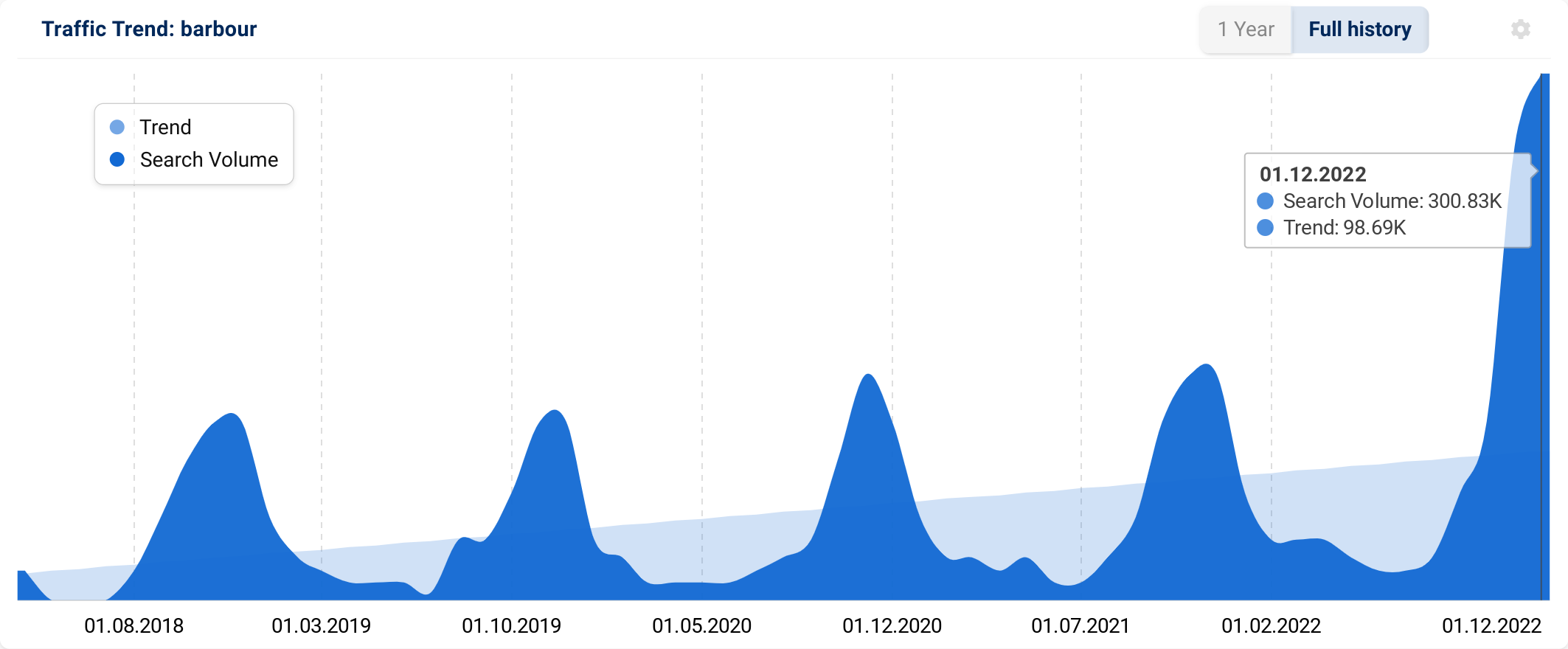 This first trend feels perfect for the current winter weather – the Barbour jacket! Anyone who has watched the latest season of Netflix's The Crown will know that the Barbour jacket was effectively a character in its own right. This wasn't a subtle attempt at product placement – the royal family really did love their Barbours, with Princess Diana and the late Queen being among the brand's fans, which also includes celebrities such as Alexa Chung, Sienna Miller, and Holly Willoughby.
However, it isn't just celebrity endorsement and a Netflix series that have boosted search volumes for the brand – this is also down to the fact that Barbour has started focusing on digital sales. The knock on effect of this is that they are also expanding, taking additional space at their South Tyneside base following a "strong increase in demand" for their products.
The wax jacket is considered to be an especially hot ticket item, and is quickly snapped up. One of the places you can grab a bargain is a charity shop in Newcastle that trades in luxury goods. Among the Channel and Mulberry handbags is of course the beloved Barbour!
Also appearing in the trends this month: Barbour slippers, barbour scarf, barbour gilet and 9 other trends with the word barbour in them.
VR Headset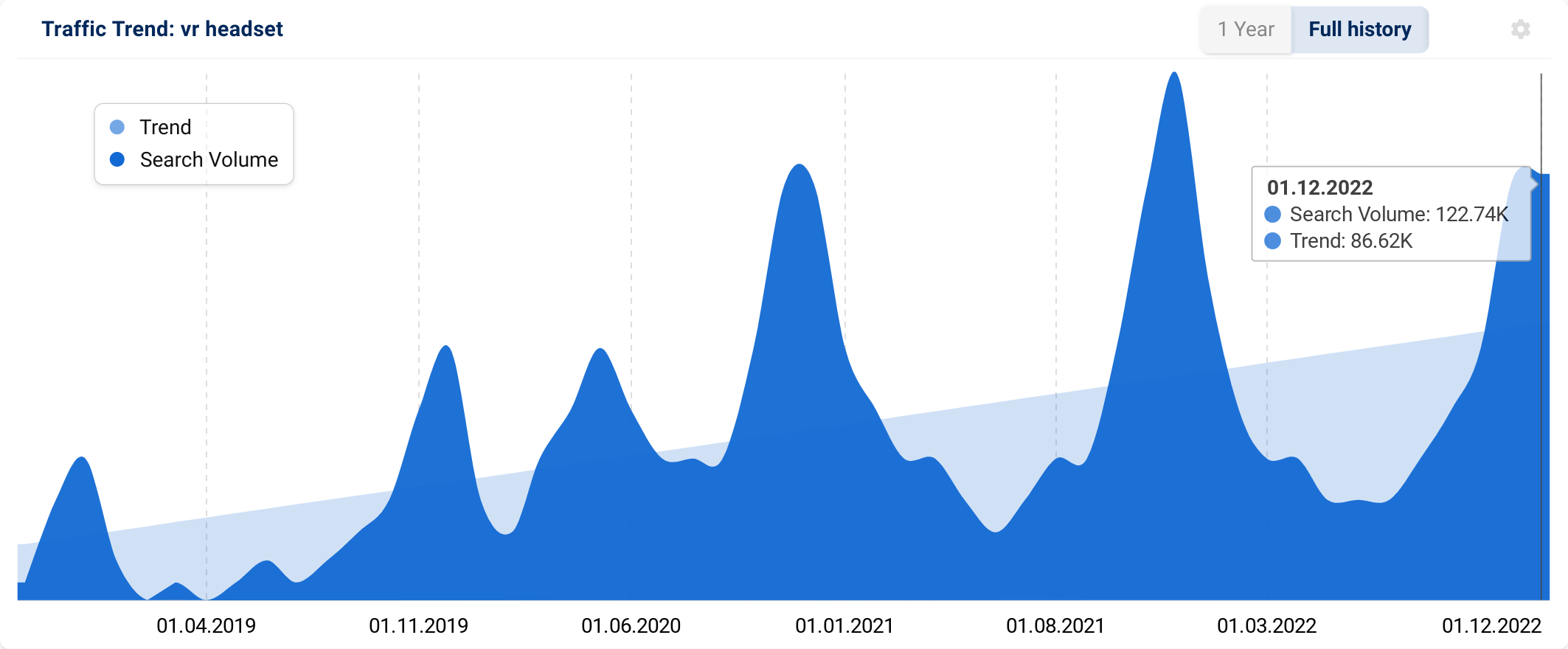 It seems like the search for a VR Headset happens every Christmas, where people frantically look for gifts. What makes this trend interesting this year is that the technology product came out on top at CES – the world's largest tech fair, which takes place at the start of January in Las Vegas. Several new headsets were announced, which is why we're seeing multiple spikes of interest as brands put out teasers for their upcoming products.
There were at least a dozen VR Headset announcements, which leads us to believe that this fringe technology that has been fighting to get into the mainstream is at a tipping point. Could this be the year where people search more consistently all year round? Rather than just at Christmas when looking for a splurge gift for their kids?
Jordan 4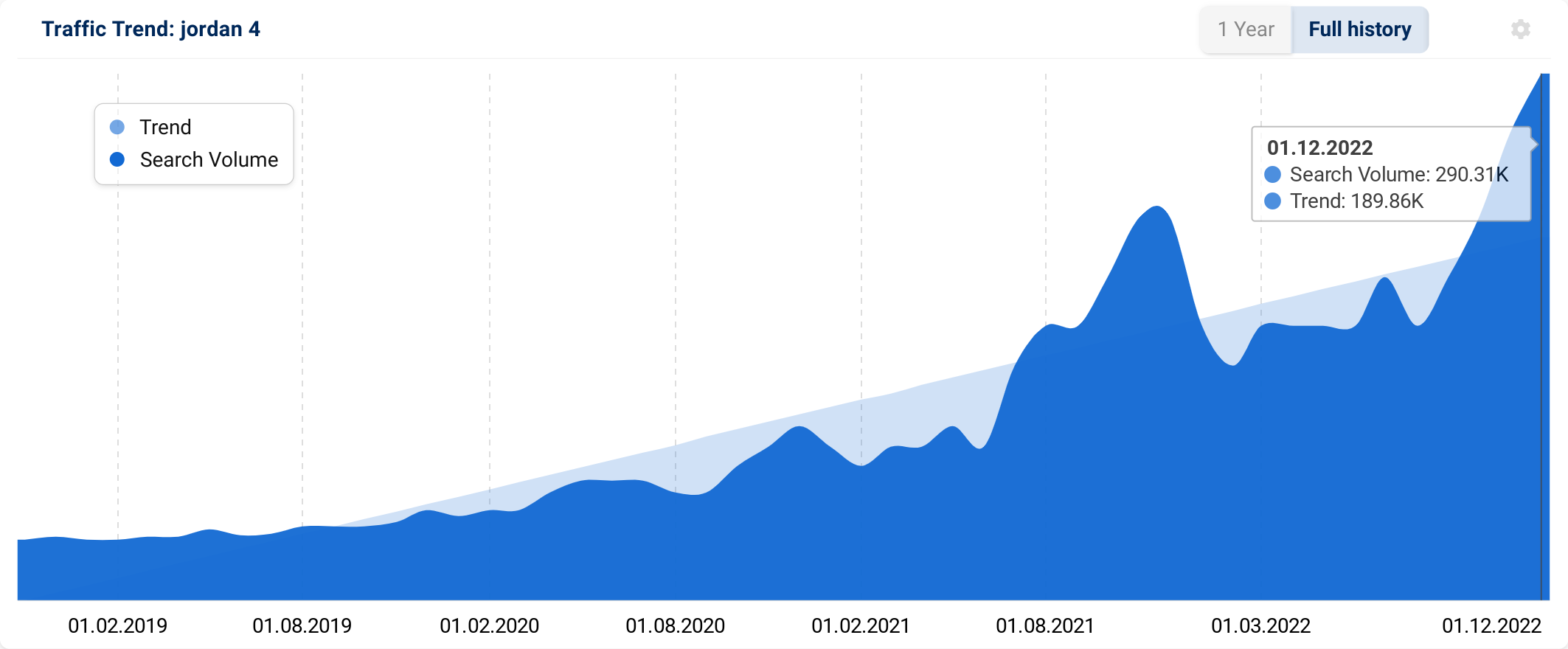 The Air Jordan 4 is a classic sneaker that has remained popular due to its iconic design, excellent performance, and celebrity endorsements. It's currently receiving a lot of hype, to the point where lots of stories are swirling around about how difficult it is to get yourself a pair!
A bit of advice from my research – and something to keep in mind if you're looking to get yourself a pair of Air Jordans – is that the search volumes remain strong on this particular product because of supply and demand. It actually isn't that hard to get Air Jordans – the hype comes from the limited edition colours. For example a regular seasonal run of Air Jordan's might have about 300,000 pairs, but a limited edition run can be 8500.
Resellers always buy them out, hoard them for months, and then sell them at a higher price. If you really want a pair to wear, and not just collect, take advantage of the releases that aren't being hyped. They'll be in stock and much cheaper! As long as you're not too picky about your Jordans, you'll always find some.
Having said that, the increased and sustained interest in the iconic shoe comes at a time when buying into the sneaker industry is now akin to investing in the stock market. This has led to a new term being coined: Sneakernomics.
The word "jordan" appeared in 31 trends this month with the Max Aura, Cheery and Military Black variations showing very sharp recent growth.
---