2023 sees the 15th anniversary of the SISTRIX Visibility Index. Improvement has been fast, focused and continuous, and that won't stop in 2023. Here's a summary of the major upgrades to the data and tools over the last 12 months. All of these change follow our focus on data and tools that help search marketeers, brand managers, content creators and technical SEOs, to plan and execute and measure improvements, accurately and efficiently across common search platforms.
Live data, now in keyword tables
It's important to use the most recent data possible when evaluating the performance of a domain. The older the keyword data, the more 'lag' in the performance data. Our Visibility Index is evaluated daily using live data that you can now see, as it arrives, in our keyword tables. The current, live VI figure is also shown, based on the most recent data.
The feature is very useful for tracking a content move, a re-launch, the effects of a Google Update or to snoop on new content rankings at your competitors.
Enable the new "updated" live data column and see exactly when the keyword was last crawled. Column sorting is possible. The data appears in the table 5 minutes after it is crawled.
A more detailed overview of our live data is available here.
Content Planner
Use real, current search results data to see what keywords work together, and what keywords are connected, but found in different articles. We'll cross reference across our huge SERPs databases to find and cluster the keywords that work together. Start with a single idea and come out with a full content project plan.
You can also use the result to see how existing content is performing against Google data.
Instant On-Page analysis
An instant on-page SEO analysis report is now available for nearly all domains. This can vastly speed up an auditing process and provides insights into competitor quality.
Knowledge Graph data
Our most recent, and unique, data-set is based around the google Knowledge Graph data, has been added a new tool. With so many topics it quickly because apparent which topics and synonyms are related and how much search volume there is for them.
Find out more about this feature in the detailed changelog.
Domain comparison
We've taken the most important domain measurements and put them in a summary chart – a one pager – that can be used and understood by SEOs and stakeholders. Up to three competitors are shown. The image below says it all!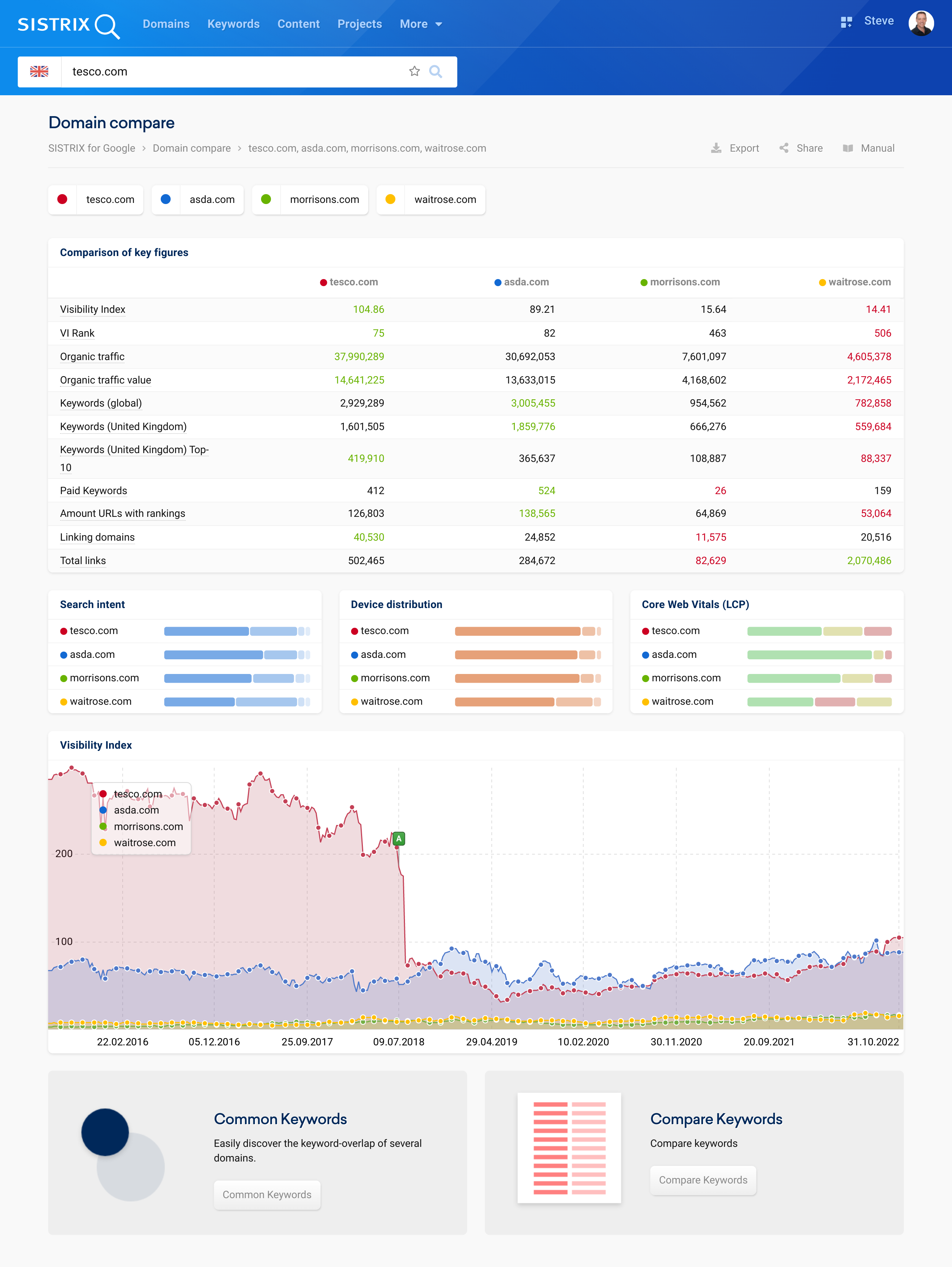 Find out more about this feature in the detailed changelog.
SERP environment
Search results can appear in many different forms – we track over 50 of them – so knowing how a domain is appearing across them is important to any search marketing strategy.
The SERP Environment feature shows an overview of the features, for every domain, and allows you to click down into the results for more information.
More information on the SERPs environment data.
Keyword and URL history for extended data
Our focus is to provide accurate and daily updates to our core updates and the live Visibility Index, but our extended database, hundreds of millions of keywords, many of which are also updated daily, is now being used in more analyses across the site.
The keywords overview, for example, is a great example. You can view, graphically, the ratio between keywords ranking on page 1 of results, compared to those ranking lower down the results pages.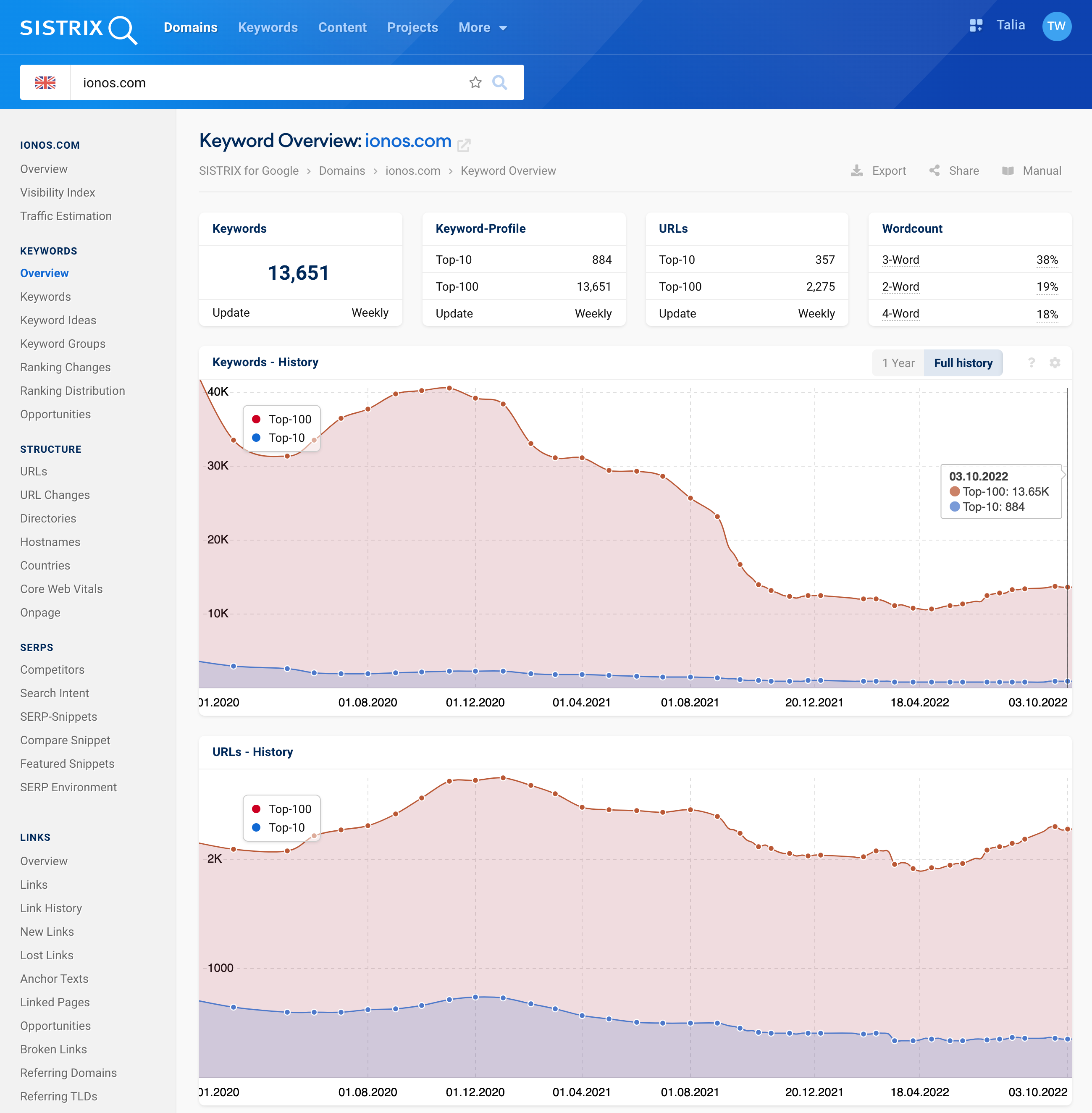 Learn more about how the extended data is being used.
SERP Screenshot
An oft-requested feature, is now available. Designed to sit alongside our SERP Layout archive, it gives you an even better idea of how a SERP looks, in any of the 40+ countries we support.
Learn more about SERP Screenshots in the SISTRIX Toolbox
Google Ads data – faster, better
Tracking the world of Google Ads is a difficult task. We've updated our engines to collect better data, more often. The data is presented live, as it's collected. Here's a screenshot of the feature:
More information on the Google Ads data in the SISTRIX Toolbox.
Cross-domain keyword comparison / gap analysis
The competitor analysis features have been expanded and improved. Use a visual representation or a table.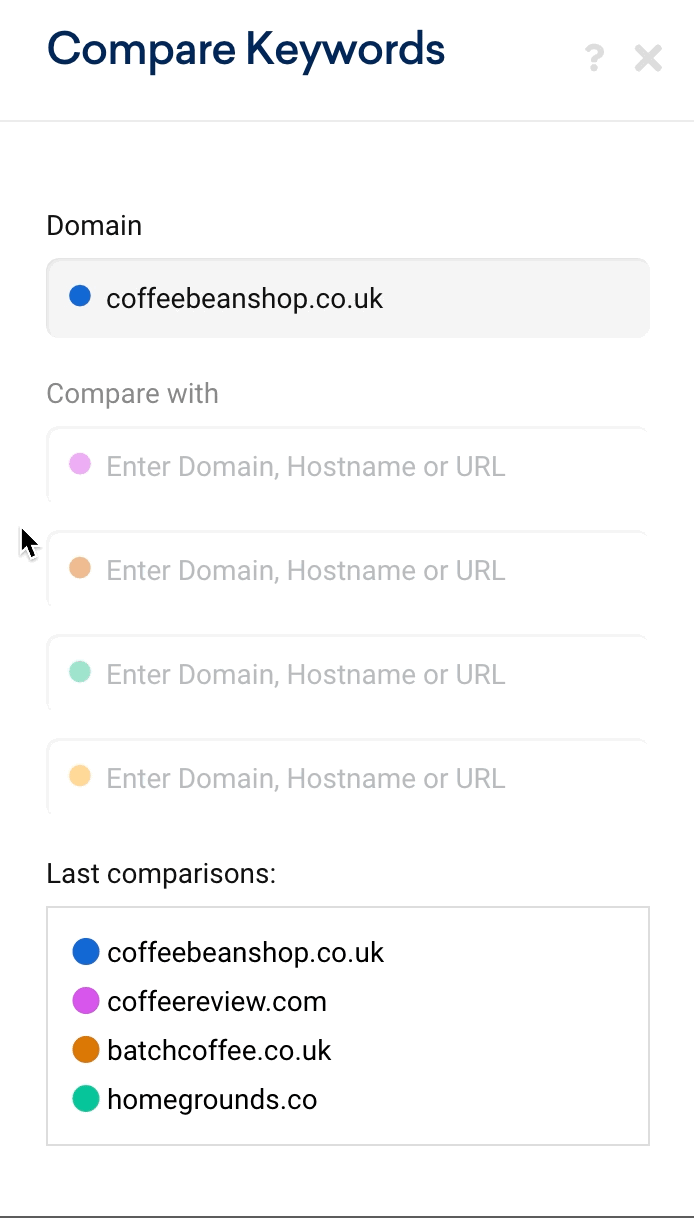 Add filters to expose gaps. With the correct filters, each list is an improvement project that targets low-hanging fruit.
All of the updated keyword comparison, and domain comparison features are found under the left-hand menu item "Competitors".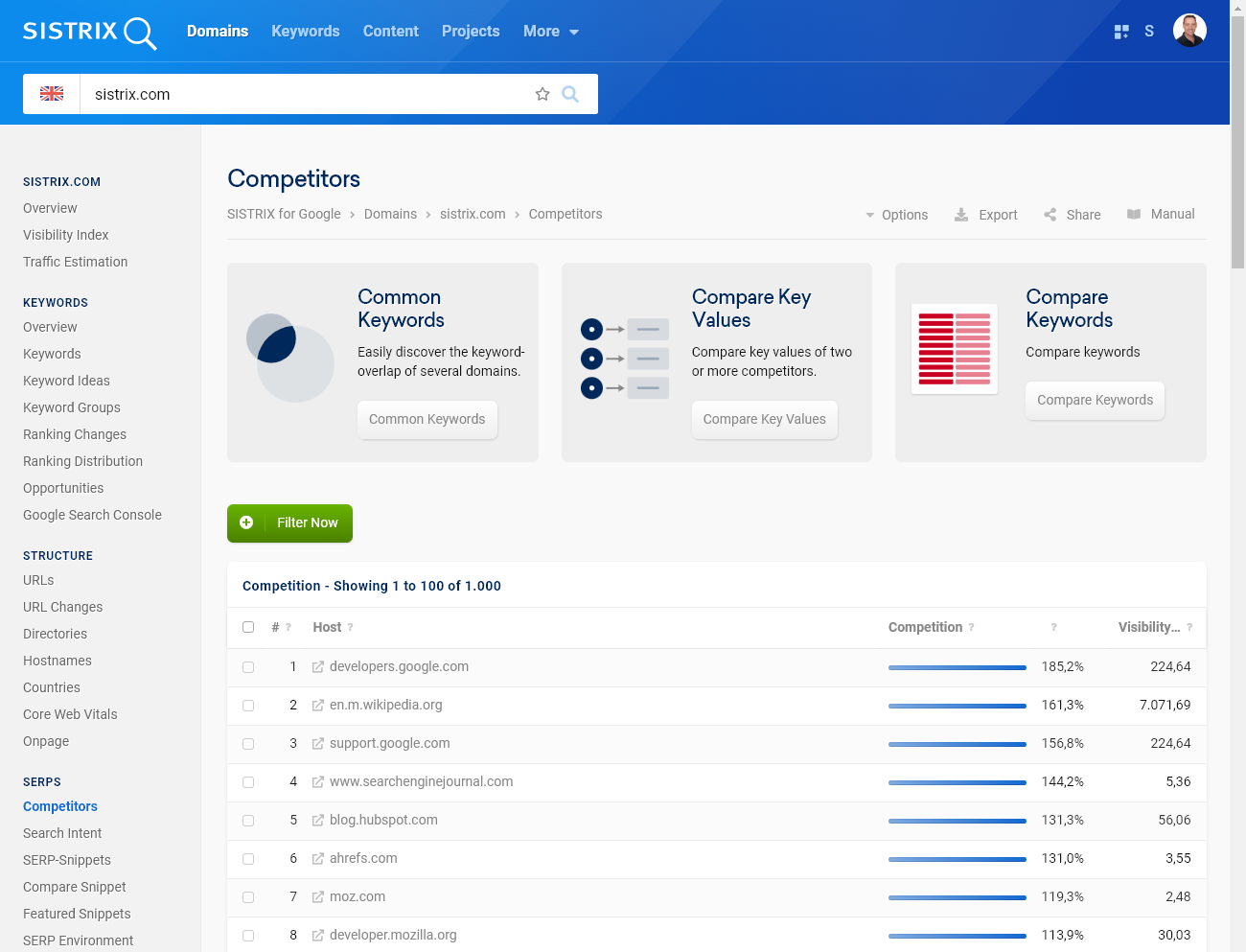 UI updates + speed = more efficient working
Time is important, and waiting around for new data to appear on the screen isn't something we want you to have to experience. It's not possible to have everything cached and ready to go in milliseconds, but this year we've been working on a number of speed improvement projects that we hope are keeping you as efficient as possible. If you haven't noticed, that's probably a good thing!
Amazon Keyword Analysis
The biggest product search platform in the western world is Amazon, and we've been building out our Amazon product, with the same features and looks as our Google product. This year has seen changes from (not so simple) user interface changes, to data updates and sale predictions.
There's also a new keyword list feature which, like our Google lists, provides additional analysis. We'll show the a list of top brands, and their market share, for a keyword list, the sellers, who's getting the buybox and more.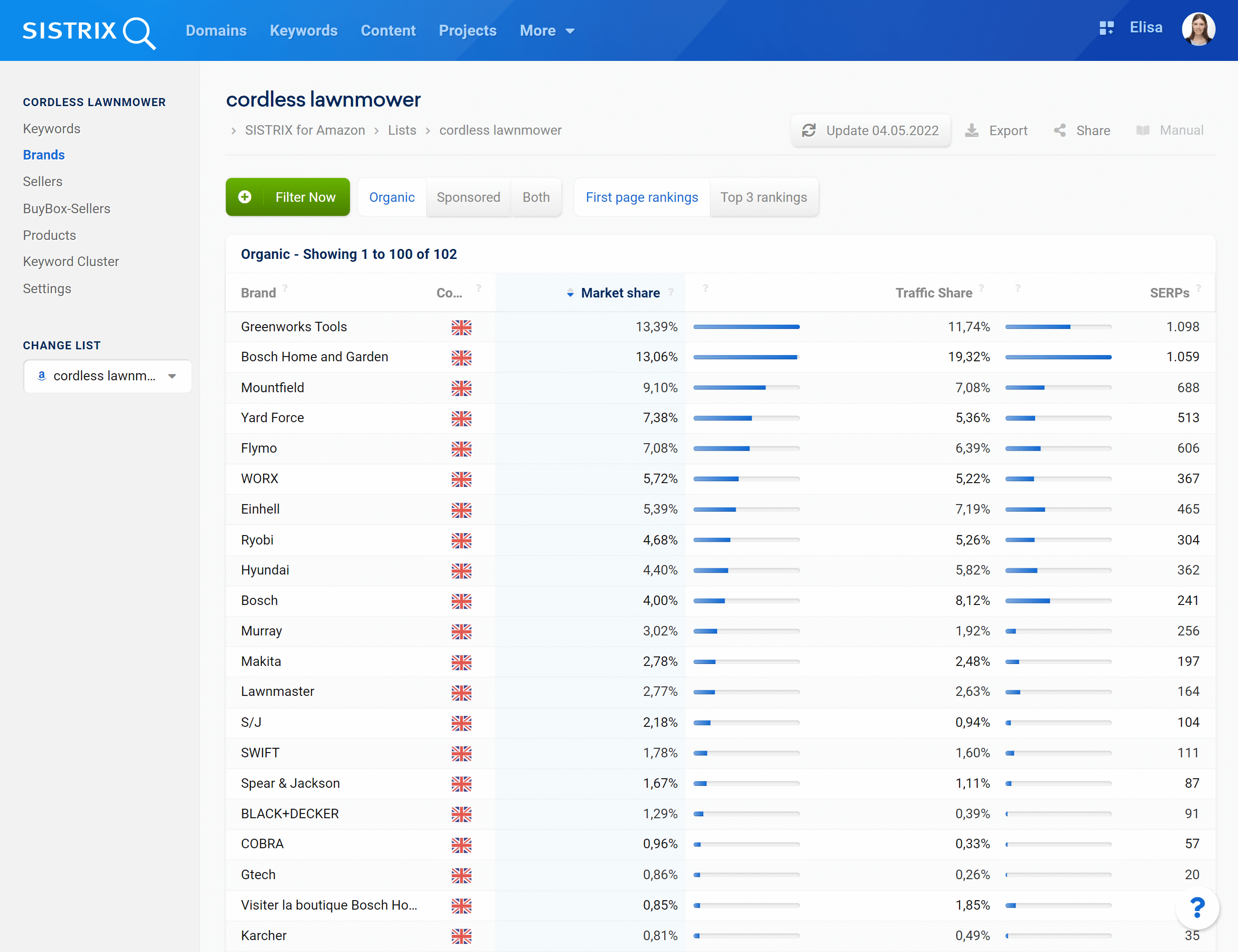 Learn more about keyword lists in SISTRIX for Amazon.
Other features and improvements
There have been changes to the Optimizer, our on-page, keyword monitoring and domain motoring tool. Along with lots of additional help-text and Ask SISTRIX articles for each of the 150 on-page errors, there is improved keyword management and a much improved keyword filter system for ranking results.
The reports system has been overhauled and gets a new landscape mode. Reports can be built from most elements in the tool.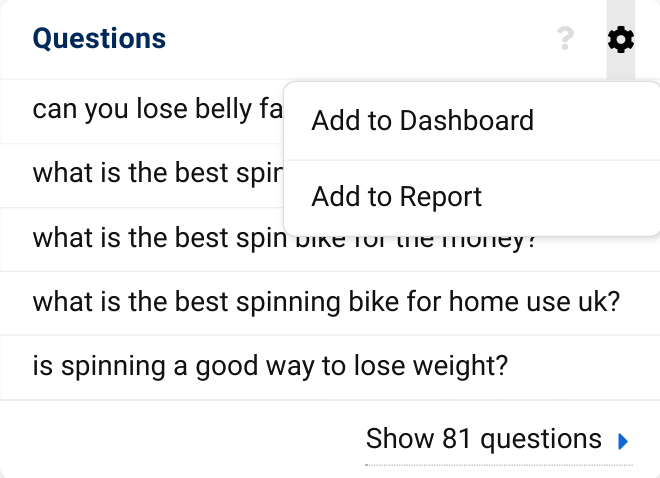 URLS, directories and hosts can now be used, and easily managed, in Lists

In late 2022 we launched the Data Journalism Team and, just in English, we've produced more data reports than ever:
12 keyword trend reports in the TrendWatch series
9 content assessments for search marketing segments in SectorWatch
Visibility Leaders – a resource and analysis of leading content projects. The first 4 winners were announced in August and there are nearly 200 examples available in the resource database.
6 IndexWatch reports – tracking and analysing the winners and losers each quarter. The next report is scheduled for mid-January
4 new case studies and reports
And, not forgeting, 11 years of top 20 domains, in 60 seconds:

We also re-launched our local digital marketing meetup, re-started our efforts to support events both local and remote, completed 14 free training workshops and, if that wasn't enough, we expanded with additional offices and additional staff.
It also means we've set the bar extremely high for ourselves!
We'll continue to raise it. 2023 will see us continuing with as before with improvements and new features, helping more customers with our Amazon tools and upgrading content across all our core languages (German, Italian, Spanish, French and English.) Coming very soon, for example, is a suite of articles that will break-down the Visibility Index and show you why it's the most important measurement of SEO success.
We've already prepared a list of data-studies that we'll be producing and the next new feature is in the last stages of the production line. Stay tuned!
To stay up top date, subscribe to the newsletter, and join us on Linkedin and Twitter.
We wish you all the best (visibility) for 2023!