Here's your TrendWatch for March 2022. I've curated and researched 10 long-term, interesting trends from thousands that were highlighted by the data engines at SISTRIX. In this month we tackle an animal that's actually a hairstyle, a brand that nobody would have predicted to trend, and more. The full 10-trend publication is only available in the newsletter.
Octopus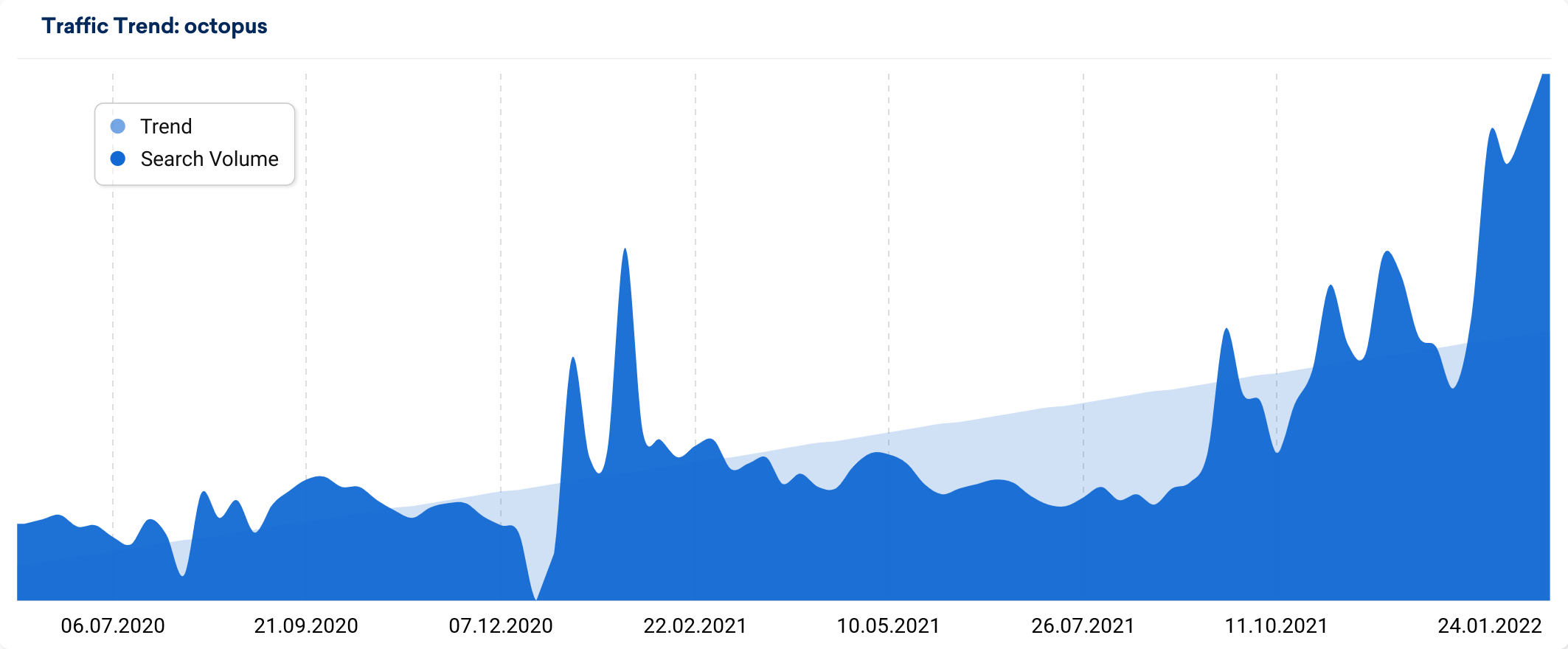 Think mullets, shags, wolf cuts – and now, something called an octopus haircut. It's characterised by choppy, visible layers that almost look like octopus tentacles.
The reason behind this trend, for me, was very unexpected, but back in 2020 we can see some spikes because of the Netflix documentary My Octopus Teacher. So it seems there might be a few things contributing to the popularity of the term octopus.
HMV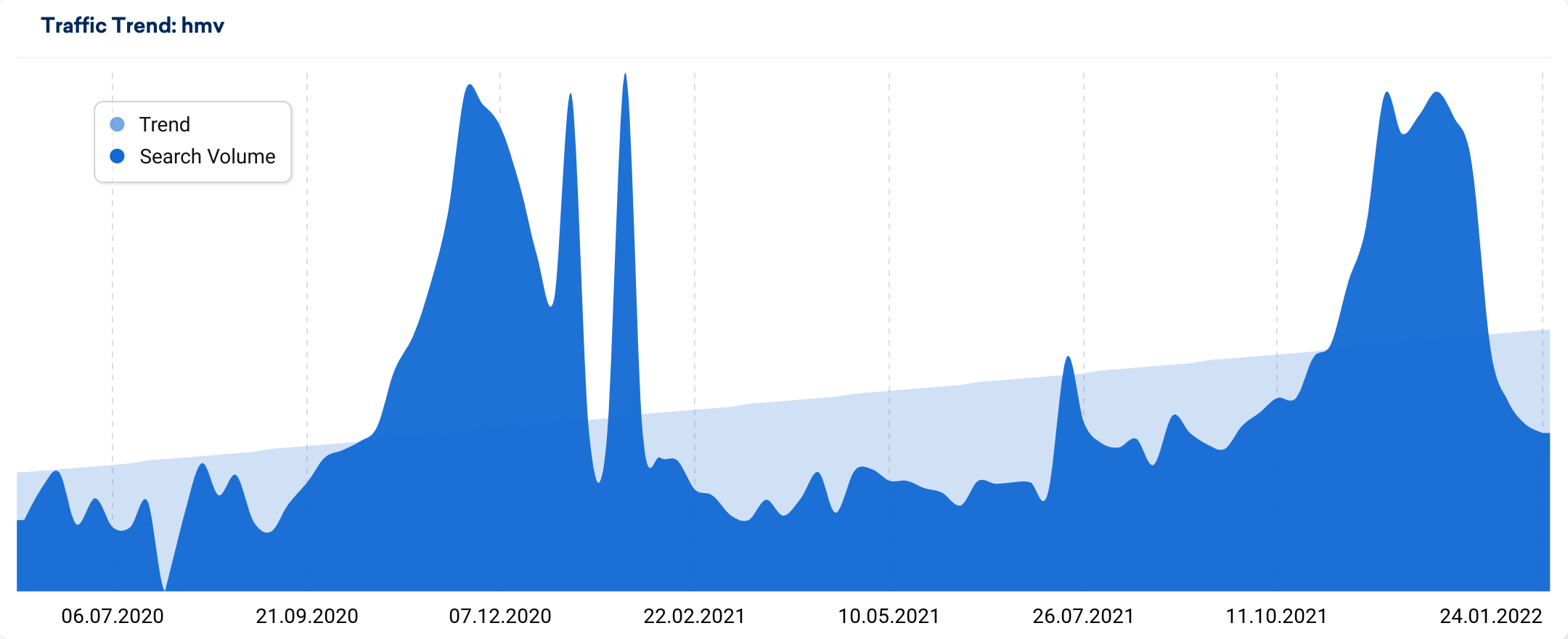 The pandemic has decimated the retail industry in the UK, according to the PWC, with more than 17,500 shops closing in Great Britain last year. Instead of shutting their doors, HMV expanded with a business model that included opening 10 new stores, including a London flagship site.
There has been a clear shift in consumer habits over the last few years, fueling the growth of the e-commerce market. "Retail therapy" was once seen as a luxury and a pleasant day out, with shoppers experiencing the feel-good factor of treating themselves. Now, most consumers are focused on instant accessibility. They want a tailored shopping experience at the touch of a button. It's a classic case of Blockbuster failing to identify Netflix as a threat.
Sainsburys stopped selling CDs and DVDslast year, and it seems almost foolish to double down on physical spaces when music streaming is dominating. Spotify is one of the most successful music services out there, claiming 36% of the global streaming market. Music streaming, in general, went from 400 million subscribers in 2020 to 487 million in 2021 according to statista.
While HMV has made a gamble putting its faith in brick and mortar, what's clear is that people are interested in what they are doing. Whether or not this translates to success? It's too soon to tell.
Narcissist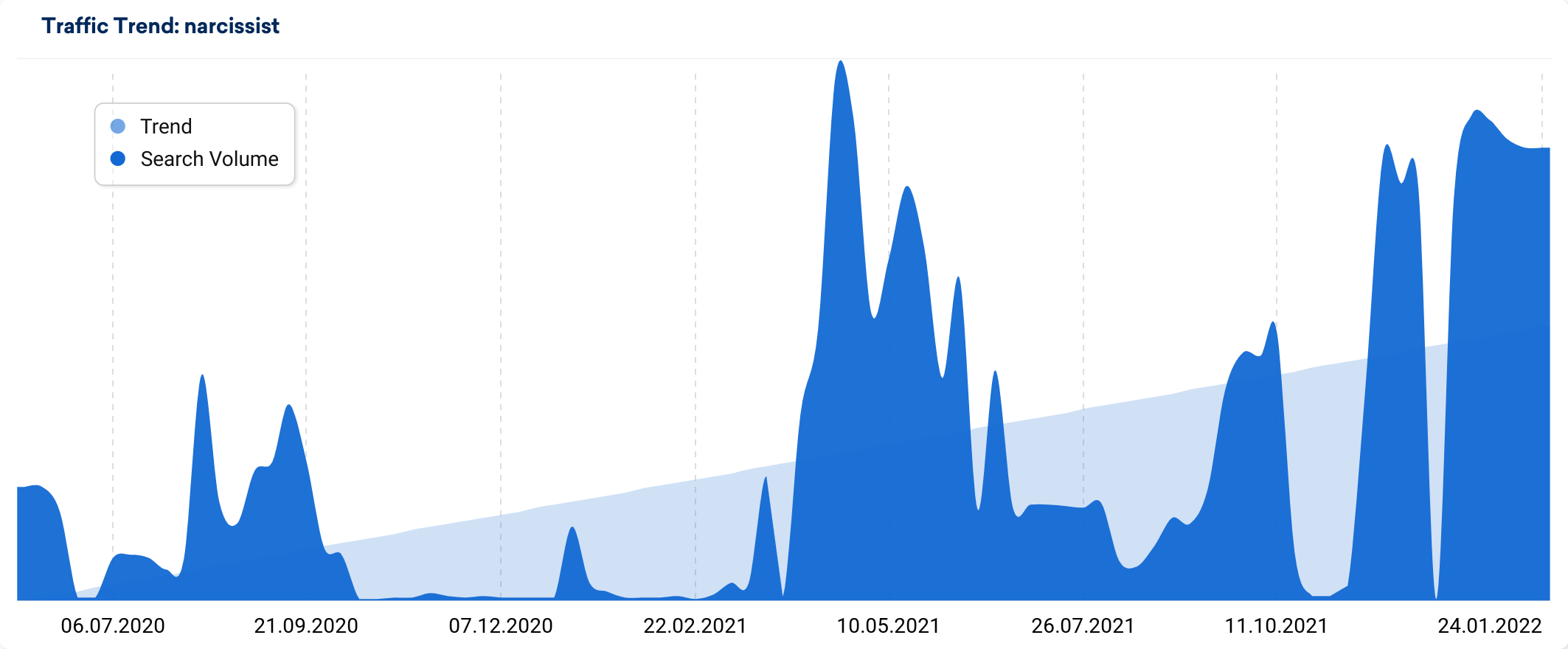 A narcissist, or someone with a narcissistic personality disorder, has a mental condition in which they have an inflated sense of their own importance, a deep need for excessive attention and admiration, troubled relationships, and a lack of empathy for others.
According to psychologists, narcissism leads to logging on to social media more often, as people use it to boost their self-esteem. In Q4 of 2021, social media users passed the 4.5 billion mark. With so many people on social media, is there any question why people are searching for "narcissist"?
---