In this, the 9th in our series of keyword trends, I've got the usual detailed analysis for you along with an additional bonus from the retail sector. These trends have been curated and researched from thousands that were highlighted by the data engines at SISTRIX.
The full 10-trend publication is only available in the newsletter version of this report.
Missguided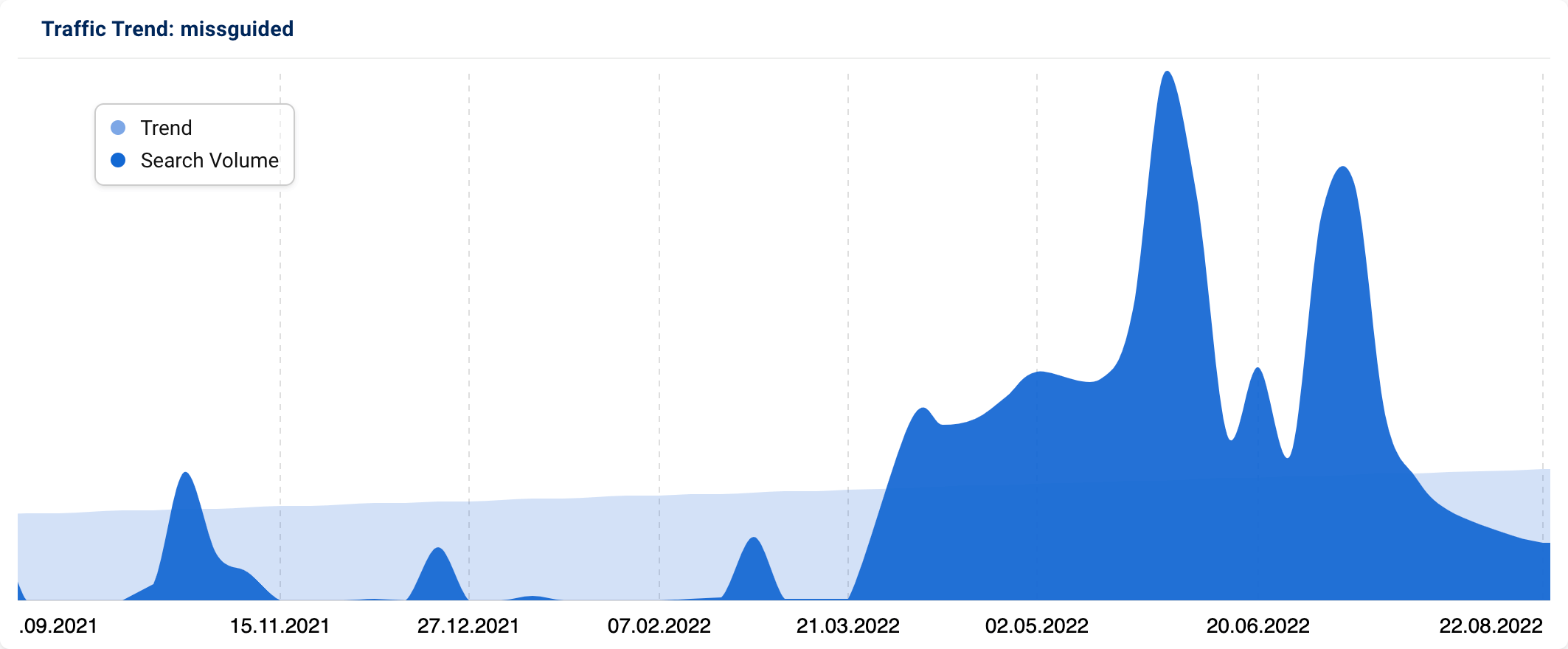 For the most part, the pandemic saw ecommerce blossom and fashion brands' online sales flourish. Missguided is the story of the opposite happening – a fast fashion firm that failed.
During its heyday Missguided was well-known – endorsed by celebrities including Sofia Richie and Nicole Scherzinger in 2015, and opening stores in some of the largest shopping centres in the UK like Westfield Stratford City and Bluewater. However, just a few years later Missguided was having issues. In 2018 it posted significant losses and consulted on redundancies, where it became clear that its physical stores were generating insufficient revenue to cover operating costs. In autumn 2021 Missguided was saved by investment firm Alteri, which then tried to turnaround the company by reviewing its business model. When this also failed, administrators were called in after the company was issued with a winding-up petition by suppliers owed millions of pounds. The online fast fashion brand had gone bankrupt.
On 1 June 2022, it was announced Frasers Group – owner of Sports Direct – had secured the buyout of Missguided. The intellectual property of the brand and its sister company Mennace had been bought for £20 million. In the beginning of July,
Missguided's main issues seem to have stemmed from rocketing supply costs, as well as broader inflationary pressures and an increasingly competitive online fashion retail space. Missguided also suffered from stories that broke about the impacts of fast fashion on the environment, like the time they sold a bikini for one pound. The start of the sustained spike in searches for Missguided started in week 9 of 2022, was when news of Missguided being acquired started to buzz online. This is a story of increased interest because of a downfall of a brand.
Take home pay calculator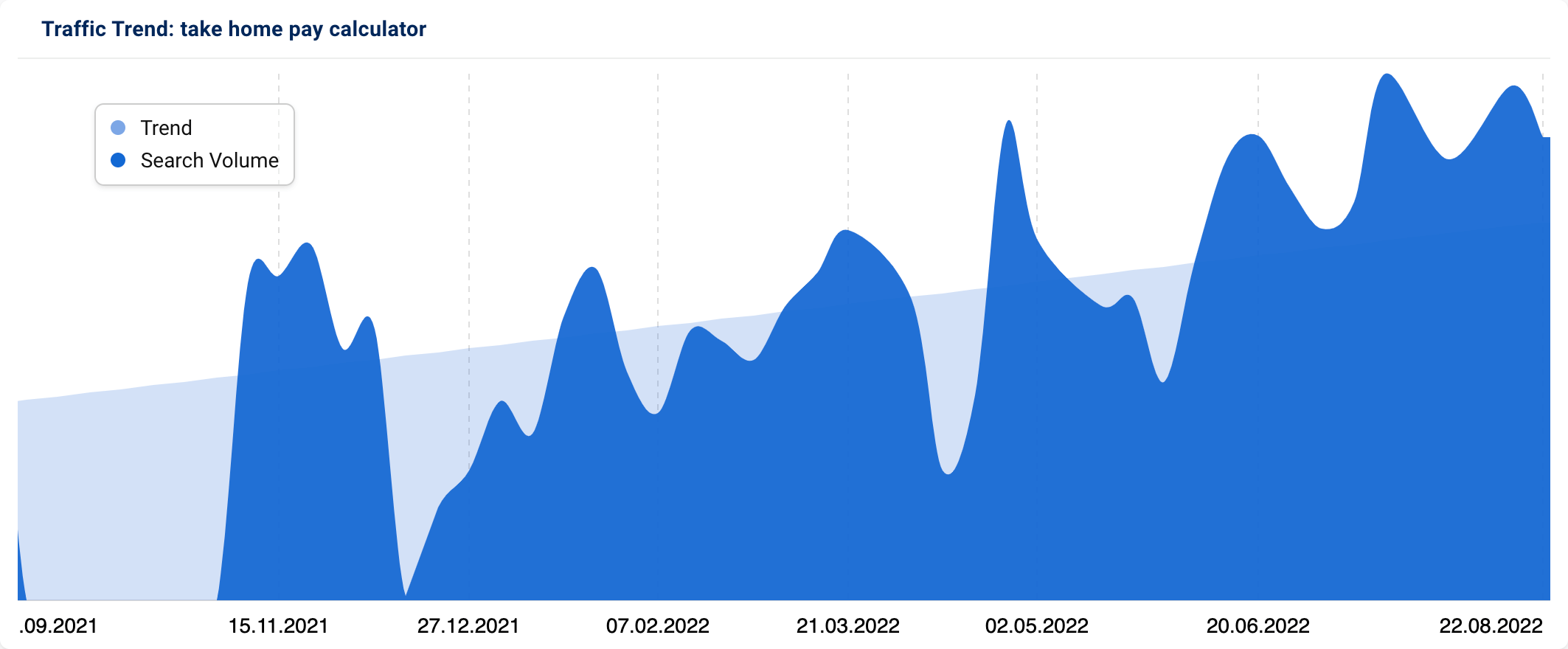 A salary calculator has been created to show how far the value of pay has fallen this year. This is in direct response to inflation, where in the first six months of the year alone – between December 2021 and June 2022 – prices increased by 5.8%. To put it another way: in December 2021 £1 would only stretch to buy you 94p worth of goods in June's prices.
Inflation is being driven by rising fuel, energy and food prices, and will continue to rise into the autumn. The UK energy regulator Ofgem has announced the energy price cap will increase to £3,549 per year for an average household from 1 October 2022. With the take home pay calculator designed to help people understand what inflation means for their finances, it will clearly continue to be searched for in the months to come.
Ayahuasca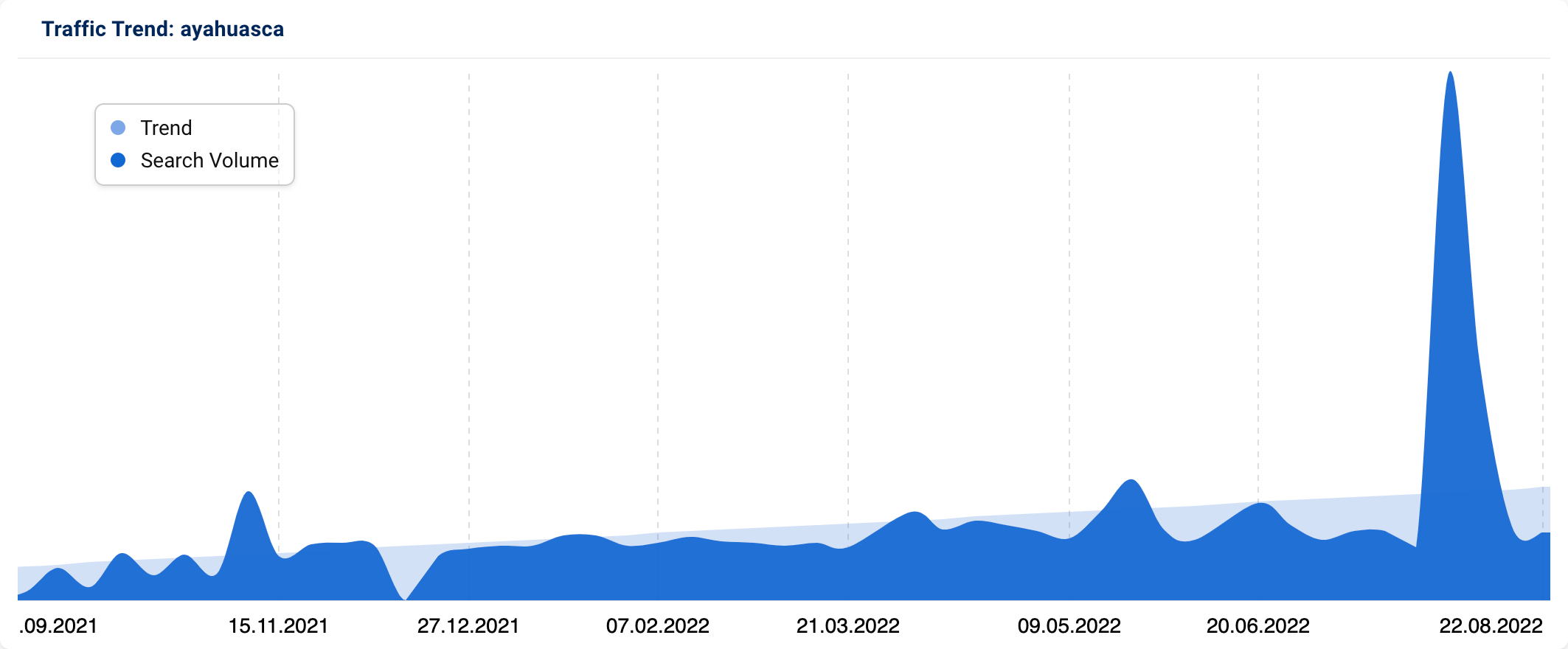 Until a few years ago, Ayahuasca was a fringe psychological medicine, but in recent months it has slowly been working its way into the mainstream. A decade ago you would have had to travel to South America if you wanted to experience the drug – made from a brew that combines the ayahuasca vine with chacruna leaves – but now ayahuasca ceremonies are popping up all over the United States and Europe. Before this trend, it has been brewed for thousands of years in countries like Colombia and Peru by indiginous people, mostly for religious or spiritual purposes. It's considered a medicine, a way to heal internal wounds and reconnect with nature.
The spike in the 28th week of 2022 comes from The Green Bay Packers quarterback Aaron Rogers admitting he took a series of trips to Peru during offseasons for the drug. More than that: he said that ayahuasca helped his NFL career, and that a lot of healing went on during the ceremonies. With this added to a general increased interest in psychedelics – they are currently the subject of several clinical trials investigating potential mental health benefits, and were the subject of the bestselling book and Netflix series How to Change Your Mind – we can expect to hear more about such substances in the future.
---