The Ranking section in the SISTRIX Optimizer focuses on keywords you may have added to your project. Here you can see the project Visibility Index and the rankings within your project's domain.
Where to begin

If this part of the Optimizer doesn't show any data, you probably haven't added any keywords into your project yet.
Easily add new keywords for the project under the "Settings" option (top-right) where you can use the "Keywords" tab. Enter the keywords that should be used to create the Visibility Index.
To know more about this process, please read our tutorial: "Create your own Visibility Index".
Overview
Project Visibility Index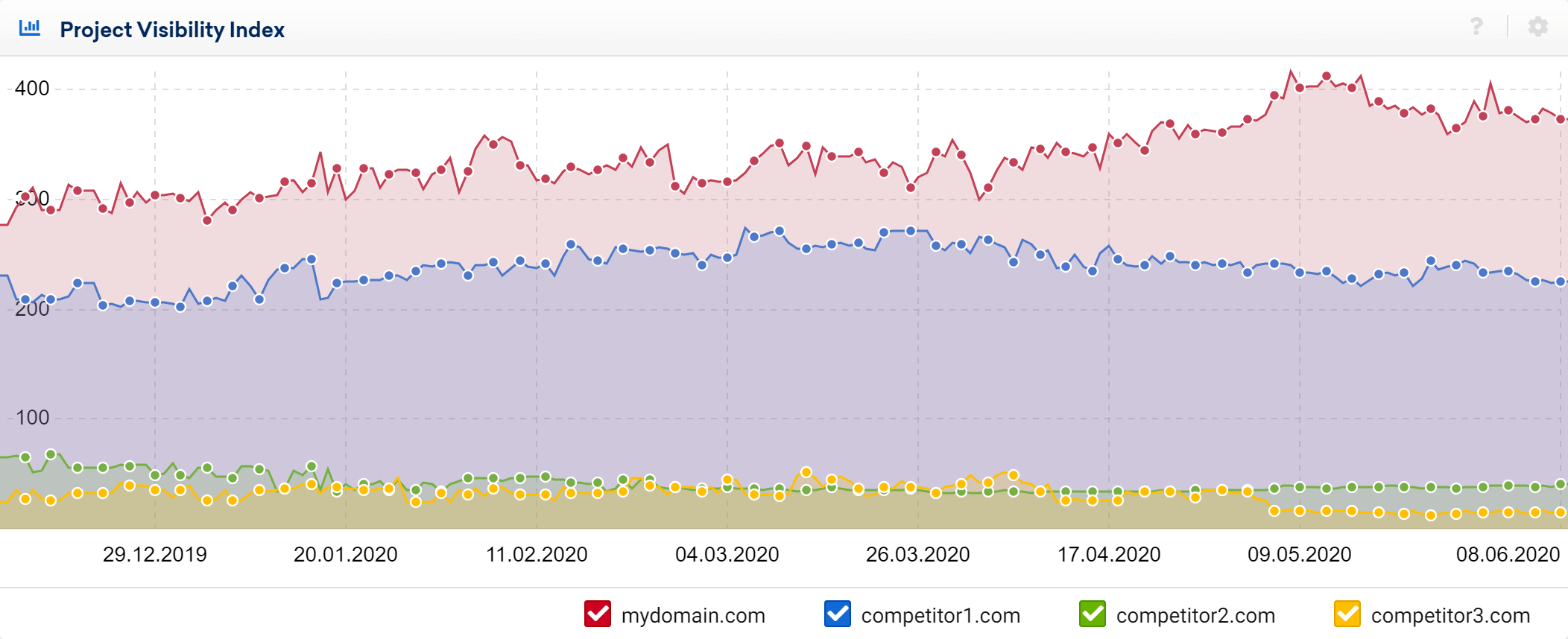 The project visibility is based on your chosen keyword set.
If you added one or more competitors to your project, they'll be listed under the chart. Tick the coloured boxes to see their Visibility Index value, based on the keyword set of your project.
Hover the mouse on the chart to see the value of the Visibility Index for a specific date. You can also zoom into a specific date-range by holding the mouse button down and selecting the range you would like to focus on, or click on "Fullscreen" to let the graph fit your entire screen.
Note that the cogwheel icon will give you more options to make the Visibility Index useful in your analyses.
Keyword Overview
We will show you how many of the keywords could be found within the Top 10 and Top 100 on Google.
# Keywords: Number of keywords monitored in this project
Top 10: Number of keywords where the project-domain ranks within the Top 10, on the first results page
Top 100: Number of keywords where the project-domain ranks within the Top 100
Distribution

How many rankings for the keyword set have been increased (or are new) and decreased and how many stay the same compared to the last update.
Keyword Tags
Here you'll find the tags for your keyword sets. Tags help you to categorise your keywords.
Example:
The keywords
mens jeans
mens shoes
mens underwear
mens shorts
mens watches
can be placed under the tag men.
For every tag, or defined set of keywords, we can calculate and show a separate Visibility Index which allows you to keep a track on separate keywords sets. You can see KPIs of a specific tag by clicking on it.
If you don't already have tags defined, we offer an "Automatically Suggest Tags" feature. With the automatic tag feature, the Optimizer will try to find relevant tags that can be used for your chosen keywords.
Competitors – Project Visibility Index

You can also analyse your competitors based on your keyword set and compare yours with their visibility (data based on your chosen keyword set).
Under Project Settings you will find the Competitor tab. Enter up to six domains that you want to compare to your website based on your individual keyword database. They appear here as a bar chart.