The "URL Explorer" feature in the SISTRIX Onpage projects will let you inspect any URL and view the HTML code, metadata, images, Javascript, CSS, internal links (in both directions) and external links (in both directions).
General Options

At the top right corner of the page you'll find general settings for the whole page, in particular:
Date: Choose the date of the latest or any of the past crawls.
Restart crawler: Start our onpage crawler to get new data. You can start the crawler as often as you like.
Export: Download the data contained in this section. Read more about exports and credits here.
Shortlink: Share the page with other Toolbox users. You'll get a personalised shortlink, active for a few days, that you can share without any limitations.
URL Explorer
To start your analysis, enter a URL in the input field and click on the green button "Search".
Always enter the entire domain, starting with the protocol (http:// or https://), into the search field. The search also has an auto-complete feature, which will show you the available URLs for your project while you type in the URL. This should make choosing the URL much easier, especially for long URLs.
Overview
After typing or choosing the URL to analyse, the Toolbox will show you an overview of its general characteristics, which include:
Server information
Title
H1 tags
Click-level (depth)
All header meta tags
Number of internal and outbound links
Image details, including sizes
CSS file information
Javascript information

Use the tabs at the top right corner of the page to see more information about the chosen URL.
Internal Links
On this page we show URL and Linktext details for all the internal and external links.
The section "Internal Links" shows you outgoing internal links and internal inbound links. The latter indicates which other documents on your website refer to the URL you are currently looking at. This evaluation is restricted to the pages within the Onpage project.
External Links
"External links" are all about those that lead away from your website, to other websites, and also those which are inbound to your page from other websites. The first part is about the external outbound links. In the table, you will see all the references to other websites. In many cases, those will be the social media buttons (Twitter, Facebook, etc.). External inbound links are those that lead to your project from other domains, subdomains etc.
Click on a URL to open it in the SEO module.
HTML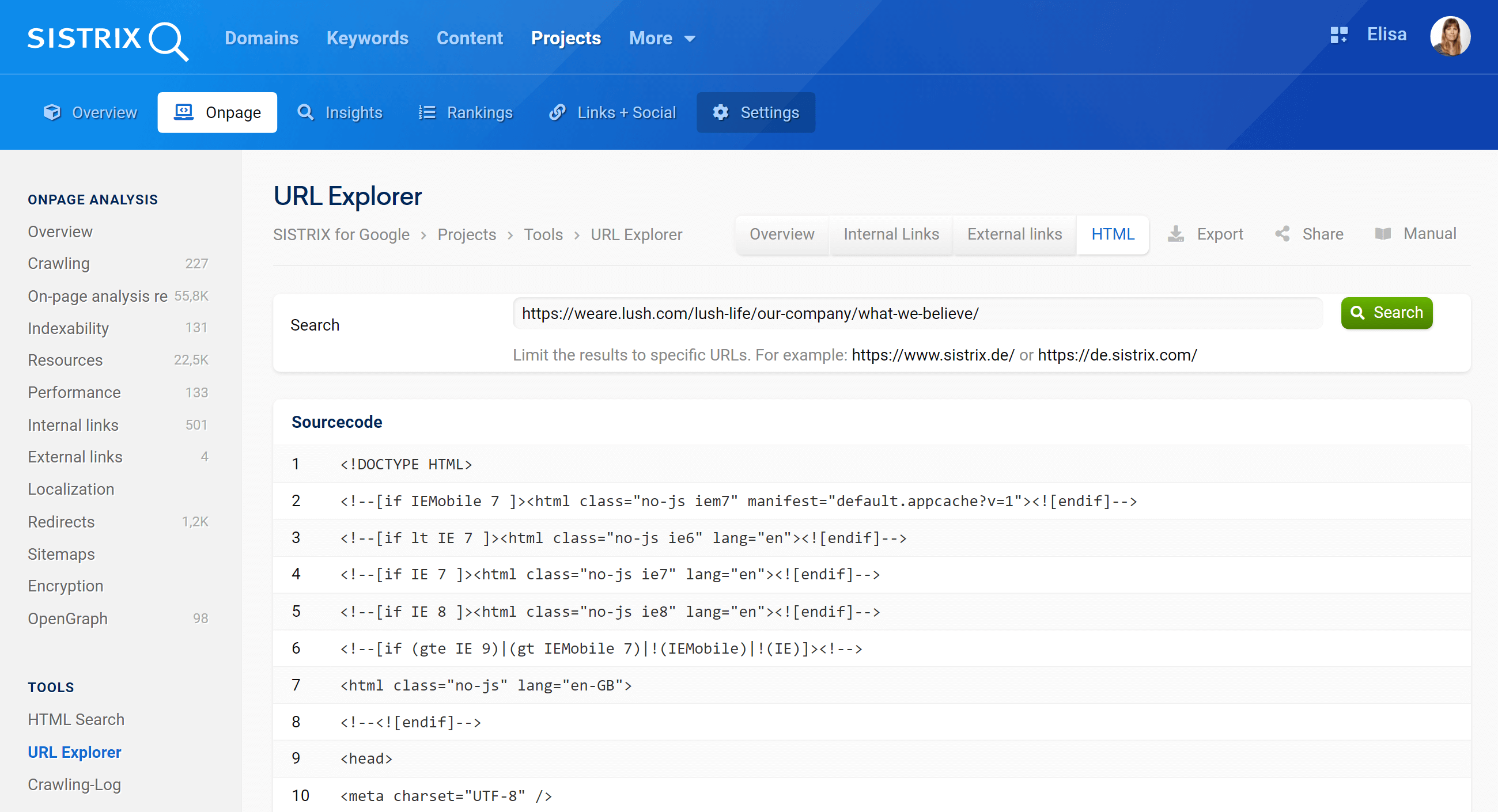 The final part of the URL-Check, the "HTML" tab, will show you the complete HTML source code that the crawler received for this URL.
Video walk-through