The SISTRIX Content Assistant will help you create perfectly optimised content for your online posts. Based on your keyword-set, and content that is already successful in Google, you'll get suggestions that will make it easier, and quicker to achieve the best possible content.
After intergrating helpful feedback in our beta in Germany, the Content Assistant is now available to all Toolbox users. It's your guide for creating content that's tailored to the needs of visitors and search engines.
You start by creating a a topic definition through a set of appropriate keywords. Based on this, the Content Assistant analyses the content that has already been successful with Google and presents suggestions for the best possible creation of the new content.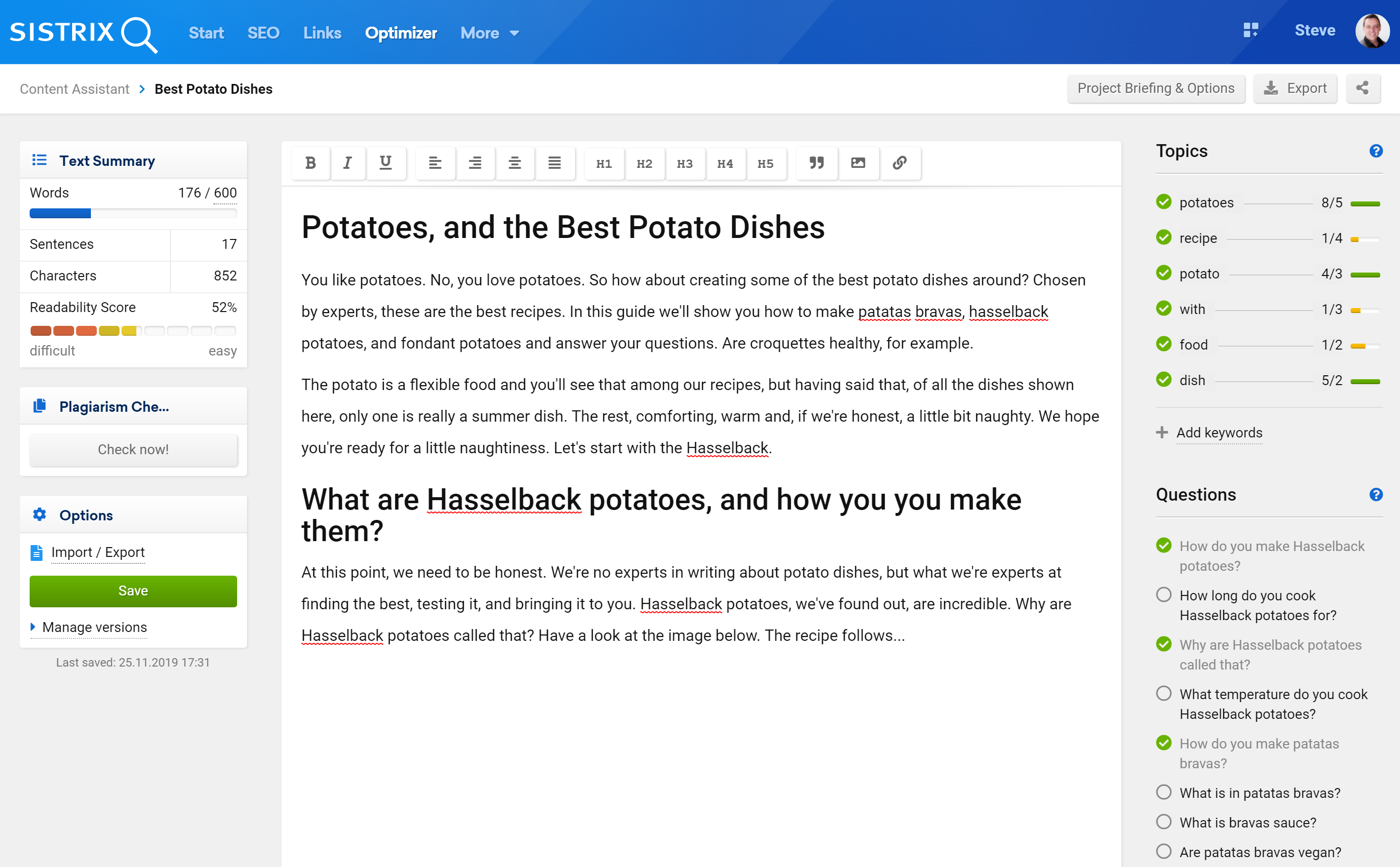 In the Editor, you'll be supported in the best possible way as you create your content. The focus is in your text while on the left and right of the text editor you will find different tools. Here are the most important of the tools:
Topic keywords. Based on the content that has already been successfully in Google, Content Assistant will suggest relevant topics and keywords here. These are weighted according to relevance and ticked-off automatically when they are used in the text.
Questions. Real user questions show you what could be answered in your text. You can also see, very quickly, the user intention for the keyword cluster.
Content suggestions. Content is more than just text. The Content Assistant will inform you which content types, such as images or videos, are common for the keyword cluster.
Plagiarism Check. Neither users, nor Google likes another copy of a Wikipedia text. The the plagiarism check allows you to find out if the content is already available via other domains.
Project and briefing options
The best possible content for your topic is often very individual. That's why you can widely customise the Content Assistant project under the menu item Project Briefing & Options, in the top right corner. In addition to basic project settings, you can also add more team members to work on topics and keywords, make regular performance measurements, or delete the project after it's completed.
Content Assistant in the Toolbox
The Content Assistant uses features and data from many parts of the SISTRIX Toolbox. It determines keywords, rankings and competition, data from the SEO module as needed. The Content Assistant itself is part of the Optimiser. Therefore, to use the Content Assistant you'll need both the SEO and the Optimiser modules.