Links are still the most relevant factor that allows Google to measure trust in a page, which makes it all the more annoying when carefully-built links are lost. A new feature in the link module will help you identify these lost links.
The internet is dynamic: new websites and content are created every day, while others disappear. Our crawlers are in operation around the clock to provide up-to-date and helpful link data.
The identification of lost links is not that trivial, as it might seem at first-glance: is the link really not there anymore or has the linking page moved in the internal web page structure and is no longer easy to find?
To solve the problem, the new lost link detection feature in the link module will provide a live check feature – all the links that our web crawlers do not find will be re-tested, live so that you get the most-current and reliable results.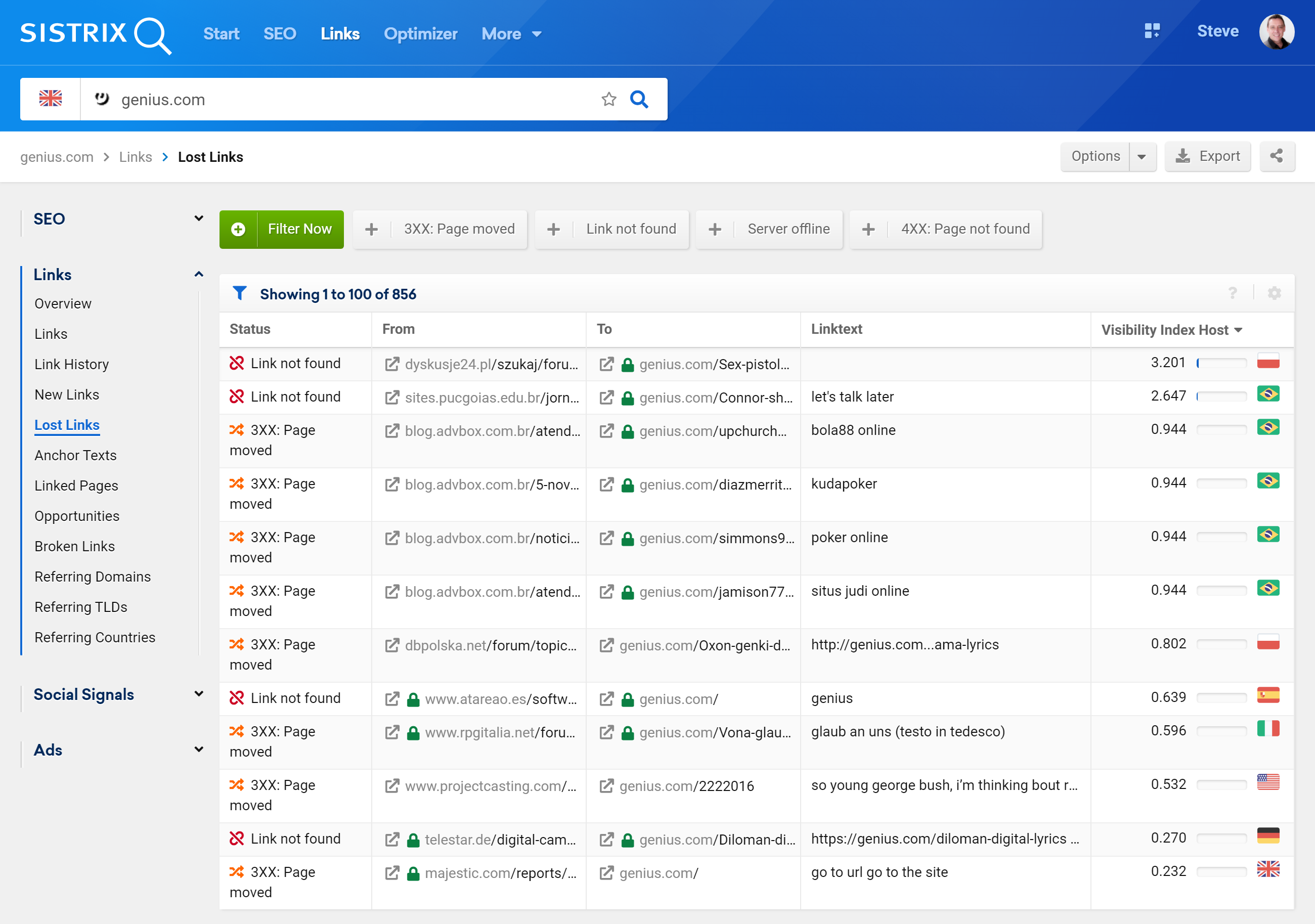 The results are divided into four broad categories. You can filter these categories in the toolbox as you wish. 1
Server offline – the web server is (currently) unreachable. All links from this hostname are unavailable. In some cases, this is only a short or medium-term problem until the provider fixes the error, but sometimes the links are lost permanently.
3XX: Page moved – the document that this link was originally found on has moved to a new URL and will be redirected there via the 300-range of status codes. The link is often still set, just under a different URL. You often see this when a domain moves to SSL.
4XX: Page not found – the document on which we originally found the link is no longer to be found. An HTTP status code from the 400 range also promises no alternative.
Link not found – the document still exists, but the original link was not found. It's likely that the link has been removed.
The list of all lost links is sorted by the the best host Visibility Index. 2 This way you can always see the most relevant links at the top of the list and can work through them by decreasing Visibility Index priority.